Pangan di Daerah Perang, Antar Mahasiswa Polbangtan Medan ke Ajang PBB di Thailand
Indonesian Agricultural Polytechnic Students Attend the Thailand`s UN Model
Editor : M. Achsan Atjo
Translator : Dhelia Gani

PUBLISHED: Kamis, 07 Februari 2019 , 05:34:00 WIB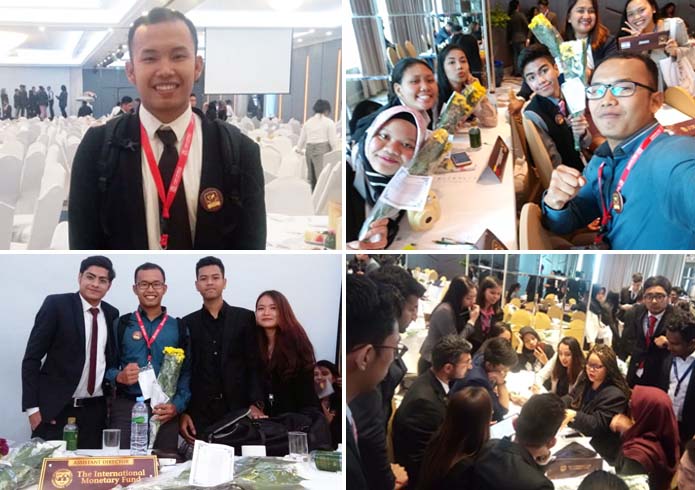 1.476 PESERTA, 76 NEGARA: Abrar Ashari Siregar (kiri atas) setelah tampil sebagai pembicara di Bangkok, bersama peserta dari Asia Tenggara, diskusi kelompok dan malam ramah-tamah (Foto2: Koleksi Pribadi Abrar AS)
Medan, Sumut (B2B) - Mahasiswa Polbangtan Medan, Abrar Ashari Siregar, menjadi salah satu dari 1.476 peserta kegiatan internasional PBB di Bangkok, Thailand oleh United Nation (UN) of Model, yang diikuti oleh 76 negara termasuk AS dan beberapa negara Eropa. Kegiatan yang diadakan Organisasi Pangan Internasional (FAO) bertujuan mengasah kemampuan pemuda dalam memberi resolusi menghadapi problematika di sektor pertanian.
Karyanya, position paper berjudul ´Pangan di Daerah Perang´ dengan studi kasus di Suriah, mendorong FAO mengundang mahasiswa Politeknik Pembangunan Pertanian Sumatera Utara (Polbangtan Medan) ke ajang internasional di Bangkok selama lima hari, 29 Januari hingga 2 Februari lalu.
"Saya senang dan bangga bisa terpilih mengikuti ajang internasional di Thailand. Menambah wawasan dan pengalaman, serta sangat bersyukur setelah mendapat kesempatan berpidato di hadapan ribuan peserta. Harapan saya, ada lagi mahasiswa Polbangtan Medan dan Polbangtan di seluruh Indonesia bisa berpartisipasi lagi," kata Abrar AS melalui keterangan tertulisnya.
Direktur Polbangtan Medan, Yuliana Kansrini mengaku bangga pada capaian mahasiswanya yang membanggakan civitas academica dan mengharumkan nama bangsa di mata internasional, dan berupaya membuka kesempatan seluas-luasnya kepada mahasiswa lain untuk mengikuti ´jejak emas´ Abrar AS.
"Polbangtan Medan berkomitmen mendukung target Mentan Amran Sulaiman untuk menghasilkan lulusan berkualitas sebagai job creator dan bukan sekadar job seeker," kata Yuliana K.
Hal senada dikemukakan Wakil Direktur III Dwi Febrimeli mengapresiasi prestasi Abrar AS sebagai Duta Intelegensia dari Polbangtan Medan yang mampu membuktikan bahwa mahasiswa Polbangtan Medan mampu bersaing di ajang internasional.
"Capaian Abrar AS sangat penting untuk membuktikan bahwa pendidikan di Polbangtan dapat diperhitungkan," kata Dwi F.
Medan of North Sumatera (B2B) - Indonesia´s Polbangtan Medan student, Abrar Ashari Siregar, became one of 1,476 participants in the UN international activities in Bangkok, Thailand by the United Nation (UN) of Model, followed by 76 countries including the US and several European countries. The activities of International Food Organization (FAO) aim to encourage youth to provide resolutions to face problems in the global agricultural sector.
His position paper entitled ´Food in the War Area´ case study in Syria, encourage FAO to invite students of North Sumatra Agricultural Development Polytechnic or the Polbangtan Medan to international events in Bangkok for five days, January 29 to February 2.
"I was happy and proud to participate in an international event in Thailand. Add insight and experience, and be grateful to be able to speak in front of thousands of participants," Siregar said through his written statement.
Director of Polbangtan Medan, Yuliana Kansrini said she was proud for the achievements of her students who boasted the civitas academica, and made Indonesia famous in the international arena.
"The Polbangtan Medan is committed to support target of Agriculture Minister Amran Sulaiman to produce quality graduates as job creators and not just job seekers," Kansrini said.
The Deputy Director III, Dwi Febrimeli appreciates Siregar´s achievements as an Intelligence Ambassador of Polbangtan Medan which proves that Polbangtan students can compete in the international event.
"Siregar´s achievements are very important to prove the Polbangtan education is equivalent to leading universities in Indonesia," Febrimeli said.