Polbangtan Medan Raih Juara Umum `Gold Generation Scout Competition 2019`
Indonesia`s Polbangtan Medan Scout Team Win the Regional Competition
Editor : M. Achsan Atjo
Translator : Dhelia Gani

PUBLISHED: Senin, 04 Februari 2019 , 06:28:00 WIB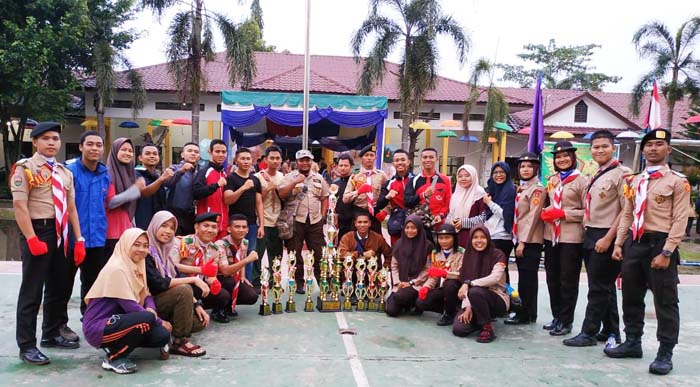 EKSTRA KURIKULER: Tim Pramuka Polbangtan Medan dengan sederet trofi dan penghargaan dari Gold Generation Scout Competition 2019 di Deli Serdang, Sumut (Foto: Humas Polbangtan Medan)
Medan, Sumut (B2B) - Gugus Depan Pramuka Polbangtan Medan meraih gelar juara umum kompetisi pramuka bertajuk Gold Generation Scout Competition 2019 di di Kabupaten Deli Serdang, Provinsi Sumatera Utara. Dua tim dari Gudep Polbangtan Medan meraih delapan gelar juara dari 'kompetisi pramuka generasi emas 2019 yang berlangsung tiga hari, 1 - 3 Februari.

Polbangtan Medan meraih tiga gelar juara pertama untuk kategori: pioneering, memasak, dan tari komando pramuka. Kategori keterampilan baris-berbaris: juara kedua dan ketiga; kategori cepat tanggap pramuka meraih juara ketiga dan harapan pertama; dan juara harapan kedua kategori karnaval pakaian dari bahan bekas.

Direktur Politeknik Pembangunan Pertanian Sumatera Utara (Polbangtan Medan) Yuliana Kansrini mengatakan bahwa pramuka merupakan ekstrakurikuler wajib bagi mahasiswa baru Polbangtan Medan untuk mendapatkan ijazah mahir dasar kepramukaan.

"Pramuka tidak membedakan agama yang satu dengan yang lain, tidak membedakan suku dan golongan. Hal terpenting bagi seorang pramuka adalah memiliki iman dan ketakwaan yang kuat, dengan begitu perbuatan yang tidak baik dalam setiap sisi kehidupan bisa dihindari," kata Yuliana K melalui pernyataan tertulis kepada B2B, Minggu malam (3/2).

Ketua Ambalan Prarmuka, Iqbal Afriansyah menyampaikan apresiasi pada pembina pramuka Polbangtan Medan, dan rekan-rekan sesama pramuka atas dukungannya hingga dapat meraih gelar juara umum kompetisi pramuka regional di Sumatera Utara.

"Semoga prestasi ini dapat dipertahankan. Tidak cepat puas sebagai motivasi untuk maju sebagai generasi muda harapan bangsa," kata Iqbal A.
Medan of North Sumatera (B2B) - The Polbangtan Medan Scout Team won the overall title of scout competition called the 2019 Gold Generation Scout Competition in in Deli Serdang district of North Sumatra province, who was won eight race titles of the scout competition which lasted three days, February 1 - 3.

The Polbangtan Medan won the first winner of category: pioneering, cooking, and scout commando; marching skills categories: second and third winner; the third and first hope winner for fast response category; and second hope winner of used clothing carnival.

Direktur of Polbangtan Medan, Yuliana Kansrini said the scout as the compulsory extracurricular for new students to get a basic scout diploma.

"The scouts did not look at religion, ethnicity and social strata. The most important thing for scouts is trust in God Almighty," said Kansrini through written statement to the B2B on Sunday evening (February 3).

The team leader, Iqbal Afriansyah expressed his appreciation to the scout coach of Polbangtan Medan, and fellow scouts for their support to win as overall champions of regional competition in North Sumatra.

"Do not be quickly satisfied as a young generation of hope for the Indonesian people," Afriansyah said.