Branding Kedai Kopi, Polbangtan Medan Dorong Harga Produksi Untungkan Petani
Indonesia`s Polbangtan Medan Doing Branding of SMEs Coffee Shops
Editor : M. Achsan Atjo
Translator : Dhelia Gani

PUBLISHED: Selasa, 25 Desember 2018 , 04:53:00 WIB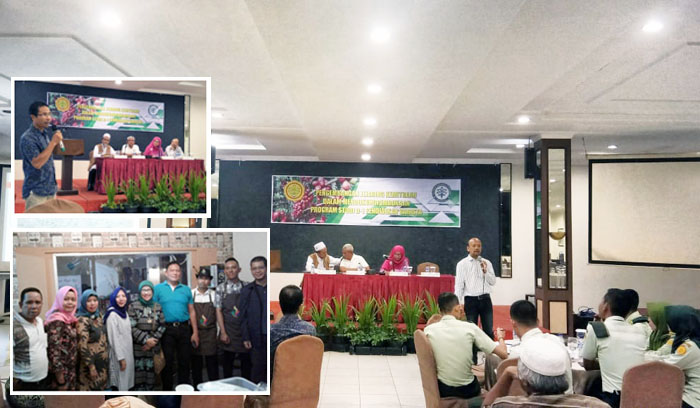 EDUKASI PELANGGAN: FGD diinisiasi Polbangtan Medan (utama), Dirjen Tanaman Pangan Sumarjo Gatot Irianto dan Sesba BPPSDMP Kementan, Andriko NS mencicipi kopi Ummi Habsah Cafe (inset bawah) Foto2: Humas Polbangtan Medan
Medan, Sumut (B2B) - Kedai kopi UKM tumbuh pesat di Medan, namun belum diimbangi suplai dan harga terjangkau lantaran pemasaran dikuasai tengkulak dan pedagang besar. Petani belum menikmati laba layak untuk meningkatkan produksi maupun kesejahteraan keluarganya. Keprihatinan tersebut mendorong Polbangtan Medan untuk ´membuka komunikasi´ melalui ´branding´ dan forum diskusi dengan usaha kecil menengah tersebut (UKM) yang kini menjamur di ibukota provinsi tersebut.
Direktur Polbangtan Medan, Yuliana Kansrini menyatakan prihatin terhadap kondisi tersebut mengingat Sumut dikenal sebagai penghasil kopi berkualitas seperti kopi Sidikalang, Mandailing, Lintong, Sipirok, dan Sigararutang. Harga jualnya tinggi di pasar global, kendati begitu petani belum mendapat harga jual yang pantas dari pengepul maupun tengkulak.
"Apa yang kita lihat selama ini sangat memprihatinkan. Petani kopi belum menikmati hasilnya, petani hanya sebagai alat mencetak keuangan. Mereka hanya mampu menjual hasil panennya kepada pengepul, pedagang, dan tengkulak dengan harga jual yang tidak menguntungkan petani," kata Yuliana K melalui pernyatan tertulis.
Polbangtan Medan melakukan identifikasi 100 kedai kopi kelas menengah ke bawah di Kota Medan, dan telah dilakukan branding tahap pertama terhadap 20 kedai kopi di penghujung 2018.
"Branding dilakukan melalui dekorasi, menu, cara pengolahan, kualitas SDM seperti barista dan pelayan, harga jual, dan kiat pemasaran," kata Yuliana K.
Sejumlah mahasiswa Politeknik Pembangunan Pertanian - Polbangtan Medan bersama pendamping dikerahkan mendukung kreatifitas sesuai potensi dan kondisi dari masing-masing kedai kopi, dengan ´standar binaan´ adalah meningkatkan pendapatan tanpa mengabaikan unsur edukasi.
"Faktor edukasi menjadi penting, karena Polbangtan Medan berupaya mengedukasi tamu kedai kopi dengan pesan-pesan positif melalui poster, spanduk, meja hingga cangkir kopi," katanya.
Tak cuma itu, Polbangtan Medan juga menginisiasi forum group discussion (FGD) pada Sabtu (22/12) yang mempertemukan petani, produsen, dan pengusaha kedai kopi di Provinsi Sumatera Utara sepakat menerapkan strategi rantai pasok yang menguntungkan petani kopi, sekaligus menjamin pasokan kopi kualitas premium kepada produsen dan kedai kopi, sehingga dapat meminimalisir ruang gerak pemburu rente yang ´tidak berkeringat´ tapi meraih laba berlipat ganda.
Sofyan pemilik Ummi Habsah Cafe mengaku sangat terbantu pada kegiatan branding dan FGD yang digelar Polbangtan Medan, apalagi setelah Dirjen Tanaman Pangan, Sumarjo Gatot Irianto dan Sekretaris BPPSDMP Kementan, Andriko Noto Susanto berkunjung ke kedai kopinya.
"Forum diskusi sangat membantu pemilik kedai kopi bertemu dan diskusi, mereka merasa dikawinkan dengan pasangan yang serasi. Meski baru sebulan membuka kedai di teras rumahnya, ternyata hasilnya cukup memuaskan setelah didukung pembinaan oleh Polbangtan," kata Yuliana K.
Medan, Sumut (B2B) - SMEs coffee shops are growing rapidly in Medan, the provincial capital of Indonesia´s North Sumatra but the supply and price of coffee are still controlled by middlemen and traders. Farmers must sell coffee at prices determined by middlemen. These conditions encourage Polbangtan Medan to ´open communication´ through branding and discussion forums with SMEs in Medan.
Director of Polbangtan Medan, Yuliana Kansrini said she was concerned about the condition considering North Sumatra was known as a producer of quality coffee such as Sidikalang, Mandailing, Lintong, Sipirok, and Sigararutang coffee. The selling price is high in the global market, even though farmers are still harmed by collectors and middlemen who regulate the price of coffee.
"The conditions of coffee farmers are still apprehensive. Coffee farmers have not benefited according to their hard work. Farmers sell coffee yields to collectors, traders and middlemen at prices that have not benefited farmers," Mrs Kansrini said.
The Polbangtan Medan identified 100 lower middle class coffee shops in Medan City, and the first phase of branding was carried out on 20 coffee shops in late 2018.
"The Branding is done through decorations, menus, coffee processing, quality of human resources such as baristas and servants, selling prices, and marketing tips," Mrs Kansrini said.
Some students of Medan´s Agricultural Development Polytechnic with the counselor deployed support creativity according to the potential and conditions of each coffee shop, with ´coaching standards´ is to increase income without ignoring the element of education.
"Educational factors are important, Polbangtan Medan seeks to educate coffee shop guests with positive messages through posters, banners, tables and cups of coffee," she said.
Not only that, the Polbangtan Medan also initiated a group discussion forum on Saturday (December 22) to bring together coffee shop farmers, producers and entrepreneurs in North Sumatra Province agreed to implement the supply chain strategy which benefits coffee farmers, while ensuring the supply of premium coffee to producers and coffee shops, so that it can close the opportunities for renters to make a profit.
Sofyan, the owner of Ummi Habsah Cafe, admitted that he was helped by branding and discussion held by Medan Polbangtan, especially after the senior officials of the Agriculture Ministry Sumarjo Gatot Irianto and Andriko Noto Susanto visited his coffee shop.
"The discussion forums help coffee shop owners meet and discussion, they feel mated with a matching partner. Even though it´s only been a month to open a shop on the terrace of his house," Mrs Kansrini said.