Barista Profesional, Polbangtan Medan Pionir Pendidikan Formal Peracik Kopi
The Polbangtan Medan Pioneers Formal Barista Education in Indonesia
Editor : M. Achsan Atjo
Translator : Dhelia Gani

PUBLISHED: Rabu, 26 Desember 2018 , 05:43:00 WIB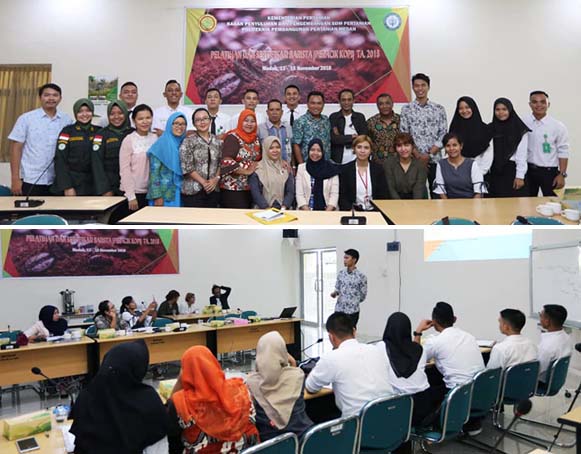 PELATIHAN & SERTIFIKASI: Polbangtan Medan menggelar pelatihan dan sertifikasi barista di Medan, belum lama ini (Foto2: Humas Polbangtan Medan)
Medan, Sumut (B2B) - Politeknik Pembangunan Pertanian (Polbangtan) di Provinsi Sumatera Utara, Polbangtan Medan, akan menjadi pionir pendidikan formal peracik kopi profesional atau Barista, dengan membuka program diploma D-1 Pendidikan Barista, dan telah mengajukan persyaratan administrasi ke Kementerian Riset, Teknologi dan Pendidikan Tinggi (Kemenristek Dikti) melalui Badan Penyuluhan dan Pengembangan SDM Pertanian di Kementerian Pertanian RI.
"Saat ini Polbangtan Medan secara administrasi sudah mengajukan pembukaan pendidikan barista ke Kemenristek Dikti melalui BPPSDMP Kementan. Sementara dokumen administrasi kelengkapan sedang dalam proses penyusunan," kata Direktur Polbangtan Medan, Yuliana Kansrini melalui pernyataan tertulis kepada B2B pada Senin (25/12).
Langkah penting yang telah dilakukan adalah mempertemukan petani kopi dengan dunia usaha khususnya pemilik kedai kopi melalui focus group discussion (FGD) untuk memperoleh informasi dan masukan yang mendukung kurikulum, proses pembelajaran, dan pengabdian masyarakat sehingga pada tahun perkuliahan 2019 sudah siap melaksanakan pendidikan D-1 Barista.
Menurut Yuliana K, barista menjadi penentu sukses kedai kopi dan kafe menyajikan cita rasa kopi terbaik, seiring dengan meningkatnya minat masyarakat ´ngopi bareng´ sebagai gaya hidup sehingga profesi barista terbilang fenomenal menjadi ´cita-cita baru´ dari kaum milenial di Indonesia saat ini.
"Sayangnya ketertarikan generasi muda terhadap profesi barista belum diimbangi ketersediaan pendidikan formal, di sisi lain keterbatasan jumlah barista profesional menjadi kendala pengembangan kedai kopi dan kafe yang sesuai tuntutan pasar," kata Yuliana K
Menurutnya, pengembangan D-1 Pendidikan Barista di Polbangtan Medan akan menjadi kampus pertama di Indonesia yang menyediakan pendidikan formal untuk barista, dengan komitmen utama meluluskan barista yang juga andal menghasilkan biji kopi berkualitas sesuai dengan kebutuhan pasar dan industri, yang diperoleh dari teknik budidaya tanaman kopi sesuai standar good agriculture practice (GAP) maka barista lulusan Polbangtan Medan memenuhi standar profesional dari hulu hingga hilir.
Medan of North Sumatera (B2B) - Agricultural Development Polytechnic or Polbangtan in North Sumatra province, Medan Polbangtan, will be a pioneer of Barista´s formal education in Indonesia, D-1 Barista diploma program and has submitted administrative requirements to Research, Technology and Universities through the Indonesian Agriculture Ministry.
"Currently the Medan Polbangtan administratively has submitted the opening of barista education to the ministry While the administrative documents are in the process of being compiled," said Director of Polbangtan Medan, Yuliana Kansrini through the written statement to B2B on Tuesday (December 25).
An important step that has been taken is to bring together coffee farmers with the business world, especially cafe owners through group discussion forums to obtain information and input that supports the curriculum, the learning process, and community service so that in the 2019 lecture year it was ready to carry out Barista D-1 education.
According to Mrs Kansrini, baristas determine the success of cafes serving the best coffee flavors, with increasing interest of the public to drink coffee as a lifestyle so that baristas became the ´ideal profession´ of millennials in Indonesia today.
"Unfortunately the interest of the younger generation in the barista profession has not been matched by the existence of formal education, on the other hand the limited number of professional baristas it is an obstacle to developing cafe business according to market demands," she said.
According to him, the barista education at Polbangtan Medan will be the first campus in Indonesia to provide formal education for baristas, with a commitment to produce baristas that also reliably produce quality coffee beans in accordance with market and industrial needs, of the coffee plant cultivation techniques according to standard good agriculture practice then the barista graduated of Polbangtan Medan meets professional standards from upstream to downstream.