Akselerasi SPS Ekspor Manggis, Barantan Optimistis Petani Penuhi Target China
Indonesian`s AQA Acceleration SPS Standards of Mangosteen Exports to China
Reporter : Gusmiati Waris
Editor : Cahyani Harzi
Translator : Dhelia Gani

PUBLISHED: Selasa, 06 Februari 2018 , 14:23:00 WIB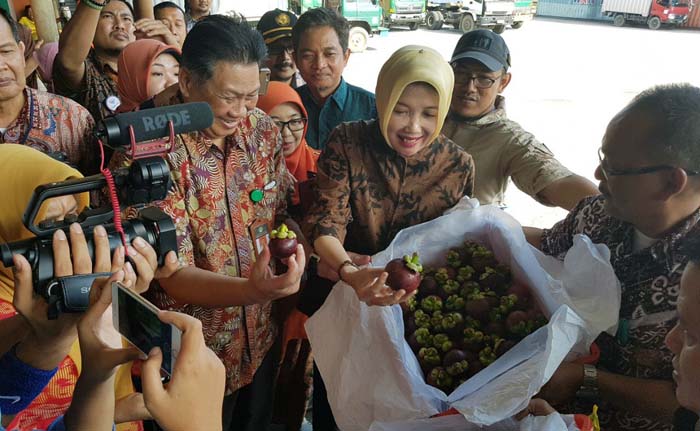 EKSPOR MANGGIS: Kepala Badan Karantina, Banun Harpini (batik hijab kuning) memperlihatkan manggis untuk ekspor ke China kepada pers di Pelabuhan Tanjung Priok (Foto: Humas Barantan)
Jakarta (B2B) - Kementerian Pertanian RI meyakini target ekspor manggis 20.000 ton ke China dapat dipenuhi oleh petani manggis di Sumatera, Jawa, dan Nusa Tenggara Barat yang akan panen simultan hingga akhir April 2018, Badan Karantina Pertanian (Barantan) akan mendorong sanitary and phytosanitary (SPS) sebagai bagian dari kesepakatan Organisasi Perdagangan Dunia (WTO) terkait hubungan higienis dan perdagangan internasional.

"Musim panen buah manggis akan berlangsung simultan di seluruh sentra produksi mulai Sumatra, Jawa dan Nusa Tenggara Barat atau NTB yang akan berlangsung hingga akhir April 2018. Saya optimistis target 20 ribu ton dapat dipenuhi oleh petani," kata Kepala Barantan, Banun Harpini kepada pers usai memimpin kegiatan pelepasan ekspor 16 ton manggis ke China melalui Pelabuhan Tanjung Priok, akhir pekan lalu.

Menurutnya, momentum kebutuhan konsumen di China dengan produksi manggis untuk penuhi target ekspor ke ´negeri tirai bambu´ tersebut menjadi vital lantaran akselerasi ekspor produk pertanian khususnya manggis dengan standar SPS, merupakan salah satu peran strategis Barantan dalam meningkatkan daya saing produksi pertanian untuk kesejahteraan petani.

"Badan Karantina Pertanian senantiasa berkomitmen untuk mendukung peningkatan kesejahteraan petani melalui akselerasi ekspor produk pertanian," kata Banun.

Ekspor manggis ke China terbukti mendongkrak harga manggis petani hingga tiga kali lipat dari harga domestik setelah memenuhi standar SPS.

Dia mencontohkan harga manggis dari petani di Cibolang, Kabupaten Sukabumi yang semula harganya di kisaran Rp5.000 hingga Rp8.000 per kg setelah menjadi mitra perusahaan ekspor, PT Manggis Elok Utama melambung menjadi Rp30.000 per kg setelah menjadi komoditas ekspor.

Banun menambahkan, untuk mendapat harga yang tinggi, produk pertanian harus memenuhi standar SPS agar diterima di negara tujuan ekspor, seperti halnya manggis, untuk menembus pasar China harus memenuhi standar baku mutu yang tertuang dalam protokol impor manggis yang disepakati oleh lembaga karantina China dan Indonesia.

"Syarat ekspor manggis antara lain berasal dari kebun yang telah terintegrasi, rumah kemas terintegrasi dan dijamin bebas dari organisme pengganggu tanaman atau OPT baik serangga hidup kutu putih dan semut," katanya.
Jakarta (B2B) - The Indonesian agriculture ministry believes the mangosteen export target of 20,000 tons to China will be met by farmers in Sumatra, Java and West Nusa Tenggara that will harvest simultaneously until the end of April 2018, Indonesian Agricultural Quarantine Agency (IAQA) will seek acceleration of sanitary and phytosanitary agreements as part of World Trade Organization´s agreement on hygiene and international trade provisions.

"The mangosteen harvest season will take place simultaneously in mangosteen production centers in Sumatra, Java and West Nusa Tenggara until the end of April 2018. We are optimistic 20 thousand tons can be met," Director General of Indonesian´s AQA, Banun Harpini told reporters here.

According to her, momentum of consumer demand in China with mangosteen production to meet the export target is important, to accelerate the export of agricultural products, especially mangosteen with SPS standards, is one of Indonesian´s AQA strategic role improve competitiveness of agricultural production for the welfare of farmers.

"Indonesian´s AQA is committed to support improvement of farmers´ welfare through accelerated export of agricultural products," Mrs Harpini said.

Export of mangosteen to China proved to boost mangosteen price of farmers more expensive than domestic prices because it meets SPS standards.

She cited the price of Cibolang mangosteen of Sukabumi district around 5,000 to 8,000 rupiah per kg at the farmer level soared to 30,000 rupiah after the purchase of export companies, Manggis Elok Utama.

Mrs Harpini said to get a high price, agricultural products must meet SPS standards to be accepted in export destination countries, such as mangosteen, to penetrate the Chinese market must meet uality standards of mangosteen import protocol agreed by China and Indonesia quarantine.

"The main requirement of mangosteen exports from integrated agricultural land, packaging place is integrated and guaranteed to be free from plant pest organisms such as white lice and ants," she said.