20,5 Ton Beras Ketan Thailand Gagal Diselundupkan via Belawan - Medan
Indonesian`s Medan Agricultural Quarantine Foiled Smuggling 20.5 tons of Glutinous Rice
Editor : M. Achsan Atjo
Translator : Dhelia Gani

PUBLISHED: Jum'at, 09 Februari 2018 , 15:35:00 WIB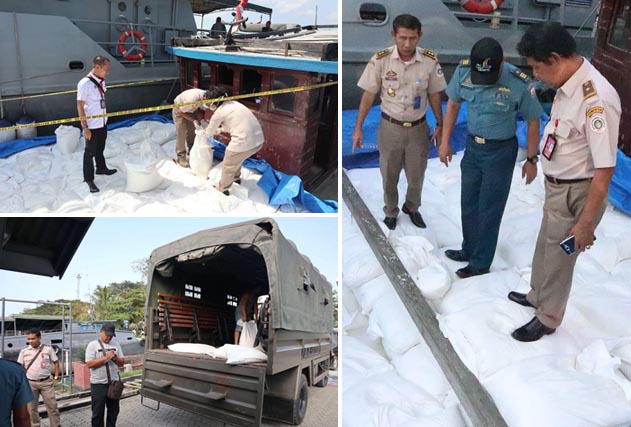 Hasil koordinasi terpadu Balai Besar Karantina Pertanian Belawan dan Pangkalan Utama TNI AL (Lantamal I Belawan) berhasil menggagalkan penyelundupan 20,5 ton beras ketan dari Thailand (Foto2: Humas Barantan)
Jakarta (B2B) - Hasil koordinasi terpadu Balai Besar Karantina Pertanian Belawan dan Pangkalan Utama TNI AL (Lantamal I Belawan) berhasil menggagalkan penyelundupan 20,5 ton beras ketan dari Thailand di dalam palka kapal KM Akarasa, yang ditangkap tim patroli Lantamal I setelah kedapatan tidak memiliki dokumen karantina dari pelabuhan asal.

"Modus operandi penyelundupan dengan menyimpan beras di dalam palka kapal," kata Kepala Balai Besar Karantina Pertanian Belawan, Agus Sunanto kepada pers di Medan, Kamis (8/2).

Dia menambahkan, kapal yang mengangkut beras ketan ilegal tersebut ditangkap di zona teritorial Lantamal I oleh tim patroli TNI AL yang tengah berpatroli, dan ditindaklanjuti melalui koordinasi dengan tim bidang pengawasan dan penindakan Karantina Belawan.

Agus Sunanto menyampaikan apresiasi kepada Komandan Lantamal I, Laksma TNI Ali Triswanto atas dukungannya turut mencegah penyelundupan komoditas pertanian ilegal di provinsi Sumatera Utara dan khususnya Belawan.

"Alhamdulillah, petugas karantina dan TNI di lapangan sangat solid, khususnya dalam menjaga keamanan pangan", kata Agus Sunanto.

Menurutnya, upaya mencegah dan menggagalkan penyelundupan komoditas pertanian merupakan keberhasilan bersama Badan Karantina Pertanian - Kementerian Pertanian RI dengan pihak-pihak terkait dan para pemangku kepentingan untuk menyelamatkan negara dari dampak penyakit tumbuhan yang berpotensi merusak sektor pertanian. "Bisa rugi petani kita."

Saat ini, Balai Besar Karantina Pertanian telah memindahkan beras ketan ilegal dari palka KM Akarasa ke gudang karantina di Jl AH Nasution Gedung Johor, Medan sebagai bahan penyidikan PPNS Karantina Belawan.
Jakarta (B2B) - Integrated coordination of Belawan Agricultural Quarantine Center and Indonesian Navy Base in Medan or Lantamal I Medan foiled smuggling 20.5 tons of glutinous rice from Thailand was hidden in the hold of vessel KM Akarasa, were arrested because without quarantine document from the port of origin.

"The modus operandi of smuggling by storing rice in the hold of vessel," Head of Belawan Agricultural Quarantine Center, Agus Sunanto told the press in Medan on Thursday (February 8).

Sunanto said the smugglers´ vessel were arrested in Indonesia´s territorial zones by a team of naval patrols, then coordinate with quarantine office in Belawan because it is suspected as an illegal agricultural commodity.

Agus Sunanto appreciated the support Commander of Lantamal I Medan, First Admiral Ali Triswanto for his support to prevent illegal smuggling of agricultural commodities in North Sumatera province.

"Thank God, quarantine and military officers in the field is very solid, especially in maintaining food safety," he said.

According to him, efforts to prevent and thwart smuggling of agricultural commodities is joint success Indonesia Agricultural Quarantine Agency (IAQA) of agriculture ministry with relevant parties and stakeholders to save the country from plant diseases that destroy Indonesian agriculture. "Our farmers can lose money."

Currently, the Belawan Agricultural Quarantine Center has moved illegal glutinous rice from the vessel to the quarantine warehouse in Medan, the provincial capital of North Sumatra.