Harga Fleksibilitas, Solusi PJ Pajale Jabar Atasi Gejolak Harga Panen Raya Indramayu
Price Flexibility Applied by Indonesian Govt to overcome the Loss of Rice Farmers
Reporter : Gusmiati Waris
Editor : Cahyani Harzi
Translator : Dhelia Gani

PUBLISHED: Jum'at, 09 Maret 2018 , 16:27:00 WIB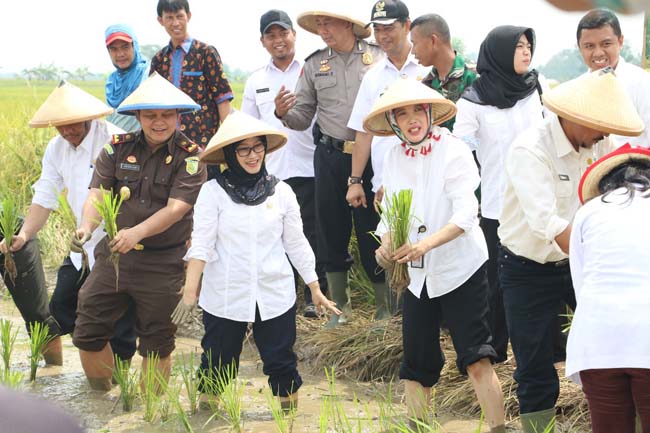 PANEN INDRAMAYU: Penanggung Jawab Upsus Pajale Jabar, Banun Harpini (ke-3 kanan) dan Bupati Anna Sophiana (ke-3 kiri) panen di Kecamatan Trisi didampingi Muspika Indramayu dan Kasubbag Humas Moch Arief (Foto: Humas Barantan)
Indramayu, Jabar (B2B) - Kementerian Pertanian RI memastikan pemerintah pusat telah menjamin harga fleksibilitas harga per kg untuk gabah kering panen (GKP) Rp4.440, gabah kering giling (GKG) Rp5.520 dan beras medium Rp8.770, untuk mengantisipasi kerugian petani akibat harga anjlok saat panen raya di Kabupaten Indramayu, Provinsi Jawa Barat maupun seluruh Indonesia.
Hal itu dikemukakan Penanggung Jawab (PenJab) Upsus Pajale Jabar, Banun Harpini dan Bupati Indramayu, Anna Sophiana saat panen padi dilanjutkan menanam serentak dan serap gabah petani (Sergap) di Kecamatan Trisi, Indramayu pada Rabu (7/3) yang dihadiri Danrem 063/SGJ, Kolonel Inf Sudijanto Sudin.
Banun Harpini mengatakan Kementan mengantisipasi anjloknya harga gabah saat panen raya dengan harga fleksibilitas per kg untuk GKP Rp4.400, GKG Rp5.520 dan beras medium Rp8.770, untuk menyikapi kekhawatiran Bupati Anna Sophiana tentang posisi tawar petani dengan gejolak harga di masa puncak panen raya.
"Jadi saat panen raya nanti tidak akan ada gabah yang harganya dibawah harga fleksibelitas" kata Banun Harpini yang juga menjabat Kepala Badan Karantina Pertanian (Barantan).
Dalam sambutannya, Bupati Anna Sophiana mengatakan Indramayu memiliki luas lahan 210.000 ha, 50% dimanfaatkan untuk sektor pertanian. Namun ada dua masalah yang masih dihadapi petani Indramayu, yaitu harga anjlok saat panen raya dan infrastruktur saluran irigasi primer, sekunder maupun tersier masih ada kerusakan.
Menanggapi hal itu, Banun Harpini mengatakan bahwa kementeriannya telah berkoordinasi dengan Kementerian Pekerjaan Umum dan Perumahan Rakyat (PUPR) yang berwenang menyelesaikan masalah irigasi primer dan sekunder, namun pihaknya akan mendorong program padat karya agar 41% irigasi tersier yang rusak dapat segera diatasi.
"Kita tinggal bersabar saja sekarang. Insya Allah 2019 selesai," katanya.
Bupati Anna Sophiana mengatakan luasan sawah yang dipanen seluas 150 ha, produktivitas 9,7 ton per ha, sementara konsumsi masyarakat Indramayu hanya 250.000 ton sehingga setiap tahun Indramayu surplus beras 1,2 juta ton per tahun.
Indramayu, West Java (B2B) - Indonesian Agriculture Ministry ensures that the central government has guaranteed price flexibility per kg for dry grain harvest 4,440 rupiah, dried unhulled rice 5,520 rupiah and medium rice 8,770 rupiah to anticipate farmer losses due to prices plummeting during rice yield in Indramayu district of West Java province and across the country.
It was stated by Person in Charge of West Java self-sufficiency, Banun Harpini and Indramayu Regent, Anna Sophiana while the rice yield in Trisi subdistrict on Wednesday (February 7) attended by Commander of Regional Command, Colonel Inf Sudijanto Sudin.
Mrs Harpini said the agriculture ministry anticipates price of grain fell at rice yield with the price of flexibility per kg to answer Regent Anna Sophiana who worried about bargaining position of farmers with price fluctuation at the peak of rice yield.
"So farmers at the peak of the rice yield will not lose, because the government applies the flexibility price," Mrs Harpini who also served as Director General of Indonesia Agricultural Quarantine Agency or Barantan.
In her speech, Regent Anna Sophiana said Indramayu has a land area of 210,000 hectares, 50% utilized for the agricultural sector, but there are two problems faced by Indramayu farmers, namely the price of grain fell during the peak of rice yield and irrigation.
In her response, Mrs Harpini said that his ministry has coordinated with the Ministry of Public Works and Public Housing or PUPR, which has the authority to solve agricultural irrigation problems.
"We just have to be patient now, God willing, 2019 can be done," she said.
Regent Sophiana said the area of 150 hectares of rice fields, productivity of 9.7 tons per ha, while Indramayu people consumption only 250,000 tons so that annually Indramayu rice surplus 1.2 million tons per year.