FGD Polbangtan Medan: Petani dan Produsen `Deal` Pangkas Rantai Pasok Kopi
Indonesian Coffee Farmers Still Battered by Supply Chain
Editor : M. Achsan Atjo
Translator : Dhelia Gani

PUBLISHED: Minggu, 23 Desember 2018 , 16:59:00 WIB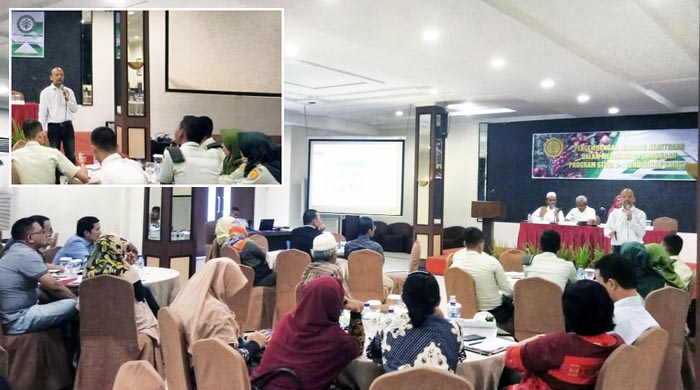 PEGIAT KOPI SUMUT: Sekitar 50 peserta menghadiri FGD yang diinisiasi Polbangtan Medan, untuk mendukung pengembangan Prodi D1 barista yang tersertifikasi oleh LSP Kopi (Foto2: Humas Polbangtan Medan)
Medan, Sumut (B2B) - Petani, produsen, dan pengusaha kedai kopi di Provinsi Sumatera Utara sepakat menerapkan strategi rantai pasok yang menguntungkan petani kopi, sekaligus menjamin pasokan kopi kualitas premium kepada produsen dan kedai kopi, sehingga dapat meminimalisir ruang gerak pemburu rente yang ´tidak berkeringat´ tapi meraih laba berlipat ganda.
Hal itu dikemukakan oleh Wakil Direktur I Polbangtan Medan bidang Pendidikan dan Kerjasama, Nurliana Harahap; Direktur UD Tanpak Sidikalang, H Sabilal Rasyad Maha; Ketua Lembaga Sertifikasi Profesi Kopi (LSP) Edi Panggabean; Manager Starbucks Farmer Support Centre Brastagi, Surip Mawardi pada forum group discussion (FGD) yang diinisiasi oleh Politeknik Pembangunan Pertanian - Polbangtan Medan pada Sabtu (22/12) di Medan.
Sabilal RS mengapresiasi FGD bertema ´pengembangan jejaring kemitraan mendukung pembukaan program studi D1 pendidikan barista´ yang dihadiri 50 peserta untuk menyamakan persepsi tentang harga kopi di tingkat petani, maupun kesejahteraan petani. Pasalnya, pemasaran kopi domestik dan untuk tujuan ekspor tidak menjamin petani hidup lebih sejahtera, karena harga kopi di tingkat petani masih rendah.
"Kalau petani kopi mendapat harga premium, berpeluang meningkatkan kualitas produksi maupun produktivitas per hektar. Produsen kopi akan mendapat produksi kopi berkualitas dari petani, dan pengusaha kedai kopi seperti Starbucks juga mendapat manfaat dari kualitas kopi premium," kata Sabilal RS.
Menurutnya, FGD yang digelar oleh Polbangtan Medan bermanfaat untuk mencari solusi terbaik untuk memotong rantai pasok kopi, dan mengeliminasi pemburu rente yang hanya mengejar laba tanpa memikirkan nasib petani.
"Kita harus sepakat untuk mengeliminasi pemburu rente yang tidak berkeringat tetapi meraih laba berlipat ganda, karena sektor hulu sampai hilir berseberangan jalan. Nah, forum ini bermanfaat untuk menyamakan persepsi tersebut," katanya.
Nurliana Harahap menegaskan komitmen Polbangtan Medan untuk mendukung petani kopi mendapatkan harga terbaik dari produksi berkualitas, salah satunya melalui kegiatan FGD yang akan digelar secara rutin oleh unit pelaksana teknis (UPT) dari Badan Penyuluhan dan Pengembangan SDM Pertanian (BPPSDMP) di Kementerian Pertanian RI di Provinsi Sumatera Utara.
"Kementan berupaya mendorong petani makin berjaya, dan pengusaha akan mendapatkan harga terbaik dengan jaminan pasokan memadai, tidak dipermainkan pihak ketiga yang selalu mempermainkan pasokan dan harga kopi," kata Nurliana H, yang hadir mewakili Direktur Polbangtan Medan, Yuliana Kansrini.
Pendapat senada dikemukakan Edi Panggabean dan Surip Mawardi bahwa sertifikasi profesi barista turut berperan menentukan kualitas kopi yang disediakan oleh pengelola kedai kopi seperti Starbucks.
Tampak hadir Wakil Direktur II Polbangtan Medan bidang Umum dan Teknologi Informasi, Mukhlis Yahya; dan Wakil Direktur III Polbangtan Medan bidang Kemahasiswaan dan Alumni, Dwi Febri Meli. (Cha)
Medan of North Sumatra (B2B) - Farmers, manufacturers, and coffee shops in North Sumatra province agreed to implement the supply chain strategy which benefits coffee farmers, while ensuring the supply of premium coffee to producers and coffee shops, so that it can close the opportunities for renters to make a profit.
It was stated by Deputy Director I of Polbangtan Medan, Nurliana Harahap; Director UD Tanpak Sidikalang, H Sabilal Rasyad Maha; Chairman of the Coffee Profession Certification Institute, Edi Panggabean; Manager of Starbucks Farmer Support Center Brastagi, Surip Mawardi in the group discussion forum (FGD) initiated by Medan´s Agricultural Development Polytechnic or the Polbangtan Medan on Saturday (December 22) in here.
Mr Maha appreciated the FGD themed ´partnership network development support the barista education of D1 study program´ which was attended by 50 participants to equalize perceptions of coffee prices at the farm level, as well as the welfare of farmers. As is known, coffee production for domestic and export does not guarantee the welfare of North Sumatra farmers because prices at the farm level are still low.
"If the price of coffee is good, it´s likely to improve the quality of production and productivity per hectare. Manufacturers will get quality coffee of farmers, and coffee shop entrepreneurs such as Starbucks also benefit of premium coffee quality," he said.
According to him, the discussion initiated by Medan Polbangtan was useful in finding the best solution to cut the coffee supply chain, and eliminating rent-seekers who only pursue profits without thinking about the fate of farmers and the interests of coffee producers.
"We must agree to eliminate rent-seekers who do not sweat but earn profits because upstream to downstream across the road. Now, these forum is useful for equating perceptions," he said.
Mrs Harahap confirmed the commitment of Polbangtan Medan to support coffee farmers to get the best prices of quality production, such as discussions that will be held regularly.
"The ministry seeks to encourage farmers to be more prosperous, and entrepreneurs will get the best prices with guaranteed adequate supply, not being played by third parties who are just looking for profit," said Mrs Panggabean.
Similar opinions were expressed by Mr. Panggabean and Mr. Mawardi that barista certification helped determine the quality of Starbucks coffee