Kementan Dorong Perbankan Penyedia KUR Dukung Petani Biayai Pasca Panen
Indonesian Farmers are Still Constrained by Business Capital Loans
Editor : M. Achsan Atjo
Translator : Dhelia Gani

PUBLISHED: Rabu, 24 Januari 2018 , 20:38:00 WIB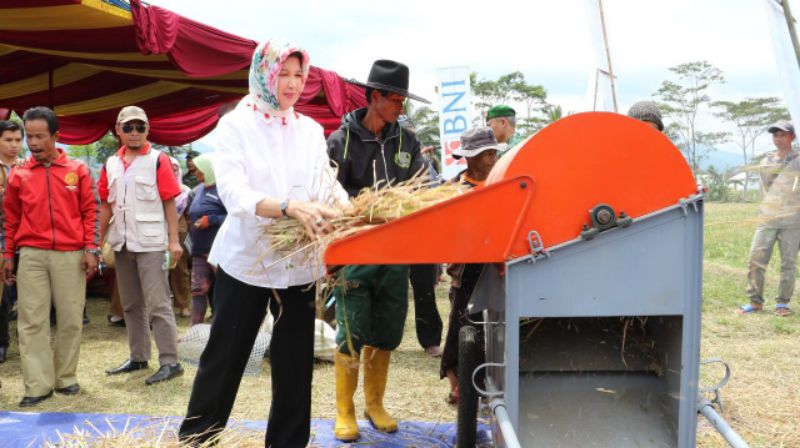 Ketua Tim Penanggung Jawab Upsus Pajale Provinsi Jawa Barat, Banun Harpini menggiling gabah (Foto: Humas Barantan)
Garut, Jabar (B2B) - Kementerian Pertanian berharap perbankan mendukung modal usaha bagi petani dengan skema pinjaman 60% sebelum panen padi, dan 40% setelah musim panen. Tahun ini, pemerintahan Joko Widodo - JK menyediakan KUR sebesar Rp120 triliun, 50% alokasi KUR ke sektor produktif yang disalurkan oleh 15 bank umum dan swasta, 19 bank pembangunan daerah (BPD), 4 lembaga keuangan nonbank dan dua koperasi simpan pinjam (Kospin).

Hal itu dikemukakan oleh Ketua Tim Penanggung Jawab Upsus Pajale Provinsi Jawa Barat, Banun Harpini; Bupati Garut, Rudi Gunawan; dan Kepala Dinas Pertanian Kabupaten Garut, Beni Yoga usai panen dan serap gabah di Desa Karang Sari, Kecamatan Pangatikan di lahan seluas 10 hektar dari total lahan 517 hektar di seluruh wilayah Kecamatan Pengatikan, Selasa (23/1).

Banun mengakui bahwa timnya di Kementerian Pertanian tengah berkoordinasi dengan pihak-pihak terkait untuk menyiapkan hilirisasi produk pertanian, khususnya di Kabupaten Garut, sebagai salah satu dari lima sentra produksi padi di Jawa Barat sehingga petani mendapatkan nilai tambah dari hasil pertaniannya.

"Saat ini hasil panen padi dari petani Garut masih diserahkan dalam bentuk gabah di Pasar Induk Beras Cipinang, hal itu yang menjadi perhatian kami di tim Upsus Kementan untuk mendorong perbankan dengan fasilitas KUR bagi petani, dengan skema pendanaan 60% sebelum panen dan 40% setelah gabah masuk gudang," kata Banun, yang juga menjabat Kepala Badan Karantina Pertanian (Barantan).

KUR Rp120 Triliun
Sebelumnya diberitakan, Pemerintah RI mengalokasikan pinjaman modal usaha KUR sebesar Rp120 triliun untuk 2018, bunga pinjaman 9% pada 2017 diturunkan menjadi 7% tahun ini, dengan target empat juta debitur di seluruh Indonesia, dan 50% dana KUR 2018 diprioritaskan untuk sektor produktif sementara pada 2017 hanya 40%.

Dana KUR 2018 akan disalurkan oleh 15 bank umum dan swasta, 19 bank pembangunan daerah (BPD), empat lembaga keuangan nonbank dan dua koperasi. Penyalur KUR terbesar adalah Bank Rakyat Indonesia (BRI) hingga Rp79,7 triliun kemudian Bank Mandiri Rp14,56 triliun, dan Bank BNI Rp13,4 triliun.

Bupati Rudi Gunawan menambahkan, skema KUR pasca panen telah dilakukan dan berhasil memberi manfaat langsung untuk memberi jaminan harga bagi petani komoditas kentang dan jagung di Garut, dan keberhasilan mereka telah diakui secara nasional.

"Petani padi Garut tetap khawatir meskipun sudah siap panen, dan meminta Bulog dapat menyerap seluruh gabah dari petani dengan harga sesuai ketentuan HPP dari pemerintah," katanya.

Beni Yoga mendukung langkah Kementan seperti dikemukakan Banun Harpini agar petani mendapatkan nilai tambah dan jaminan pasar untuk meningkatkan kesejahteraan petani.
Garut of West Java (B2B) - Indonesian Agriculture Ministry expects banking access to business capital loans for farmers with 60% loan schemes before rice harvest, and 40% after the harvest season. This year, the Joko Widodo administration provides people´s business credit or KUR as a venture capital loan of IDR 120 trillion, 50% of KUR allocation to productive sectors by 15 commercial and private banks, 19 regional development banks, 4 non-bank financial institutions and two savings and loan cooperatives or Kospin.

It was stated by Indonesian senior official of increase rice production program, called the Upsus Pajale, Banun Harpini; Garut Regent, Rudi Gunawan; and Head of Garut Agriculture Office, Beni Yoga after the rice harvest in Karang Sari village of Pangatikan subdistrict on Tuesday (January 23).

Mrs Harpini Harpini acknowledged that herteam at the agriculture ministry was coordinating with relevant parties to prepare the downstream of agricultural products, especially in Garut regency, as one of the five rice production centers of West Java province so that farmers get value added of agricultural products.

"Currently the rice harvest of Garut farmers still sells in unhulled rice instead of rice to the Jakarta´s Cipinang Central Rice Market, it is our concern at the ministry to encourage banks to provide the KUR for farmers by 60% pre-harvest scheme and 40% after rice harvest," said Mrs Harpini who also serves as the Director General of Indonesian Agricultural Quarantine Agency (IAQA).

IDR120 Trillion
Previously reported, Indonesian government allocated KUR amounting to IDR120 trillion for 2018, 9% interest rate is reduced to 7% for this year, targets four million debtors across the country and 50% of KUR for 2018 are prioritized for the productive sector while in 2017 only 40%.

The KUR funds will be distributed by 15 commercial and private banks, 19 regional development banks, four nonbank financial institutions and two cooperatives. Bank Rakyat Indonesia provided IDR79.7 trillion, Bank Mandiri IDR14.56 trillion and Bank BNI IDR13.4 trillion.

Bupati Rudi Gunawan said the post-harvest KUR scheme gives direct benefits to the price guarantee for potato and corn farmers in Garut, and their success has been recognized nationally.

"Garut rice farmers remain worried even though it is ready for harvest, and the Logistics Agency can buy grain farmers according to government price provisions," he said.

Beni Yoga supports the ministerial steps as stated by Banun Harpini for farmers to gain value added and market guarantee, to improve the welfare of farmers.