Barantan Dukung RI Kembangkan Peluang Ekspor Daging Sapi Wagyu
Indonesian`s AQA Support Enncourages Export of Wagyu Beef
Reporter : Gusmiati Waris
Editor : Cahyani Harzi
Translator : Dhelia Gani

PUBLISHED: Senin, 12 Februari 2018 , 21:35:00 WIB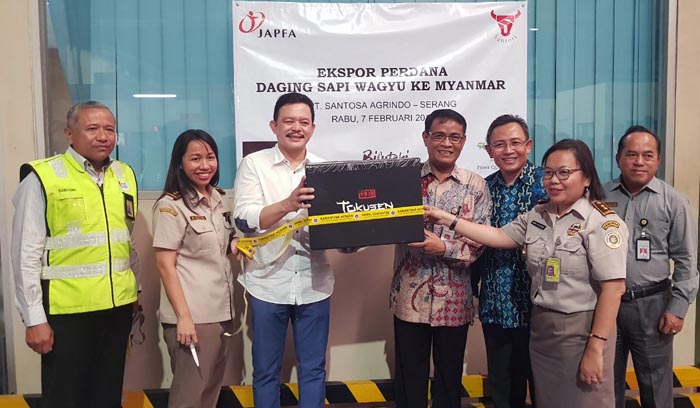 Kapus Karantina Hewan dan Keamanan Hayati Barantan, Mulyanto (kanan) dan Dirjen PKHI Ketut Diarmita (ke-4 kanan) dan Kabid Karantina Hewan BBKP Soekarno - Hatta, Risma JP Silitonga (ke-2 kanan)
Jakarta (B2B) - Badan Karantina Pertanian (Barantan) memastikan ekspor perdana 599 kg daging sapi wagyu (prime cut) aman diekspor ke Myanmar setelah memeriksa intensitas suhu dan kemasan, dokter hewan karantina segera merilis sertifikat sanitasi produk hewan sebagai persyaratan ekspor komoditas pertanian.
Hal itu dikemukakan oleh Kepala Pusat Karantina Hewan dan Keamanan Hayati Hewani Barantan, Mulyanto; dan Kabag Umum Balai Besar Karantina Pertanian - BBKP Soekarno - Hatta, Eka Darnida Yanto dan Kabid Karantina Hewan BBKP Soekarno - Hatta, Risma JP Silitonga terkait pemeriksaan daging sapi beku tanpa tulang (frozen boneless beef) kategori kualitas terbaik (prime cut) sebanyak 599 kilogram yang diekspor ke Myanmar oleh PT Santosa Agrindo.
"Inspeksi dilakukan terhadap kondisi daging yakni pemeriksaan intensitas suhu, memastikan kemasan dalam kondisi baik dan tidak terjadi kerusakan ataupun kebocoran kemasan," kata Mulyanto.
Apabila semua terpenuhi, dokter hewan karantina segera merilis sertifikat sanitasi produk hewan (sanitary certificate of animal product).
Eka Darnida Yanto mengatakan tugas utama petugas karantina adalah memeriksa dokumen, sertifikat kesehatan dari dokter hewan berwenang di daerah asal untuk menjamin bahwa produk segar pertanian ini sehat dan layak konsumsi. Sertifikat kesehatan hewan dari karantina hewan merupakan dokumen dagang antarnegara mitra dagang yang saling menjamin.
"Karantina memastikan betul daging ini layak di ekspor di pintu terakhir Indonesia, sehingga tidak akan ada hambatan di negara tujuan," kata Eka DY.
Meleleh di Mulut
Daging sapi wagyu ekspor dihasilkan dari peternakan binaan Direktorat Jenderal Peternakan dan Kesehatan Hewan (PKH) Kementan dan mendapat nomor kontrol veteriner (NKV).
"Jenis daging yang diekspor terdiri atas 13 jenis seperti tenderloin steak, striploin steak, bifuteki steak, cuberoll, smoked wagyu sausage dan wagyu meat ball," kata Risma JP Silitonga.
Sebagaimana diketahui, daging sapi prime cut merupakan bagian dari tubuh sapi yang jarang digunakan untuk bergerak saat hidup, membuat daging lebih empuk dan lezat rasanya.
Banyak serat putih atau marbling pada daging dan saat berada di lidah seakan meleleh, yang dihasilkan dari pemeliharaan dan perawatan khusus dengan pakan istimewa seperti rumput segar, jagung, barley, aneka vitamin dan kalsium diikuti pemijatan khusus agar sapi tidak stres.
Ke depan, diharapkan makin terbukanya pasar ekspor daging sapi jenis khusus ini dapat memicu produktivitas ternak, untuk menghasilkan komoditas yang sesuai dengan peluang pasar sehingga dapat memberi nilai tambah bagi peternak.
Jakarta (B2B) - Indonesian Agricultural Quarantine Agency (IAQA) confirmed the initial export of 599 kg of wagyu beef (prime cut) safely export to Myanmar after quarantine inspection, quarantine veterinarians will issue certificate of animal product sanitation as the requirement for export of agricultural commodities.
It was stated by Director of Quarantine and Animal Safety Center, Mulyanto; Head of Division Jakarta's AQA Soekarno - Hatta, Eka Darnida Yanto and his deputy Risma JP Silitonga related to frozen boneless beef of prime cut category was 599 kg exported by Santosa Agrindo company.
The quarantine inspection on meat conditions to check the temperature intensity, and packaging conditions," Mulyanto said.
After all conditions are met, quarantine veterinarians issue a sanitary certificate of animal product.
Eka Darnida Yanto said the primary duty of quarantine officers is to examine documents, health certificates from authorized veterinarians from the region of origin of meat to ensure fresh agricultural products are healthy and safe for consumption. Animal health certificates of animal quarantine are trade documents between trading partner countries.
Quarantine ensures viable exports at Indonesia's last door, ensuring no obstacles to export destination countries," said Eka DY.
Melted in the Mouth
Wagyu beef is produced of farms supported by the Directorate General of Livestocks and Animal Health, and has obtained a veterinary control number.
The types of meat exported consist of 13 types such as tenderloin steak, striploin steak, bifuteki steak, cuberoll, smoked wagyu sausage and wagyu meat ball," Mrs Silitonga said.
As is known, prime cut beef is part of the cow's body is rarely used to move while living, making the meat more tender and tasty.
Many white fibers or marbling on wagyu meat and while in the mouth seemed to melt, because special treatment with fresh grass feed, corn, barley, various vitamins and calcium followed by special massage so that the cow is not stressed.
In the future, it is expected that the wagyu beef export opportunity will increase the livestock productivity, as the agricultural commodity in accordance with the market opportunity so that it can give value added for the farmers.