Karantina Pertanian Soetta Musnahkan Komoditas HPHK dan OPTK yang Ancam RI
Indonesian Agricultural Quarantine Agency Destroys Animal Pests and Diseases from Abroad
Editor : M. Achsan Atjo
Translator : Dhelia Gani

PUBLISHED: Kamis, 01 Februari 2018 , 21:52:00 WIB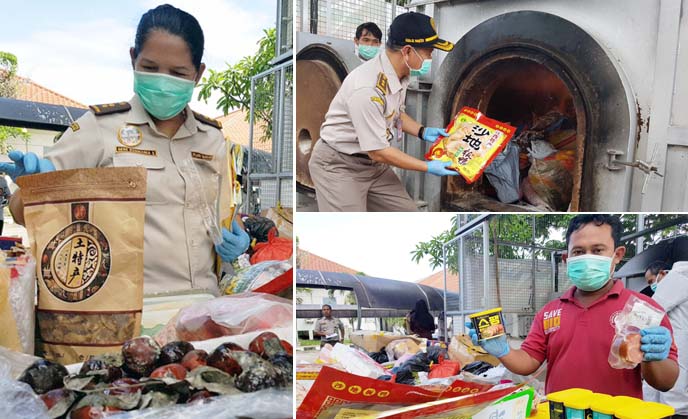 komoditas pertanian yang dimusnahkan antara lain 400 gram benih kedelai asal Taiwan, 93 kg buah kurma asal Mesir, 683 kg produk hewan dari mancanegara, 9 vial vaksin milik Pordasi (Foto2: Humas Barantan)
Jakarta (B2B) - Badan Karantina Pertanian (Barantan) memusnahkan beberapa komoditas pertanian yang masuk ke Indonesia, khususnya melalui Bandara Internasional Soekarno - Hatta, Cengkareng, Banten pada Oktober hingga Desember 2017 karena masuk ilegal, dan tergolong media pembawa hama dan penyakit hewan karantina (HPHK), dan organisme pengganggu tumbuhan karantina (OPTK).

Pelaksana Harian (Plh) Kepala Balai Besar Karantina Pertanian Soekarno - Hatta, Eka Darnida Yanto mengatakan komoditas pertanian tergolong HPHK dan OPTK, dinyatakan berbahaya, dan berdampak negatif terhadap tanaman di Indonesia yang diatur dalam UU Karantina Hewan, Ikan dan Tumbuhan Nomor 16/1992.

Eka DY menambahkan komoditas pertanian yang dimusnahkan antara lain 400 gram benih kedelai asal Taiwan, 93 kg buah kurma asal Mesir, 683 kg produk hewan dari mancanegara, 9 vial vaksin milik pengurus pusat Persatuan Olahraga Berkuda Seluruh Indonesia (Pordasi), lima ekor burung merpati asal Taiwan.

"Pemusnahan dilakukan sesuai amanat UU karantina hewan, ikan dan tumbuhan untuk menjaga sumber daya alam di Indonesia dari ancaman HPHK dan OPTK dari luar wilayah RI," kata Eka DY melalui pernyataan tertulis.

Dia menguraikan bahwa setelah pengujian pada 400 gram benih kedelai asal Taiwan didapati mengandung Broad Bean Wilt Virus (BBWV) yang merupakan OPTK kategori A1 golongan satu, yang dinyatakan sebagai penyakit yang belum ada di Indonesia dan tidak dapat dibebaskan dengan cara perlakuan karantina.

"Bila benih kedelai bervirus ini masuk ke Indonesia maka akan menimbulkan dampak negatif terhadap kedelai lokal," katanya.

Eka menguraikan tentang BBWV yang menyerang kedelai dapat mengurangi produksi 50% hingga 75% dari total luasan lahan tanam. Selain itu, BBWV juga dapat menyerang 180 spesies tanaman lainnya dari 41 famili antara lain tomat, wortel dan kacang panjang.

Pemusnahan lain dilakukan karena tidak dilengkapi dengan dokumen persyaratan; berasal dari daerah yang dilarang pemasukannya; atau berdasarkan uji laboratorium ditemukan penyakit yang dapat mengancam pertanian dan peternakan di Indonesia.

"Khusus lima ekor burung merpati dimusnahkan karena berasal dari area wabah avian influenza, maka sesuai dengan Permentan Nomor 44/2013 tentang penghentian pemasukan unggas dan/atau produk segar unggas dari China ke Indonesia maka seluruh unggas dan produk unggas dari China wajib dimusnahkan.
Jakarta (B2B) - Indonesian Agriculture Quarantine Agency destroy some agricultural commodities into Indonesia, especially through Soekarno - Hatta International Airport, Cengkareng, Banten in October to December 2017 due to illegal entry, and classified as carrier of quarantine pests and animal diseases or HPHK and quarantine plant disturbing organisms or OPTK.

Daily Executive Head of Agricultural Quarantine Soekarno - Hatta, Eka Darnida Yanto said agricultural commodities classified HPHK and quarantine pest, declared dangerous, and negatively impacted the crops in Indonesia which are regulated in the Act of Animal, Fish and Plant Quarantine No. 16/1992.

Eka DY said agricultural commodities destroyed include 400 grams of soybean seed from Taiwan, 93 kg of Egyptian dates, 683 kg of animal products from abroad, 9 vial vaccines owned by the central board of Indonesian Equestrian Sports Association or Pordasi, and five Taiwanese pigeons.

"The extermination is done according to the laws of animal, fish and plant quarantine to safeguard natural resources in Indonesia from the threat of HPHK and OPTK from outside Indonesia," he said in a written statement.

He said that after 400 grams of Taiwanese soybean seed was tested it contained Broad Bean Wilt Virus (BBWV) which is OPTK category A1 group one, and expressed as a disease that does not exist in Indonesia and can not be released with quarantine treatment.

"If the soybean seeds enter the country will have a negative impact on local soybeans," he said.

Eka describes about BBWV that attack soybeans can reduce production 50% to 75% of the total area of planting land. In addition, BBWV can also attack 180 other plant species from 41 families including tomatoes, carrots and long beans.

Other extermination is done because without requirement document; comes from areas forbidden to import; or based on laboratory tests found diseases that threaten agriculture and livestock in Indonesia.

"Specifically five pigeons were destroyed because of the avian influenza outbreak area, in accordance with Indonesian agriculture minister regulation Number 44/2013 on the termination of imports of poultry and / or fresh poultry products from China to Indonesia, the poultry from China must be destroyed.