Banun Harpini Tegaskan Komitmen Barantan 2018 Dukung Swasembada Pangan
Indonesian Agricultural Quarantine Commitment to Support Food Self-sufficiency in 2018
Reporter : Gusmiati Waris
Editor : Cahyani Harzi
Translator : Dhelia Gani

PUBLISHED: Selasa, 16 Januari 2018 , 22:49:00 WIB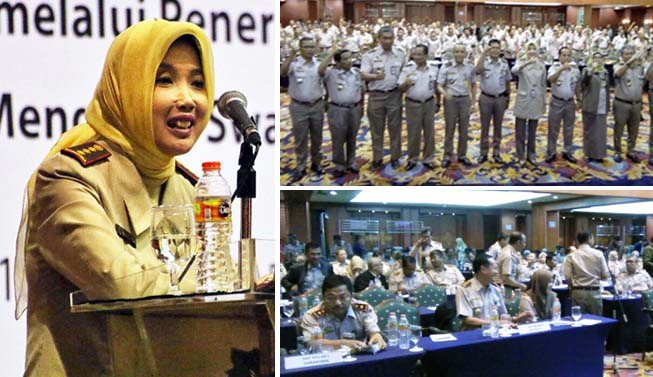 Kepala Badan Karantina Pertanian (Barantan) Banun Harpini menyampaikan arahan (kiri) dan jajaran Barantan yang hadir pada Rakernas 2018 (Foto2: istimewa)
Jakarta (B2B) - Kepala Badan Karantina Pertanian (Barantan) Banun Harpini hari ini, Selasa (16/1) menegaskan komitmen seluruh jajarannya untuk mendukung target strategis Kementerian Pertanian RI untuk 2018 seperti diinstruksikan Menteri Pertanian Andi Amran Sulaiman pada rapat kerja nasional (Rakernas) di Bidakara, Jakarta pada Senin (16/1) untuk mendukung pencapaian target NawaCita sektor pangan di pemerintahan Joko Widodo - Jusuf Kalla.

"Rapat ini menindaklanjuti Rakernas kementerian yang dibuka Mentan kemarin di sini, hari ini Barantan melakukan penajaman terhadap instruksi dan target yang ditetapkan Mentan untuk mencapai target strategis Kementan 2018," kata Banun Harpini kepada pers usai membuka Rakernas Barantan di Bidakara - Jakarta, Selasa sore (16/1).

Dia menambahkan selain mengemban tugas utama di bidang karantina pertanian, Barantan diharapkan berperan penting mendukung peningkatan komoditas strategis padi, jagung, dan kedelai (Pajale), dan pencapaian swasembada daging melalui program upaya khusus sapi indukan wajib bunting (Siwab) oleh Kementan.

"Program unggulan Barantan untuk 2018 antara lain aplikasi sistem kinerja paperless atau meminimalisir penggunaan kertas dalam kegiatan administrasi kantor dan meningkatkan kerjasama dengan TNI dan Polri untuk mengawal program swasembada pangan," kata Banun Harpini.

Tampak hadir Sekretaris Barantan, Sujarwanto; Kepala Pusat Karantina Hewan dan Keamanan Hayati Hewani, Mulyanto, MM; Kepala Pusat Karantina Tumbuhan dan Keamanan Hayati Nabati, Antarjo Dikin; dan Kepala Pusat Kepatuhan, Kerjasama dan Informasi Perkarantinaan, Arifin Tasrif. Hadir pula para pimpinan unit pelaksana teknis (UPT) dari seluruh Indonesia.

"Kami juga akan terus mengoptimalkan sistem pengendalian internal disingkat SPI dan berbagai inovasi dalam layanan karantina untuk mengoptilmalkan pelayanan publik di subsektor perkarantinaan," kata Banun Harpini.

Laman resmi Barantan menyebutkan kinerjanya didukung 3.684 pegawai di antaranya 393 penyidik pegawai negeri sipil (PPNS), 253 intelijen, 127 polisi khusus (Polsus) yang mendukung pelaksanaan 52 kantor pelayanan dan 394 walker di seluruh Indonesia. Sementara untuk sertifikasi ISO 9001 dilaksanakan oleh 34 UPT dan 18 UPT menangani ISO 17025.
Jakarta (B2B) - Indonesian Agricultural Quarantine Agency or IAQA, known by its Indonesian acronym Barantan, affirmed its commitment to support the strategic target of the agriculture ministry as instructed by Minister Andi Amran Sulaiman at the national agriculture sector meeting in Jakarta on Monday (January 15) to support the food sector development of Joko Widodo administration, according to the director general.

"The meeting is a follow up to the national agricultural working meeting here, yesterday, and today we gather to elaborate policies and strategic steps to implement minister instructions to achieve the strategic target of the agriculture ministry 2018," the Director General of Barantan, Banun Harpini told the press here on Tuesday (January 16).

She added that the BPPSDMP is expected to contribute to increasing the production of strategic food commodities such as soybeans, garlic, beef self-sufficiency, and spices that are the responsibility of the directorate general at the ministry.

"Barantan´s flagship programs for 2018 include the application of paperless performance systems in office administration activities, and increasing cooperation with the military and police to support food self-sufficiency programs," Mrs Harpini said.

It was attended by the Secretary of Barantan, Sujarwanto; Director of the Quarantine and Animal Safety Center, Mulyanto, MM; Director of the Plant Quarantine and Biodiversity Safety Center, Antarjo Dikin; and Director of Center for Compliance, Cooperation and Information Quarantine, Arifin Tasrif; also attended by the leaders of technical implementation units or the UPT across the country.

"We will optimize the internal control system and various quarantine service innovations to support public needs in the quarantine subsector," Mrs Harpini said.

The IAQA´s official website mentions its performance supported by 3,684 civil servants including 393 civil servant investigators, 253 intelligence, 127 special police. While for ISO 9001 certification implemented by 34 UPT and 18 UPT handle ISO 17025.