Mahasiswa Kendari Tewas Tertembak jadi Sorotan Dunia
Fresh Demonstrations as Indonesian Students Die in Legal-reform Protests
Editor : Ismail Gani
Translator : Novita Cahyadi

PUBLISHED: Sabtu, 28 September 2019 , 14:54:00 WIB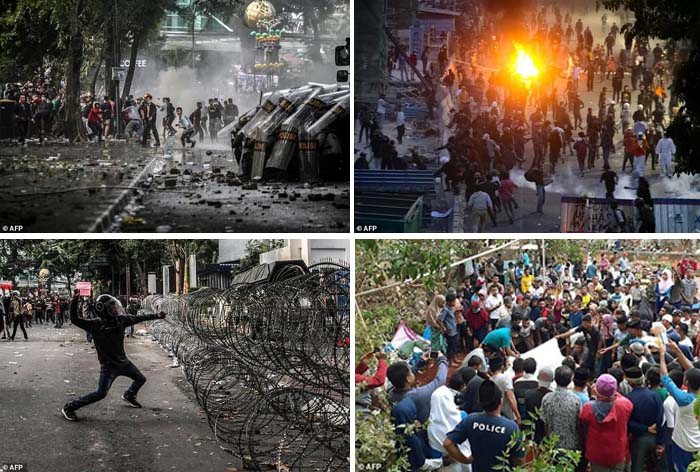 Foto2: AFP/MailOnline
UNJUK RASA terbaru berlangsung di seluruh Indonesia pada Jumat ketika presiden memerintahkan penyelidikan atas kematian dua mahasiswa selama gelombang demonstrasi menentang reformasi hukum memecah belah, termasuk melarang seks pra-nikah dan melemahkan lembaga anti-korupsi.

Seorang mahasiswa teknik Universitas Halua Oleo Kendari berusia 19 tahun meninggal karena luka benturan benda tumpul saat berlangsungnya unjuk rasa yang meletus di kota Kendari, Sulawesi Tenggara pada Kamis, menurut direktur rumah sakit setempat.

Penyebab pasti kematian mahasiswa malang tersebut belum diketahui pasti.

Pada Jumat, polisi mengonfirmasi bahwa seorang korban sebelumnya di Kendari tewas akibat peluru tajam, sementara Polri menyatakan bahwa personel polisi tidak dilengkapi dengan peluru tajam.

Presiden Joko Widodo mengatakan dia telah memerintahkan penyelidikan atas kematian para mahasiswa, sebagai tantangan utamanya hanya beberapa pekan sebelum dilantik sebagai presiden periode kedua.

"Sejak awal saya telah menginstruksikan Kapolri dan anak buahnya untuk tidak bertindak berlebihan," kata Presiden Jokowi berusia 58 tahun pada Jumat.

Kematian para mahasiswa terjadi setelah berhari-hari terjadi unjuk rasa yang berujung anarkis di seluruh Indonesia yang mengakibatkan ratusan orang terluka dan memicu seruan untuk menyelidiki dugaan kebrutalan polisi.

Pada Jumat, polisi menembakkan gas air mata saat demonstrasi meletus di Makassar, Sulawesi Selatan dan Medan, Sumatera Utara.

Keresahan itu dipicu oleh RUU yang diusulkan yang mencakup puluhan perubahan hukum - dari mengkriminalisasi seks pra-nikah dan membatasi penjualan kontrasepsi, menjadikannya ilegal untuk menghina presiden dan memperkuat hukum penodaan agama di negara mayoritas Muslim itu.

Upaya reformasi hukum tersebut kemudian ditunda.

Ada juga reaksi terhadap RUU terpisah yang dikhawatirkan oleh para pengkritik akan melemahkan kewenangan Komisi Pemberantasan Korupsi [KPK], termasuk kemampuannya untuk menyadap para tersangka korupsi.

Demonstrasi itu termasuk yang terbesar sejak protes jalanan massal pada 1998 menjatuhkan kediktatoran Soeharto dan membuka pintu bagi Indonesia yang negara demokrasi terbesar ketiga di dunia.

"Demonstrasi yang sangat mendadak dan kuat ini secara nasional ... memperjelas bahwa setiap tindakan oleh (Widodo) untuk melepaskan kebebasan demokratis akan menghadapi perlawanan di jalan-jalan oleh segmen masyarakat yang sama yang memulai reformasi pada 1998," kata pengamat risiko politik Kevin O ' Rourke.

"Mahasiswa telah mengirim pesan tegas bahwa reformasi itu penting."

Tes politik
Para mahasiswa mengeluarkan daftar permintaan yang luas termasuk menghapus beberapa perubahan RUU KUHP, menarik pasukan dari wilayah Papua yang bergolak di Indonesia, dan menghentikan kebakaran hutan di Sumatra dan Kalimantan yang telah mengeluarkan kabut asap di kawasan Asia Tenggara.

Pemerintahan Widodo berusaha menuding bahwa unjuk rasa mahasiswa ditunggangi oleh kelompok tertentu yang bertujuan untuk mengganggu pemerintah - dan menyarankan mereka mirip dengan kerusuhan mematikan pasca pemilihan yang melumpuhkan Jakarta pada Mei lalu.

"Jokowi tidak pernah menghadapi situasi serumit ini," kata Arya Fernandes, seorang peneliti politik di Pusat Studi Strategis dan Internasional [CSIS] yang berbasis di Jakarta.

"Kemampuan kepemimpinannya sedang diuji," tambahnya.

Perubahan kontroversial dapat mempengaruhi jutaan orang Indonesia, termasuk pasangan gay dan heteroseksual yang mungkin menghadapi hukuman karena berhubungan seks di luar nikah, atau berselingkuh.

Memperbarui hukum pidana era kolonial Indonesia di Indonesia telah diperdebatkan selama beberapa dekade.

Dorongan baru tahun ini, yang didukung oleh kelompok-kelompok Islam, disambut dengan gelombang kritik atas apa yang dilihat banyak orang sebagai hukum kejam.

Sementara itu, polisi mengatakan Jumat bahwa seorang mahasiswa berusia 22 tahun di Kendari meninggal setelah ditembak pada hari sebelumnya, tetapi mengulangi klaim sebelumnya bahwa polisi anti huru hara tidak membawa peluru tajam.

"Otopsi menunjukkan bahwa itu adalah luka tembak dari peluru tajam," kata kepala kepolisian Sulawesi Tenggara, Iriyanto kepada pers seperti dikutip AFP yang dilansir MailOnline.

"Tolong percayai kami dan beri kami waktu untuk menyelidiki untuk mengetahui siapa pelakunya ... Jika ada petugas yang bersalah atas hal ini kami akan menghukumnya sesuai koridor hukum."
FRESH PROTEST broke out across Indonesia on Friday as the president ordered a probe into two student deaths during a wave of demonstrations against divisive legal reforms, including banning pre-marital sex and weakening the anti-graft agency.

A 19-year-old engineering student died of blunt-force head injuries during riots that erupted in Kendari city on Sulawesi island Thursday, according to the local hospital director.

The precise circumstances surrounding his death were not clear.

On Friday, police confirmed that an earlier victim in Kendari was killed by a live bullet, while insisting that officers were not equipped with live ammunition.

President Joko Widodo said he has ordered a probe into the students' deaths, as he faces a key test just weeks before kicking off a second term.

"Since the very start I have instructed the chief of police and his staff not to act excessively," the 58-year-old leader said Friday.

The students' deaths come after days of pitched street battles across the Southeast Asian nation that have left hundreds injured and sparked calls for a probe into allegations of police brutality.

On Friday, police fired tear gas as demonstrations erupted in Makassar on Sulawesi and Medan in Sumatra.

The unrest was fuelled by a proposed bill that includes dozens of legal changes -- from criminalising pre-marital sex and restricting contraceptive sales, to making it illegal to insult the president and toughening the Muslim-majority country's blasphemy law.

Passage of the reforms has now been delayed.

There has also been a backlash against a separate bill that critics fear would dilute the powers of Indonesia's corruption-fighting agency, including its ability to wire-tap graft suspects.

The demonstrations are among the biggest since mass street protests in 1998 brought down the Suharto dictatorship and opened the door to what has become the world's third-biggest democracy.

"These very sudden and forceful demonstrations nationwide... make clear that any moves by (Widodo) to unwind democratic freedoms will face resistance in the streets by the same segment of society that kickstarted reforms in 1998," said political risk analyst Kevin O'Rourke.

"Students have sent a firm message that reform matters."

- Political test -
Students issued a wide-ranging list of demands including scrapping some criminal-code changes, withdrawing troops from Indonesia's restive Papua region, and halting forest fires in Sumatra and Borneo that have unleashed toxic haze across Southeast Asia.

Widodo's administration sought to portray the protests as being hijacked by agitators aiming to disrupt government -- and suggested they were similar to deadly post-election riots that paralysed Jakarta in May.

"Jokowi has never faced a situation as complex as this," said Arya Fernandes, a political researcher at the Jakarta-based Centre for Strategic and International Studies, using Widodo's common nickname.

"His leadership abilities are being tested," he added.

The controversial changes could affect millions of Indonesians, including gay and heterosexual couples who might face jail for having sex outside wedlock, or having an affair.

Updating Indonesia's Dutch colonial-era criminal code has been debated for decades.

A renewed push this year, backed by Islamic groups, was met with a wave of criticism over what many saw as a draconian law.

Meanwhile, police said Friday that a 22-year-old university student in Kendari died after being shot the previous day, but repeated earlier claims that riot police were not carrying live ammunition.

"The autopsy shows it was a gunshot wound from a live bullet," Southeast Sulawesi police chief Iriyanto, who goes by one name, told reporters.

"Please trust us and give us time to investigate to find out who the perpetrators are... If any officer is guilty of this we'll treat him according to the law."