Australia dan Indonesia Sepakati `Awal Baru` Perjanjian Perdagangan
Australia, Indonesia Move to Implement Trade Deal
Editor : Ismail Gani
Translator : Novita Cahyadi

PUBLISHED: Selasa, 11 Februari 2020 , 18:09:00 WIB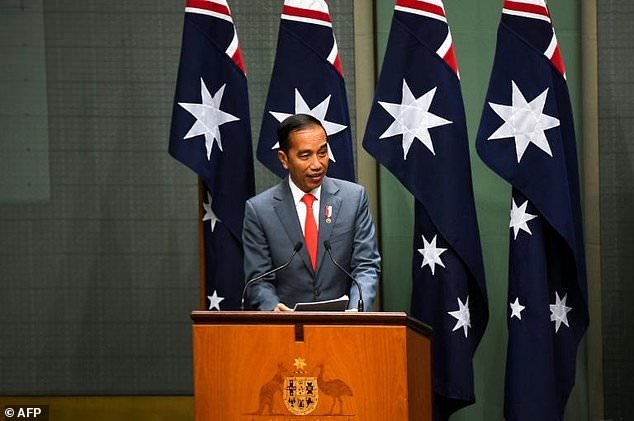 Presiden Jokowi mengatakan kunjungannya ke Australia menandai "awal baru dari hubungan" kedua negara [Foto:AFP/MailOnline]
AUSTRALIA dan Indonesia mengumumkan rencana 100 hari pada Senin, untuk mengimplementasikan kesepakatan perdagangan yang telah lama tertunda, karena kedua negara menyebut "awal baru" untuk hubungan kedua negara yang kerap terhadang masalah.
Kedua negara anggota G20 berharap dapat meningkatkan hubungan perdagangan saat ini bernilai US$12 miliar per tahun, di wilayah yang semakin didominasi oleh kekuatan ekonomi dan militer China.
Berbicara kepada parlemen Australia dalam kunjungan kenegaraan, Presiden Joko Widodo menyebut kedua negara sebagai "Avenger" - yang bersatu untuk mengalahkan "musuh bersama" dan menghadapi tantangan bersama seperti seperti proteksionisme, intoleransi, dan perubahan iklim.
Presiden Jokowi mengatakan kunjungannya ke Australia menandai "awal baru dari hubungan baru" antara kedua negara.
Media asing AFP menyebut bahwa Jokowi selaku mantan pengusaha pabrikan furnitur berusia 58 tahun itu dilantik untuk masa jabatan kedua akhir tahun lalu, berjanji untuk mengurangi kemiskinan yang meluas karena Indonesia merupakan salah satu kekuatan ekonomi terbesar di dunia.
Negosiasi atas kesepakatan perdagangan Australia -Indonesia dimulai 2010 dan diratifikasi oleh parlemen Indonesia pekan lalu, menjelang kunjungan Widodo.
Perjanjian tersebut pada akhirnya akan penghapusan semua tarif perdagangan Australia, sementara 94% bea masuk Indonesia akan secara bertahap dihapus.
Akses yang lebih besar ke pasar Australia diperkirakan akan memacu industri otomotif dan tekstil Indonesia, dan mendorong ekspor kayu, elektronik, dan barang-barang obat.
Pakta perdagangan ini juga mencakup peningkatan akses bagi industri pertanian Australia ke pasar luas Indonesia yang berpenduduk 260 juta orang.
Universitas, penyedia kesehatan, dan penambang Australia juga akan mendapat manfaat dari masuknya lebih mudah ke ekonomi terbesar di Asia Tenggara.
Dalam penampilan publik bersama dengan Presiden Jokowi di Canberra, Perdana Menteri Australia Scott Morrison menjabarkan "rencana aksi" 100 hari untuk segera diimplementasikan.
Dia menyebut kesepakatan yang telah lama tertunda itu sebagai "pengaturan yang saling menguntungkan, yang melihat kerja sama ekonomi kita untuk pertumbuhan yang kuat yang akan kita lihat selama dekade berikutnya dan seterusnya".
Pemimpin kedua negara juga mencermati pembicaraan yang bertujuan untuk memudahkan orang Indonesia memasuki Australia dan meninjau travel advis Australia untuk tujuan wisata di Indonesia, kata PM Morrison.
Hubungan antara Canberra dan Jakarta sering tegang, termasuk karena pendekatan garis keras Australia terhadap para pencari suaka.
Kesepakatan perdagangan dimaksudkan untuk ditandatangani pada 2018, tetapi terhenti ketika Morrison mengusulkan relokasi kedutaan Australia di Israel ke Yerusalem - sebuah langkah yang membuat Indonesia marah, negara Muslim terpadat di dunia.
Kedua negara juga berupaya untuk mengelola hubungan Indonesia dan Australia dengan China yang lebih tegas.
Bulan lalu, Indonesia mengirim jet dan kapal perang ke pulau-pulau patroli di dekat Laut China Selatan yang disengketakan, menuduh kapal-kapal Cina 'melanggar' seperti dikutip AFP yang dilansir MailOnline.
AUSTRALIA and Indonesia announced a 100-day plan on Monday to implement a long-awaited trade deal, as the two countries hailed a "new beginning" for their sometimes troubled relationship.
The two G20 economies hope to deepen trade currently worth a modest US$12 billion a year, in a region increasingly dominated by China's economic and military might.
Addressing Australia's parliament on a landmark state visit, President Joko Widodo cast the two nations as would-be "Avengers" -- "forces of good" uniting to defeat a "common enemy" and shared challenges like protectionism, intolerance and climate change.
Widodo said his visit to Australia marked "a new beginning of a new relationship" between the two nations.
The 58-year-old former furniture manufacturer was sworn in for a second term late last year, promising to reduce widespread poverty as Indonesia becomes one of the world's largest economies.
Negotiations over the Australia-Indonesia trade deal began in 2010 and it was ratified by Indonesia's parliament last week, ahead of Widodo's visit.
The agreement will eventually see the elimination of all Australian trade tariffs, while 94 percent of Indonesian duties will be gradually eliminated.
Greater access to the Australian market is expected to spur Indonesia's automotive and textile industries, and boost exports of timber, electronics and medicinal goods.
The pact also includes improved access for Australia's agriculture industry to Indonesia's vast market of 260 million people.
Australian universities, health providers and miners will also benefit from easier entry to Southeast Asia's biggest economy.
In a joint public appearance with Widodo in Canberra, Australian Prime Minister Scott Morrison outlined a 100-day "action plan" for implementation.
He called the long-delayed deal a "mutually beneficial arrangement, one that sees the cooperation of our economies for the strong growth that we will see over the next decade and beyond".
The leaders also eyed talks aimed at making it easier for Indonesians to enter Australia and a review of Australian travel advice for tourist destinations in Indonesia, Morrison said.
Ties between Canberra and Jakarta have often been strained, including over Australia's hardline approach to asylum seekers.
The trade deal was meant to be signed in 2018, but stalled when Morrison proposed the relocation of Australia's embassy in Israel to Jerusalem -- a move that angered Indonesia, the world's most populous Muslim country.
Both countries have also struggled to manage their relationship with a more assertive Beijing.
Last month, Indonesia sent jets and warships to patrol islands near the disputed South China Sea, accusing Chinese vessels of "trespassing".