Tersangka Pedofil Asal Prancis Ditemukan Tewas Bunuh Diri
Indonesia Police: Jailed French Sex Crime Suspect Kills Self
Editor : Ismail Gani
Translator : Novita Cahyadi

PUBLISHED: Senin, 13 Juli 2020 , 21:28:00 WIB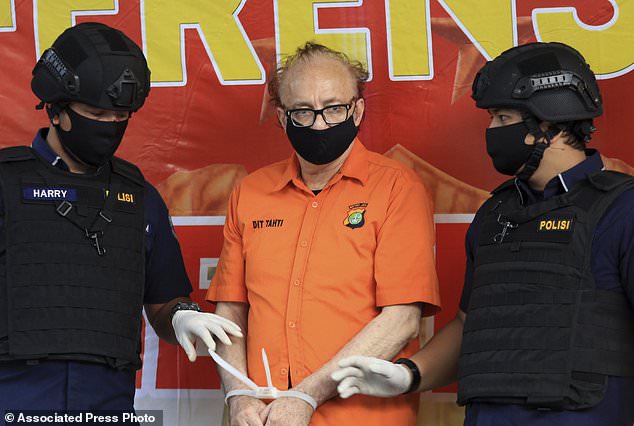 Polisi masih menyelidiki apakah ia juga mengeksploitasi korbannya secara ekonomi melalui media sosial atau platform internet lainnya sebelum kematiannya [Foto: Associated Press/MailOnline]
TERSANGKA warga Prancis yang dituduh menganiaya lebih dari 300 anak-anak Indonesia meninggal dunia pada Senin [13/7] setelah ditemukan seorang petugas yang mendapatinya di sel tahanan Polda Metro Jaya dalam kondisi lehernya terikat kabel, kata polisi Senin.
Francois Camille Abello dibawa ke rumah sakit setelah upaya bunuh diri pada Jumat pekan lalu, dan dalam kondisi stabil pada Sabtu, kata Kabid Humas Polda Metro Jaya, Kombes Pol Yusri Yunus di Jakarta, Senin [13/9].
"Kondisinya stabil sehari setelahnya, tetapi kemudian memburuk (karena) kerusakan otak akibat kekurangan oksigen setelah upaya bunuh diri," kata Kombes Yusri.
Francois terancam hukuman berat berupa pengebirian dengan kimia atau ditembak mati sesuai UU Perlindungan Anak Indonesia, katanya.
Francois, 65, ditangkap akhir bulan lalu di sebuah kamar hotel di Jakarta barat di mana ia ditemukan bersama dua gadis telanjang, setelah polisi menerima informasi dari penduduk di dekatnya yang menduga seorang asing di hotel itu mengeksploitasi anak-anak.
Francois tampil di hadapan jurnalis dengan diborgol di sebuah konferensi pers Kamis pekan lalu, di mana polisi mengatakan video yang ditemukan di komputernya menunjukkan dia terlibat dalam aksi pornografi dengan 305 anak berusia 10 hingga 17. Dia membungkam saat polisi mengungkap fakta-fakta kejahatannya.
Kapolda Metro Jaya, Irjen Pol Nana Sudjana mengatakan Abello tidak bekerja sama dengan penyelidik dan menolak memberikan kata sandi untuk program di komputernya.
Dia mengatakan sebagian besar korban adalah anak-anak jalanan yang dia dekati dan menawarkan pekerjaan sebagai model. Abello membayar mereka antara Rp250.000 hingga Rp1 juta karena terlibat dalam aksi seks dan memukuli mereka yang menolak, kata Kapolda.
Polisi masih menyelidiki apakah ia juga mengeksploitasi korbannya secara ekonomi melalui media sosial atau platform internet lainnya sebelum kematiannya.
Pejabat kedutaan Perancis menolak berkomentar seperti dikutip Associated Press yang dilansir MailOnline.
A FRENCH MAN accused of molesting more than 300 Indonesian children has died two days after a guard found him lying in his cell with a wire wrapped around his neck, police said Monday.
Francois Camille Abello was taken to a hospital after the suicide attempt on Friday and was in stable condition on Saturday, Jakarta police spokesman Yusri Yunus said. His condition then worsened and he died late Sunday, Yunus said.
"His condition was stable a day afterward, but then deteriorated (because) of brain damage due to lack of oxygen after the suicide attempt," Yunus said.
Abello had faced a maximum penalty of chemical castration or death by firing squad under Indonesia´s child protection laws, Yunus said.
Abello, 65, was arrested late last month in a hotel room in western Jakarta where he was found with two naked girls after police received a tip from nearby residents who suspected a foreigner at the hotel was exploiting children.
Abello was paraded in handcuffs at a news conference last Thursday where police said videos found on his computer showed him engaging in illegal sex acts with 305 children aged 10 to 17. Abello remained silent at the news conference.
Jakarta Police Chief Nana Sudjana said Abello had not cooperated with investigators and refused to provide passwords for programs on his computer.
He said most of the victims were street children whom Abello had approached and offered work as models. Abello paid them between 250,000 and 1 million rupiah ($17 and $70) for engaging in sex acts and beat those who refused, Sudjana said.
Police are still investigating whether he also exploited his victims economically through social media or other internet platforms prior to his death.
French embassy officials were not available for comment.