Penyerang Novel Baswedan Divonis 2 Tahun dan 1,5 Tahun Penjara
Two Policemen Jailed over Acid Attack on Indonesian Graft Buster
Editor : Ismail Gani
Translator : Novita Cahyadi

PUBLISHED: Kamis, 16 Juli 2020 , 23:38:00 WIB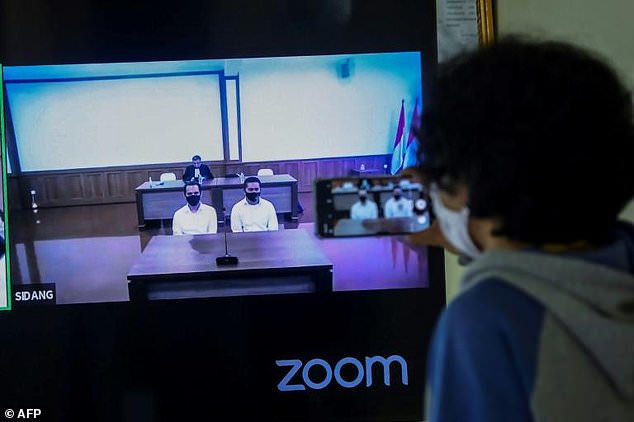 SIDANG ONLINE: Pengadilan Negeri Jakarta Utara menjatuhkan hukuman penjara dua tahun penjara kepada Rahmat Kadir Mahulette dan Ronny Bugis satu tahun enam bulan penjara [Foto: AFP/MailOnline]
DUA TERDAKWA penyiraman air keras divonis berbeda pada Kamis [16/7] setelah dinyatakan terbukti bersalah melakukan penyerangan terhadap penyidik senior Komisi Pemberantasan Korupsi (KPK) Novel Baswedan
Pengadilan Negeri Jakarta Utara menjatuhkan hukuman penjara dua tahun penjara kepada Rahmat Kadir Mahulette dan Ronny Bugis satu tahun enam bulan penjara atas serangan pada 2017 terhadap Novel Baswedan, anggota KPK.
Novel Baswedan, 43, diserang di Jakarta, dekat kediamannya saat berjalan pulang dari sebuah masjid setelah shalat subuh.
Vonis hakim lebih lama tuntutan penjara satu tahun yang diajukan oleh jaksa penuntut - kemudian dikecam oleh para kritikus sebagai terlalu ringan.
Namun pengadilan memutuskan bahwa para petugas berusaha menakuti Baswedan daripada menyebabkan cedera serius, dengan mengatakan bahwa mereka berusaha untuk "memberinya pelajaran".
Penyelidik anti-korupsi KPK di Indonesia - yang dianggap oleh lembaga penggiat anti korupsi sebagai salah satu negara paling korup di dunia - telah menjadi sasaran di masa lalu, termasuk dengan ancaman dan serangan kekerasan.
Sebelum putusan hari Kamis, kelompok-kelompok hak asasi dan Baswedan sendiri - yang dibutakan secara permanen di satu mata - mencemooh persidangan seraya mengatakan bukti kunci tidak disajikan, termasuk beberapa kesaksian saksi mata.
"Ada upaya untuk menciptakan persepsi bahwa serangan itu adalah serangan pribadi dan bukan serangan terhadap penyelidik korupsi," kata Baswedan kepada AFP, Kamis, sebelum hukuman dijatuhkan.
"Apa yang kita lihat sejauh ini lebih merupakan teater daripada proses hukum yang tepat."
Dalam wawancara sebelumnya dengan AFP, Baswedan mengatakan dia menduga pejabat senior polisi berada di balik serangannya. Dia tidak mengidentifikasi mereka.
Tahun lalu, aktivis HAM mengecam penyelidikan selama enam bulan yang gagal mengidentifikasi mereka yang berada di balik serangan atau kemungkinan motif.
Tetapi tim yang ditunjuk pemerintah mengatakan kemungkinan terkait dengan salah satu dari enam kasus korupsi profil tinggi yang sedang diselidiki Baswedan, termasuk proyek pemerintah untuk KTP elektronik [e-KTP] yang diduga mengakibatkan kerugian besar terhadap keuangan negara seperti dikutip AFP yang dilansir MailOnline.
TWO INDONESIAN police officers were jailed Thursday for partially blinding a top corruption investigator in an acid attack that sparked widespread anger in the graft-riddled Southeast Asian nation.
A Jakarta court handed Ronny Bugis and Rahmat Kadir Mahulette one-and-a-half and two-year prison sentences, respectively, after convicting them of the 2017 attack on Novel Baswedan, a senior member of Indonesia's Corruption Eradication Commission.
Baswedan, 43, was set upon in the capital as he walked home from a mosque following early morning prayers.
The sentences were longer than the one-year jail terms sought by prosecutors -- slammed by critics as too lenient.
But the court ruled that the officers tried to scare Baswedan rather than cause serious injury, saying they had sought to "teach him a lesson".
Anti-graft investigators in Indonesia -- considered by some watchdogs to be among the world's most corrupt countries -- have been targeted in the past, including with threats and violent attacks.
Before Thursday's ruling, rights groups and Baswedan himself -- who was permanently blinded in one eye -- derided the hearing as a show trial and said key evidence was not presented, including some eyewitness testimony.
"There was an effort to create the perception that the attack was a personal one instead of an attack on a graft investigator," Baswedan told AFP Thursday before the sentencing.
"What we've seen so far is more theatre than a proper legal process."
In an earlier interview with AFP, Baswedan said he suspected senior police officials were behind his attack. He did not identify them.
Last year, rights activists slammed a six-month-long investigation that had failed to identify those behind the attack or a possible motive.
But the government-appointed team said it was likely linked to one of six high-profile corruption cases Baswedan was probing, including a government project to issue new ID cards that allegedly saw about $170 million pilfered from government coffers.