Pemerintah RI Putuskan Tolak Pulangkan WNI Eks ISIS dari Suriah
Indonesia Refuses to Take Back Suspected IS Militants
Editor : Ismail Gani
Translator : Novita Cahyadi

PUBLISHED: Rabu, 12 Februari 2020 , 03:40:00 WIB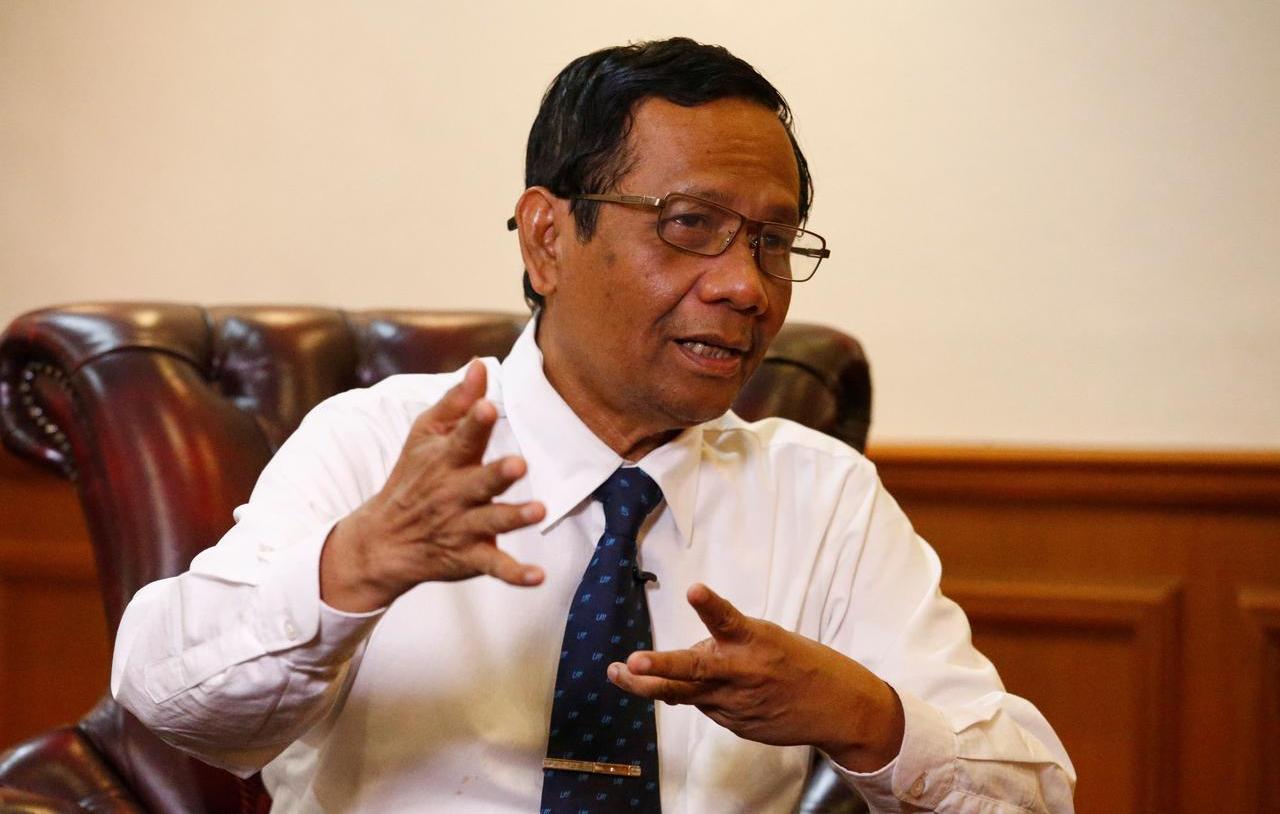 Menko Polhukam Mahfud MD [Foto: Reuters]
PEMERINTAH RI pada Selasa [12/2] memutuskan untuk melarang warga Indonesia [WNI] yang bergabung dengan kelompok Negara Islam di Suriah [ISIS] untuk kembali ke Indonesia, karena khawatir mereka dapat menimbulkan ancaman terhadap keamanan nasional.
Rencana kepulangan WNI memicu kontroversi di Indonesia dalam beberapa pekan terakhir tentang bagaimana menangani ratusan tersangka militan dan keluarga mereka yang ingin kembali dari zona tempur di Irak dan Suriah, serta mereka yang berada di tahanan, setelah ISIS kehilangan sebagian besar wilayahnya dan Amerika Serikat [AS] mengumumkan penarikan pasukannya.
Kontroversi tersebut memicu perdebatan antara melindungi hak-hak warga negara, terutama hak-hak perempuan dan anak-anak, dan keamanan nasional.
"Pemerintah tidak memiliki rencana untuk memulangkan teroris," kata Menteri Koordinator Politik, Hukum dan Keamanan [Polhukam] Mohammad Mahfud MD, mengatakan setelah rapat terbatas untuk membahas kembalinya ratusan orang Indonesia yang ditahan oleh pihak berwenang di Suriah.
"Negara harus memberikan keamanan bagi 267 juta orang Indonesia dari virus teroris baru," katanya.
Dia mengatakan pemerintah akan mengumpulkan lebih banyak data tentang identitas orang yang bergabung dengan kelompok radikal di Timur Tengah. Mengutip catatan Badan Intelijen Pusat A.S., dia mengatakan sekitar 689 warga negara Indonesia saat ini berada di Suriah, di mana hanya 228 yang telah diidentifikasi.
Pemerintah RI sedang mempertimbangkan kemungkinan untuk mengizinkan anak-anak pulang, terutama anak yatim.
Veteran perang Indonesia di Afghanistan mempelopori serangan pada 2000-an terhadap target lokal dan Barat, termasuk pemboman klub malam di pulau resor Bali yang menewaskan 202 orang, sebagian besar turis asing.
Tindakan keras yang berkelanjutan oleh pihak berwenang Indonesia sejak 2002 telah mengurangi ancaman serangan besar-besaran terhadap sasaran Barat atau sipil. Tetapi serangan ISIS di luar negeri telah mengilhami militan Indonesia untuk terus merencanakan dan melakukan serangan, sebagian besar terhadap target polisi di seluruh negeri, kata para pejabat Indonesia seperti dikutip Associated Press yang dilansir MailOnline.
"Siapa pun yang kembali dari Suriah akan memiliki kredibilitas dan legitimasi langsung dalam gerakan jihad," kata Sidney Jones, direktur Institut Analisis Kebijakan Konflik. "Mungkin ada orang-orang yang kembali yang dapat mengambil salah satu dari kelompok ekstremis amorf yang tidak bercela ini dan mengebor mereka ke dalam bentuk."
INDONESIA´S government on Tuesday banned citizens who joined the Islamic State group in Syria from returning home because of fears they could pose a threat to national security.
A furious debate has raged in the world´s most populous Muslim nation in recent weeks over how to handle hundreds of suspected militants and their families seeking to return from combat zones in Iraq and Syria, as well as those in detention, after IS lost large swathes of territory and the United States announced the withdrawal of its forces.
The country has been torn between protecting citizens´ rights, especially those of women and children, and national security.
"The government has no plans to repatriate terrorists," the coordinating minister for Political, Legal and Security Affairs, Mohammad Mahfud MD, said after a Cabinet meeting to discuss the return of hundreds of Indonesians held by authorities in Syria.
"The state should provide security for 267 million Indonesians from new terrorist viruses," he said.
He said the government will collect more data on the identities of people who joined radical groups in the Middle East. Citing U.S. Central Intelligence Agency records, he said some 689 Indonesian citizens are currently in Syria, of whom only 228 had been identified.
The government is considering the possibility of allowing children return home, especially orphans.
Indonesian veterans of fighting in Afghanistan spearheaded attacks in the 2000s against local and Western targets, including nightclub bombings on the resort island of Bali that killed 202 people, mostly foreign tourists.
A sustained crackdown by Indonesian authorities since 2002 has reduced the threat of large-scale attacks against Western or civilian targets. But IS attacks abroad have inspired Indonesian militants to continue to plan and carry out attacks, mostly against police targets across the country, officials say.
"Anybody coming back from Syria is going to have immediate credibility and legitimacy in the jihadi movement," said Sidney Jones, the director of the Institute for Policy Analysis of Conflict. "There might be people coming back who can take any of these amorphous, feckless groups of extremists and drill them into shape."