Manado Heboh gara-gara Jenazah Lambaikan Tangan dari Peti Mati
Haunting Moment Corpse Appears to Wave to Mourners through Coffin`s Glass Panel
Editor : Ismail Gani
Translator : Novita Cahyadi

PUBLISHED: Kamis, 14 Mei 2020 , 03:46:00 WIB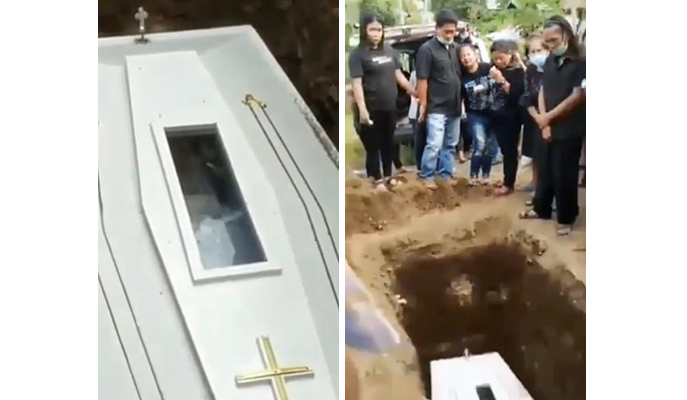 PANEL KACA: Meskipun peristiwa tersebut menjadi perbincangan, jenazah kemungkinan bergerak karena rigor mortis dan perubahan ligamen selama dekomposisi [Foto2: MailOnline]
PERISTIWA horor terjadi di tengah pemakaman saat jenazah yang akan dimakamkan tampak melambaikan tangan dari dalam peti mati yang dilapisi panel kaca.
Kejadian langka tersebut ketika berlangsung kebaktian sebelum pemakaman jenazah di Manado, Provinsi Sulawesi Utara pada Selasa pekan lalu [5/5].
Saat keluarga yang berkabung berkumpul dan pendeta membacakan doa, tampak tangan dan jari yang bergerak di bawah panel kaca di dalam peti mati.
Peristiwa yang direkam dalam video yang menjadi viral via MailOnline, dalam video terdengar pendeta membacakan doa pemakaman jenazah.
Beberapa saat kemudian tungkai jenazah tampaknya melambai atau menekan tangannya ke tutup peti mati.
Rekaman video muncul awal bulan ini dan penduduk setempat meyakini jenazah itu melambai atau mencoba keluar dari peti mati. Namun, tidak tahu apakah orang itu masih hidup atau karena sebab lain.
"Ya, dia melambaikan tangan, mungkin dia masih hidup dan mencoba keluar dari peti mati," tulis Yunita Ouwa online.
"Mungkin itu tikus," tambah Toink Khan.
Meskipun peristiwa tersebut menjadi perbincangan, jenazah kemungkinan bergerak karena rigor mortis dan perubahan ligamen selama dekomposisi.
Sebuah penelitian yang dilaporkan dalam Medical News Today pada September 2019 menemukan bahwa tubuh manusia dapat bergerak sendiri setelah kematian.
Para peneliti dari Central Queensland University di Rockhampton, Australia, yang mempelajari proses dekomposisi menemukan bahwa, tanpa 'bantuan' eksternal, tubuh manusia dapat mengubah posisi mereka. Peristiwa tersebut merupakan implikasi penting bagi ilmu forensik seperti dilansir MailOnline.
THIS IS the creepy moment a corpse appears to wave from inside a coffin.
The person was being buried during a Christian service in the city of Manado in North Sulawesi, Indonesia, on May 5.
As their devastated family gathered round and the priest read prayers, the sinister outline of a hand and fingers could be seen moving under the glass panel in the casket.
In the video, the priest is heard saying: 'God has said in the book of John. I am the resurrection and the life. Whoever believes in me he will live even though he is dead.'
Moments later the limb seems to wave or press its hand against the coffin lid.
Footage emerged earlier this month and locals suggested the body was waving or trying to escape from the coffin. However, it's not know if the person was still alive or if anybody checked.
'Yes, he waved, maybe he was still alive and try to dig his way out,' wrote Yunita Ouwa online.
'Maybe it's a mouse,' Toink Khan added.
Despite the macabre claims, the corpse was likely to have been moving around due to rigor mortis and the changes in ligaments during decomposition.
A study reported in Medical News Today in September 2019 found that human bodies can move on their own after death.
Researchers from Central Queensland University in Rockhampton, Australia, who were studying the process of decomposition found that, without any external 'assistance,' human remains can change their position. This discovery has important implications for forensic science.