Sepi Pengunjung, PP Iptek di TMII Jangan jadi `Sarang Hantu`
Indonesian Science and Technology Center should not Only be a Museum
Reporter : Gusmiati Waris
Editor : Cahyani Harzi
Translator : Dhelia Gani

PUBLISHED: Senin, 23 April 2018 , 02:44:00 WIB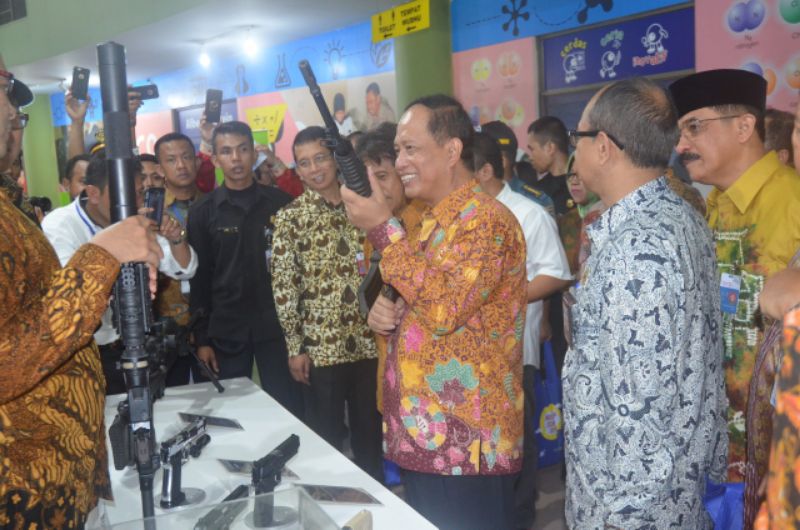 Menristek Dikti Mohammad Nasir mencoba alat peraga Iptek (Foto: B2B/Mya)
Jakarta (B2B) - Pusat Peragaan Ilmu Pengetahuan dan Teknologi - PP Iptek di Taman Mini Indonesia Indah - TMII harus dikembangkan menjadi 'gudang Iptek' bagi pelajar, mahasiswa dan masyarakat, bukan menjadi 'sarang hantu' lantaran sepi pengunjung, mengingat peran PP Iptek TMII menjadi wahana edukatif dan pembelajaran di luar kelas/kampus.
Menteri Riset, Teknologi dan Pendidikan Tinggi (Menristekdikti) Mohamad Nasir mengatakan dari hasil riset, tingkat kebahagiaan pelajar Indonesia di peringkat teratas dunia namun dari tingkat kompetensi di posisi 68 dari 71 negara di dunia, sehingga PP Iptek - TMII harus mengoptimalkan perannya mendukung pendidikan dan pengajaran Iptek.
"PP Iptek jangan hanya menjadi museum dan sarang hantu namun harus menjadi sarang ilmu bagi pengunjungnya. Kita harus membuat pendidikan sains lebih mudah, karena berperan penting meningkatkan kompetensi. Caranya, dengan membuat wahana bermain dan belajar di sekolah-sekolah seperti halnya di PP Iptek," kata Menristek M Nasir pada pembukaan Indonesia Science Day 2018 di Jakarta, Jumat (20/4).
Direktur Utama TMII Tanribali Lamo mendukung seruan dari Menristek, karena PP Iptek - TMII jangan hanya menjadi museum, tapi harus menarik minat pengunjung, mengingat TMII dikunjungi enam juta pengunjung pada 2017.
"Kami ingin semua kementerian bisa menghidupkan wahana TMII. Jangan, seperti sekarang, wahana TMII masih menjadi tempat yang tidak bertuan," katanya di tempat yang sama.
Jakarta (B2B) - Indonesian science and technology exhibition center - Science and Technology or PP-Iptek at Jakarta´s Taman Mini Indonesia Indah becomes important as an educational means outside the classroom / campus.
Indonesian Research and Technology Minister Mohamad Nasir said from the research, the level of happiness of Indonesian students in the world's top ranking but the level of competence in the position 68 of 71 countries in the world, so the PP-Iptek should optimize its role to support education and teaching science and technology.
"The PP-Iptek should not only be a museum but should be the center of science and technology for visitors. We have to make science education easier, because it plays an important role to improve competence," Minister Nasir said here recently.
President Director Tanribali Lamo supports the call from Minister Nasir, because PP Iptek - TMII should not only be a museum, but should attract visitors, considering TMII visited by six million visitors by 2017.
We want all ministries to support its development, not as it is now a no-man's place," he said.