Vladimir Putin Perintahkan Militer Siaga Tempur Hadapi NATO
Vladimir Putin Orders Russian Air Force to be Prepared to Launch Attacks at Any Minute
Editor : Ismail Gani
Translator : Novita Cahyadi

PUBLISHED: Kamis, 09 Februari 2017 , 01:16:10 WIB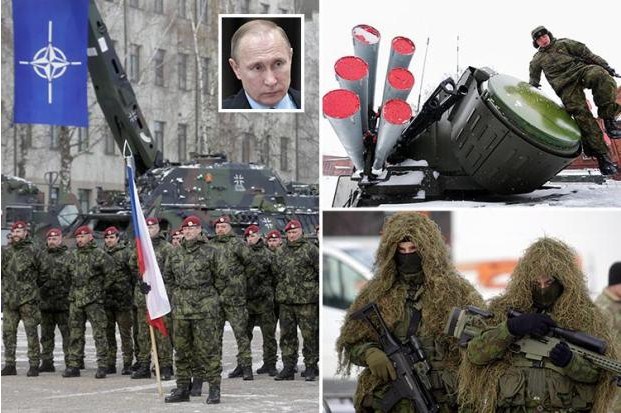 Kementerian Pertahanan Rusia mengkonfirmasi langkah persiapan untuk segera ´mengerahkan pasukan´ setiap saat diperlukan didukung sistem pertahanan rudal S-300 dan S-400 (Foto: The Sun)
VLADIMIR Putin memerintahkan pasukannya dan angkatan udara untuk mempersiapkan diri untuk 'maju perang' saat melakukan inspleksi pasukan angkatan bersenjata Rusia.

Kementerian Pertahanan Rusia mengkonfirmasi langkah persiapan untuk segera 'mengerahkan pasukan' setiap saat diperlukan didukung sistem pertahanan rudal S-300 dan S-400.

Menteri Sergey Shoigu mengatakan: "Sebagai bagian dari kesiapan pengerahan pasukan Angkatan Udara, unit rudal anti pesawat dan pasukan khusus telah siap siaga di kawasan strategis," seperti dilaporkan kantor berita Rusia, TASS.

"Setelah kedatangan mereka di tempat penugasan, para awak stasiun radar, sistem rudal anti pesawat S-300 dan S-400 melakukan pekerjaan pemeliharaan pada peralatan militer mereka untuk siaga tempur.

"Sebagai awak tempur stasiun radar dan sistem rudal anti pesawat bertugas mendeteksi target udara tak dikenal, jet tempur patroli pertahanan udara akan bersiap untuk mengenali hingga melakukan penghancuran."

Perintah tersebut tampaknya menjawab persiapan operasi besar NATO yang saat ini sedang berlangsung di Eropa Timur.

Jerman dan NATO pekan ini menegaskan komitmen mereka untuk memperkuat pertahanan di perbatasan timur Eropa dengan Rusia dengan pengerahan empat batalion militer baru di bawah bendera aliansi Atlantik Utara di Lituania.

Pergerakan pasukan disepakati tahun lalu di bawah perintah mantan Presiden Barack Obama, NATO memperluas kehadirannya di wilayah tersebut ke tingkat yang belum pernah terjadi sebelumnya sejak Perang Dingin, sebagai jawaban atas aneksasi Rusia di Crimea dan tudingan bahwa langkah tersebut mendukung konflik separatis di timur Ukraina.

Pasukan Jerman memimpin pengerahan 1.000 tentara di Lithuania yang bergabung tahun ini dengan dukungan pasukan AS di Polandia, sementara pasukan Inggris memimpin pasukan di Estonia dan tentara mengendalikan kekuatan militer di Latvia.

Kelompok pertempuran Jerman yang dipimpin 1.000 tentara di Lithuania akan bergabung tahun ini dengan penyebaran di luar AS yang dipimpin di Polandia, yang dipimpin Inggris pasukan di Estonia dan tentara Kanada yang dipimpin di Latvia.

Mereka akan menambah kontingen pasukan lebih kecil di luar pasukan Amerika.

Keraguan tentang komitmen AS untuk NATO menguat sejak terpilihnya Presiden Donald Trump, yang menggambarkan sekutu NATO sebagai "sangat tidak adil" karena tidak memberikan kontribusi finansial lebih banyak untuk aliansi militer.

Menteri Pertahanan Jerman Ursula von der Leyen mengatakan Eropa menyadari hal itu diperlukan untuk memperkuat kerja sama pertahanan dan melakukan lebih banyak untuk memecahkan masalah sendiri.

Dia juga mengatakan Menteri Pertahanan AS James Mattis meyakinkan dirinya tentang komitmen Washington kepada NATO melalui telepon belum lama ini.

"Setelah apa yang kita diskusikan, saya tidak ragu tentang keyakinan yang mendalam akan pentingnya NATO dan komitmen Amerika bagi NATO sesuai kesepakatan," katanya pada upacara penyambutan pasukan di pangkalan militer Lithuania di Rukla, 62 mil dari perbatasan Rusia.

Latihan militer merupakan bagian dari strategi NATO seperti diperintahkan oleh mantan Presiden AS Barack Obama seperti dilansir The Sun.
VLADIMIR Putin has ordered his army and air force to prepare for a 'time of war' during a check of the country's armed forces.

Russia's defence ministry confirmed the measures during a "snap check" that included its massive S-300 and S-400 missile defence systems.

Minister Sergey Shoigu said: "As part of a snap combat readiness check of the Aerospace Force, units of the Aerospace Force's antiaircraft missile and radio-technical troops have arrived at the designated areas," TASS reported.

"Upon their arrival at the new positions, the crews of radar stations, S-300 and S-400 antiaircraft missile systems carried out maintenance work on their military hardware and went on combat alert.

"As the combat crews of radar stations and antiaircraft missile systems detect unidentified aerial targets, air defense patrol fighter jets will be scrambled to classify them or notionally destroy them."

The warning is a likely a response to the massive NATO operations currently underway in eastern Europe.

Germany and NATO this week underscored their commitment to beefing up the defence of eastern Europe's border with Russia as the first of four new batallions under the North Atlantic alliance's banner arrived in Lithuania.

In moves agreed last year under former President Barack Obama, NATO is expanding its presence in the region to levels unprecedented since the Cold War, prompted by Russia's annexation of Crimea and accusations that it is supporting a separatist conflict in eastern Ukraine.

The German-led battle group of 1,000 troops in Lithuania will be joined this year by a U.S-led deployment in Poland, British-led troops in Estonia and Canadian-led troops in Latvia.

They will add to smaller rotating contingents of U.S troops.

Doubts about the US commitment to NATO have surfaced since the election of President Donald Trump, who has described NATO allies as "very unfair" for not contributing more financially to the alliance.

German Defence Minister Ursula von der Leyen said Europe realised it needed to strengthen defence cooperation and was doing more to solve its own problems.

She also said U.S. Secretary of Defence James Mattis reassured her about Washington's commitment to NATO in a recent telephone call.

"After what we discussed, I have no doubt about his deep conviction in the importance of NATO and the commitment of the Americans within NATO to what we have agreed," she said at a welcoming ceremony at Lithuania's Rukla military base, 62 miles from the Russian border.

The drills are part of a massive NATO exercise ordered by former US president Barack Obama.