Peraih Nobel Kecam `Ketidakpedulian` Aung San Suu Kyi pada Rohingya
Suu Kyi and Myanmar Face Chorus of Anger over Rohingya Crisis
Editor : Ismail Gani
Translator : Novita Cahyadi

PUBLISHED: Selasa, 05 September 2017 , 16:44:00 WIB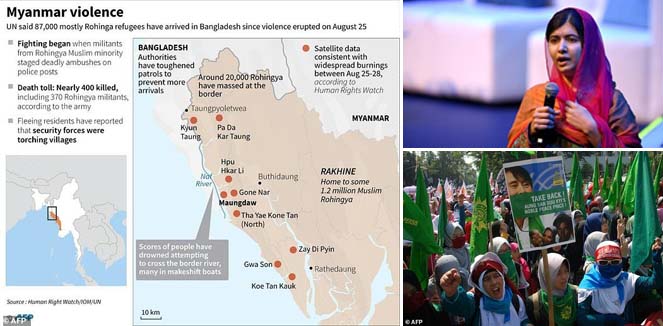 Wilayah konflik Rohingya di Rakhine, Myanmar (kiri), peraih Nobel Perdamaian termuda Malala Yousafzai (kanan atas) protes warga Muslim Indonesia kecam Aung San Suu Kyi (Foto & Infografis: AFP/MailOnline)
PERAIH Nobel Perdamaian termuda Malala Yousafzai dan sebagian besar negara Muslim di Asia menyampaikan kritik yang terus berlanjut hingga Senin ditujukan kepada Myanmar dan pemimpinnya Aung San Suu Kyi atas atas penderitaan minoritas Muslim Rohingya di Myanmar.

Hampir 90.000 warga Rohingya berbondong-bondong memasuki Bangladesh dalam 10 hari terakhir menyusul pecahnya konflik bersenjata antara gerilyawan dan militer Myanmar di negara bagian Rakhine barat yang dilanda konflik.

Wilayah miskin yang berbatasan dengan Bangladesh telah menjadi pusat ketegangan komunal antara Muslim dan Budha selama bertahun-tahun, dan warga Rohingya dipaksa untuk hidup di bawah ketentuan tidak adil terkait hak-hak sipil dan kewarganegaraan.

Kekerasan yang terjadi baru-baru ini, yang dimulai pada Oktober 2016 ketika sebuah kelompok militan Rohingya kecil menyerang pos-pos perbatasan, perlakuan buruk terhadap warga Rakhine yang berlangsung bertahun-tahun, PBB menyatakan bahwa tentara Myanmar diduga melakukan pembersihan etnis untuk mengatasi konflik di kawasan konflik tersebut.

Suu Kyi, mantan tahanan politik junta militer Myanmar, mendapat tekanan yang meningkat atas ketidakpeduliannya terhadap tragedi Rohingya untuk berbicara menentang perlakuan Rohingya atau mengecam pihak militer.

Dia tidak berkomentar sejak pertengkaran terakhir terjadi pada 25 Agustus.

"Setiap kali saya melihat berita tersebut, jantung saya hancur karena penderitaan Muslim Rohingya di Myanmar," kata aktivis Pakistan Yousafzai, yang menjadi terkenal setelah lolos dari maut akibat ditembak oleh Taliban, dalam sebuah pernyataan di Twitter.

"Selama beberapa tahun terakhir saya telah berulang kali mengutuk perlakuan tragis dan memalukan ini. Saya masih menunggui peraih Nobel Aung San Suu Kyi untuk melakukan hal yang sama," tambahnya.

Menteri Luar Negeri Malaysia Anifah Aman juga mempertanyakan ketidakpedulian Suu Kyi.

"Sejujurnya, saya kecewa dengan Aung San Suu Kyi," kata Anifah kepada AFP seperti dilansir MailOnline.

"(Sebelumnya) dia membela prinsip-prinsip hak asasi manusia. Sekarang sepertinya dia tidak melakukan apa-apa."
NOBEL PEACE laureate Malala Yousafzai and mainly Muslim countries in Asia led a growing chorus of criticism on Monday aimed at Myanmar and its civilian leader Aung San Suu Kyi over the plight of the Rohingya Muslim minority.

Nearly 90,000 Rohingya have flooded into Bangladesh in the past 10 days following an uptick in fighting between militants and Myanmar's military in strife-torn western Rakhine state.

The impoverished region bordering Bangladesh has been a crucible of communal tensions between Muslims and Buddhists for years, with the Rohingya forced to live under apartheid-like restrictions on movement and citizenship.

The recent violence, which began last October when a small Rohingya militant group ambushed border posts, is the worst Rakhine has witnessed in years, with the UN saying Myanmar's army may have committed ethnic cleansing in its response.

Suu Kyi, a former political prisoner of Myanmar's junta, has come under increasing fire over her perceived unwillingness to speak out against the treatment of the Rohingya or chastise the military.

She has made no public comment since the latest fighting broke out on August 25.

"Every time I see the news, my heart breaks at the suffering of the Rohingya Muslims in Myanmar," Pakistani activist Yousafzai, who famously survived being shot in the head by the Taliban, said in a statement on Twitter.

"Over the last several years I have repeatedly condemned this tragic and shameful treatment. I am still waiting for my fellow Nobel laureate Aung San Suu Kyi to do the same," she added.

Malaysian Foreign Minister Anifah Aman also questioned Suu Kyi's silence.

"Very frankly, I am dissatisfied with Aung San Suu Kyi," Anifah told AFP.

"(Previously) she stood up for the principles of human rights. Now it seems she is doing nothing."