Kapal Perang Terbesar Inggris HMS Queen Elizabeth Siap Arungi Samudera
Britain`s Biggest Warship HMS Queen Elizabeth is Set to Sail under Forth Bridge
Editor : Ismail Gani
Translator : Novita Cahyadi

PUBLISHED: Senin, 26 Juni 2017 , 18:00:54 WIB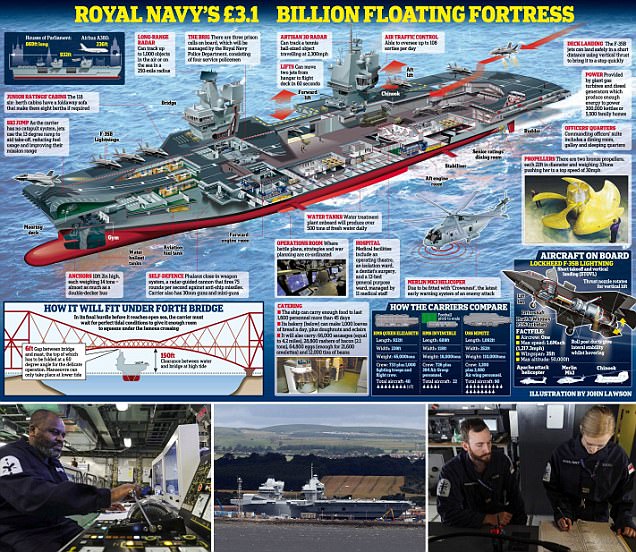 Infografis: MailOnline
SETELAH masa pembangunan hampir satu dekade, kapal perang terbesar di Inggris akan berlayar untuk pertama kalinya hari ini.

Namun sebelum dapat beroperasi di tengah samudera, kapal induk HMS Queen Elizabeth senilai Rp63 triliun harus menghadapi ujian pertamanya - melintasi beberapa jembatan.

Semua mata hari ini akan tertuju pada Komandan Kapal Andrew Vercoe saat dia memimpin kapal induk sepanjang hampir 300 meter dari dermaga di Rosyth menuju Laut Utara dalam operasi sepuluh jam yang menegangkan.

Dengan dukungan 11 kapal tunda dan dua pilot di pantai, kapal induk berbobot 65.000 ton harus keluar dari dok dengan rentang hanya 35 cm di kedua sisi kapal.

Kemudian 733 awak harus menunggu air surut dan kondisi angin yang sempurna sebelum bisa lewat di bawah tiga jembatan di Sungai Forth dalam sebuah proses yang telah disimulasikan sekitar 30 kali. Ketika kapal pengangkut mendekati persimpangan akhir, Jembatan Forth yang berusia 127 tahun, kapten kapal harus menggunakan alat khusus - navigasi yang digunakan pada abad ke-18 - untuk mendapatkan pengukuran yang akurat.

Kemudian, dengan penyangga tiang radar kapal induk yang ditekuk hingga 60 derajat - harus meluncur di bawah jembatan dengan jarak hanya 182 cm. Di laut terbuka mengintai tantangan lain - karena operasi ini kemungkinan akan diawasi ketat oleh orang-orang Rusia. Kepala Staf Angkatan Laut memperkirakan kapal selam asing mencoba merekam 'tanda akustik khusus' dari kapal induk tersebut.

Bisa juga ada kapal mata-mata dari pangkalan di Laut Baltik dan pesawat mata-mata Tupolev Tu-214R.

Komodor Jerry Kyd, kapten kapal induk, mengatakan: 'Anda tidak dapat memiliki kapal skala ini dan sifat strategis ini bukan untuk menarik perhatian dari segala macam cara, terutama musuh potensial, dan mereka akan menonton dengan penuh minat 'Saya yakin, saat kita melihat mereka. "

Dia menambahkan: 'Entah itu pesawat terbang atau kapal lain yang mendekati kita, kita akan mengatasinya seperlunya.' Setelah uji coba laut, kapal induk tersebut akan diserahkan ke Angkatan Laut Kerajaan di Portsmouth dan kemungkinan akan dikirim ke Teluk menjalani misi pertama.

Bertumpu pada teknologi canggih, kapal yang sangat dibanggakan Inggris ini mampu mengangkut 24 jet tempur paling canggih di dunia, F-35B Lightning II dan radar-nya dapat melacak objek seukuran bola bilyar sejauh 20km.

Kapal pengangkut, bersama dengan kapal kembarnya HMS Prince of Wales, diharapkan menjadi tulang punggung kekuatan udara Sekutu untuk 50 tahun ke depan. Disebut sebagai 'kekuatan laut', Komodor Kyd mengatakan bahwa kapal perang tersebut akan memberi peluang bagi Inggris Inggris untuk mendukung 'pukulan mematikan' dan digunakan dalam bantuan bencana, bantuan kemanusiaan, pertahanan dan promosi industri maritim Inggris di mancanegara seperti dilansir MailOnline.
AFTER NEARLY a decade of construction, Britain's biggest ever warship will set sail for the first time today.

But before it can start policing the seas, the £3.1billion aircraft carrier HMS Queen Elizabeth must deal with its first test – squeezing under a set of bridges.

All eyes today will be on Chief Petty Officer Andrew Vercoe as he steers the 932ft-long vessel out of the dock at Rosyth and into the North Sea in a nerve-racking ten-hour operation.

With the aid of 11 tug boats and two pilots on the shore, the 65,000 tonne leviathan will have to squeeze out of the basin with just 14 inches to spare on each side.

Then the 733-strong crew will have to wait for a low tide and the perfect wind conditions before it can pass under three bridges in the River Forth in a process that has been simulated some 30 times. As the carrier approaches the final crossing, the 127-year-old Forth Bridge, the ship's captain will even resort to a sextant – a navigation tool used in the 18th century – to get his measurements correct.

Then, with the warship's mast-topping radar bent at 60 degrees – it should glide under with just over 6ft to spare. Out in the open sea lurks another challenge – as the operation is likely to be closely watched by the Russians. Navy chiefs expect foreign submarines to try to record the carrier's unique 'acoustic signature'.

There could also be spy ships from a Baltic Sea base and Tupolev Tu-214R spy planes.

Commodore Jerry Kyd, captain of the carrier, said: 'You can't have a ship of this scale and this strategic nature not to attract interest from all sorts of avenues, particularly potential enemies, and they'll be watching with interest I'm sure, as we watch them.'

He added: 'Whether it's an aircraft or another ship coming close to us, we will deal with it as necessary.' After sea trials, the carrier will be handed over to the Royal Navy in Portsmouth and is likely to deploy to the Gulf first.

Bristling with technology, it will boast 24 of the world's most advanced stealth fighter jets – the F-35B Lightning II and its radar can track objects the size of snooker balls 20km away.

The carrier, along with its sister ship HMS Prince of Wales, is expected to be the backbone of Allied air power for the next 50 years. Calling it a 'sea base', Cdre Kyd said the warship would enable Britain to pack a 'serious punch' and be used in disaster relief, humanitarian assistance, defence and selling British industry abroad.