Retakan Besar, TNI AL Nyatakan KRI Nanggala 402 Tenggelam
Indonesian Navy Says Lost Submarine with 53 on Board has Sunk
Editor : Kemal A Praghotsa
Translator : Novita Cahyadi

PUBLISHED: Minggu, 25 April 2021 , 04:49:00 WIB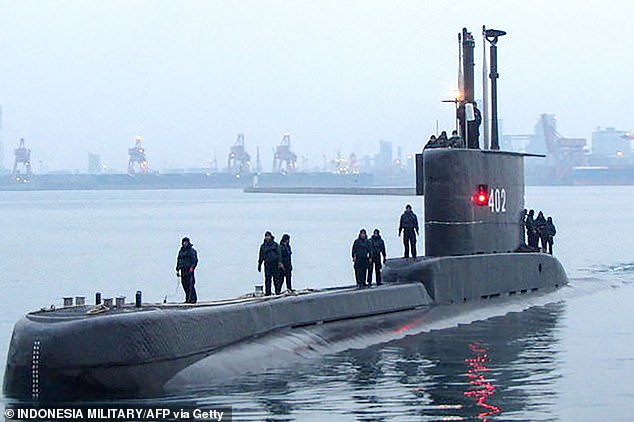 SEBELUM HILANG: KRI Nanggala 402 bertenaga diesel buatan Jerman telah beroperasi di Indonesia sejak 1981 dan membawa 49 awak kapal dan tiga penembak serta komandannya [Foto: MailOnline]
SETELAH hilang kontak sejak Rabu dini hari [21/4], TNI AL menyatakan kapal selam KRI Nanggala 402 telah tenggelam akibat retakan besar setelah sejumlah peralatan dari kapal tersebut ditemukan di permukaan laut selama dua hari terakhir, yang diperkirakan kian tipis harapan untuk menemukan salah satu dari 53 awak kapal tersebut dalam keadaan hidup.
Panglima TNI Marsekal TNI Hadi Tjahjanto mengatakan temuan oli dan minyak di permukaan laut serta puing-puing di dekat lokasi penyelaman terakhir kapal selam pada Rabu di lepas pantai Pulau Bali adalah bukti nyata KRI Nanggala 402 tenggelam.
Pihak militer Indonesia sebelumnya menilai kapal itu hanya hilang.
Kepala Staf TNI AL [Kasal] Laksamana Yudo Margono mengatakan pada konferensi pers di Bali: "Jika terjadi ledakan, itu akan berkeping-keping.
"Retakan terjadi secara bertahap di beberapa bagian saat turun dari kedalaman 300 meter menjadi 400 meter ke 500 meter… Jika terjadi ledakan, akan terdengar oleh sonar."
TNI AL sebelumnya mengatakan yakin kapal selam itu tenggelam hingga kedalaman 600 hingga 700 meter, jauh lebih dalam dari kedalaman saat kolaps pada 200 meter, di mana tekanan air akan lebih besar daripada yang bisa dilakukan lambung kapal untuk bertahan.
Penyebab hilangnya masih belum pasti.
TNI AL Laut sebelumnya mengatakan kegagalan listrik bisa membuat kapal selam tidak dapat menjalankan prosedur darurat untuk muncul kembali.
Kasal Yudo Margono mengatakan bahwa dalam dua hari terakhir, pencari menemukan bagian pelurus torpedo, botol minyak yang diyakini digunakan untuk meminyaki periskop, puing-puing dari sajadah dan pecahan pipa pendingin yang dipasang kembali di kapal selam di Korea Selatan pada 2012.
"Dengan bukti otentik yang kami temukan diyakini berasal dari kapal selam, kami sekarang telah beralih dari fase ´sub miss´ ke ´sub sunk,´" katanya pada konferensi pers, di mana barang-barang yang ditemukan dipajang.
Kasal mengatakan tim penyelamat dari Indonesia dan negara lain akan mengevaluasi temuan tersebut.
Dia mengatakan tidak ada mayat yang ditemukan sejauh ini.
Para pejabat sebelumnya mengatakan pasokan oksigen kapal selam akan habis pada Sabtu pagi.
Sebuah pesawat pengintai Amerika, P8 Poseidon, mendarat Sabtu pagi dan telah siap untuk bergabung dalam pencarian, bersama dengan 20 kapal Indonesia, satu kapal perang Australia yang dilengkapi sonar, dan empat pesawat Indonesia.
Kapal penyelamat Singapura juga diharapkan tiba Sabtu, sementara kapal penyelamat Malaysia dijadwalkan tiba Minggu, mendukung perburuan bawah air, kata para pejabat sebelumnya.
Anggota keluarga mengulurkan harapan untuk selamat tetapi tidak ada tanda-tanda kehidupan dari kapal tersebut.
Presiden RI Joko Widodo telah memerintahkan upaya sekuat tenaga untuk menemukan kapal selam tersebut dan meminta masyarakat Indonesia untuk mendoakan agar awak kapal kembali dengan selamat.
KRI Nanggala 402 bertenaga diesel buatan Jerman telah beroperasi di Indonesia sejak 1981 dan membawa 49 awak kapal dan tiga penembak serta komandannya, kata Kementerian Pertahanan RI [Kemenhan].
Indonesia, negara kepulauan terbesar di dunia dengan lebih dari 17.000 pulau, telah menghadapi tantangan yang semakin besar terhadap klaim maritimnya dalam beberapa tahun terakhir, termasuk banyak insiden yang melibatkan kapal-kapal Tiongkok di dekat kepulauan Natuna seperti dikutip PA Media yang dilansir MailOnline.
INDONESIA´S navy has said a missing submarine has sunk and cracked open after items from the vessel were discovered over the past two days, apparently ending hopes of finding any of the 53 crew members alive.
Military chief Hadi Tjahjanto said the presence of an oil slick as well as debris near the site where the submarine's last dive on Wednesday off the island of Bali were clear proof the KRI Nanggala 402 sank.
Indonesia earlier considered the vessel to be only missing.
Navy Chief Yudo Margono told a press conference in Bali: "If it's an explosion, it will be in pieces.
"The cracks happened gradually in some parts when it went down from 300 metres to 400 metres to 500 metres … If there was an explosion, it would be heard by the sonar."
The navy previously said it believes the submarine sank to a depth of 600-700 metres (2,000-2,300 feet), much deeper than its collapse depth of 200 metres (655 feet), at which point water pressure would be greater than the hull could withstand.
The cause of the disappearance was still uncertain.
The navy had previously said an electrical failure could have left the submarine unable to execute emergency procedures to resurface.
Mr Margono said that in the past two days, searchers found parts of a torpedo straightener, a grease bottle believed to be used to oil the periscope, debris from prayer rugs and a broken piece from a coolant pipe that was refitted on the submarine in South Korea in 2012.
"With the authentic evidence we found believed to be from the submarine, we have now moved from the 'sub miss' phase to 'sub sunk,'" Mr Margono said at the press conference, in which the found items were displayed.
Mr Margono said rescue teams from Indonesia and other countries will evaluate the findings.
He said no bodies have been found so far.
Officials previously said the submarine's oxygen supply would have run out early on Saturday.
An American reconnaissance plane, a P8 Poseidon, landed early Saturday and had been set to join the search, along with 20 Indonesian ships, a sonar-equipped Australian warship and four Indonesian aircraft.
Singaporean rescue ships were also expected Saturday, while Malaysian rescue vessels were due to arrive Sunday, bolstering the underwater hunt, officials said earlier.
Family members had held out hopes for survivors but there were no sign of life from the vessel.
Indonesian President Joko Widodo had ordered all-out efforts to locate the submarine and asked Indonesians to pray for the crew's safe return.
The German-built diesel-powered KRI Nanggala 402 has been in service in Indonesia since 1981 and was carrying 49 crew members and three gunners as well as its commander, the Indonesian defence ministry said.
Indonesia, the world's largest archipelago nation with more than 17,000 islands, has faced growing challenges to its maritime claims in recent years, including numerous incidents involving Chinese vessels near the Natuna islands.