53 Awak Gugur, KRI Nanggala 402 Terbelah 3 di Dasar Laut Bali
Indonesia Says Missing Submarine Found, All 53 Crew Killed
Editor : Kemal A Praghotsa
Translator : Novita Cahyadi

PUBLISHED: Minggu, 25 April 2021 , 22:23:00 WIB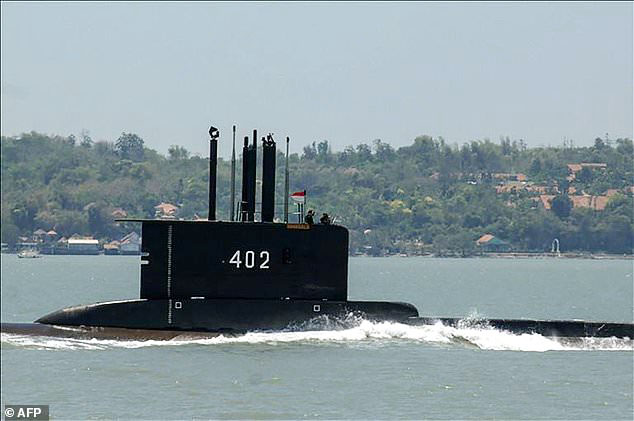 KEDALAMAN 850 METER: Negara tetangga Malaysia, serta Amerika Serikat, India dan Australia, termasuk di antara negara-negara yang membantu Indonesia dalam upaya pencarian dan penyelamatan [Foto: AFP/MailOnline]
SELURUH awak kapal selam KRI Nanggala 402 yang hilang pekan lalu, dinyatakan gugur oleh TNI pada Minggu [25/4] setelah mengonfirmasi kapal tersebut telah ditemukan terbelah tiga di dasar laut perairan Bali.

Pihak TNI menyatakan bahwa pihaknya menerima sinyal Minggu pagi dari lokasi sedalam lebih dari 800 meter - melampaui kemampuan teknis lambung baja dari KRI Nanggala 402.

TNI menggunakan kendaraan penyelamat kapal selam bawah air milik negara tetangga Singapura untuk mendapatkan konfirmasi visual dari kapal selam naas tersebut.

"Kapal selam pecah menjadi tiga bagian," kata Kepala Staf TNI AL [Kasal] Laksamana Yudo Margono.

Lebih banyak bagian dari kapal selam yang karam itu juga ditemukan, termasuk jangkar dan pakaian pengaman berwarna oranye neon untuk kondisi darurat, kata pihak berwenang.

Penemuan itu terjadi sehari setelah TNI AL pertama kali mengonfirmasi pengambilan fragmen dari kapal selam dan menyatakan bahwa kapal itu telah tenggelam, secara efektif mengakhiri setiap peluang untuk menemukan awak kapal yang selamat.

Di antara barang-barang sebelumnya yang ditemukan adalah bagian dari sistem torpedo dan sebotol minyak yang digunakan untuk melumasi periskop.

Mereka juga menemukan sajadah yang biasa digunakan di Indonesia, negara berpenduduk mayoritas Muslim terbesar di dunia, untuk shalat.

Kapal perang, pesawat, dan ratusan personel militer telah memimpin pencarian kapal selam tersebut sejak dinyatakan hilang kontak selama latihan, berharap untuk penyelamatan sebelum cadangan oksigen yang diketahui habis.

Namun pada Minggu, Panglima TNI Marsekal TNI Hadi Tjahjanto mengatakan tidak ada harapan untuk menemukan awak kapal yang masih hidup.

"Dengan kesedihan yang mendalam, saya dapat mengatakan bahwa 53 personel di dalamnya gugur dalam tugas," katanya kepada wartawan.

Akordeon Lipat
Keluarga Letnan Satu Muhammad Imam Adi, ayah berusia 29 tahun dari seorang anak laki-laki, berpegang teguh pada harapan, yang dinyatakan Minggu pagi.

"Harapan saya sekarang, anak saya dan semua kru bisa ditemukan," kata Edy Sujianto, ayah Lettu Muhammad Imam Adi, yang ditemui di kediamannya.

"Anak laki-laki saya ingin menjadi tentara sejak dia masih kecil. Itu impiannya."

Presiden RI Joko Widodo menyebut para pelaut yang gugur tersebut sebagai "patriot terbaik" Indonesia.

Pihak TNI belum memberikan penjelasan atas kecelakaan itu, tetapi mengatakan bahwa kapal selam itu mungkin mengalami listrik padam yang membuat kapal tidak dapat muncul ke permukaan laut.

TNI juga menyanggah terjadi ledakan, bagaimanapun, mengatakan pada Sabtu, bahwa bukti menunjukkan kapal selam itu pecah akibat tekanan air yang sangat besar di kedalaman yang sangat dalam.

"Lambung kapal selam itu bertekanan ... tapi bila rusak maka air akan masuk ke dalam kapal," kata Wisnu Wardhana, pakar kelautan di Institut Teknologi Sepuluh Nopember Indonesia [ITS] Surabaya.

"Bisa Anda bayangkan jika air dengan tekanan seperti itu menghantam orang?"

Pensiunan wakil laksamana Prancis Jean-Louis Vichot sebelumnya mengatakan kepada AFP bahwa lambung kapal selam bisa runtuh "seperti akordeon lipat" jika mencapai kedalaman jauh di luar batasnya.

Operasi Penyelamatan
Setiap operasi penyelamatan akan berisiko dan sulit, kata Kasal Laksamana Yudo Margono.

"Kami akan membahasnya untuk mengambil keputusan bagaimana cara mengangkat kapal selam dalam kondisi saat ini," katanya, Minggu.

"Saya ingin mengangkatnya, tapi bagaimana kita membawanya dari (kedalaman tersebut)?"

Negara tetangga Malaysia, serta Amerika Serikat, India dan Australia, termasuk di antara negara-negara yang membantu Indonesia dalam upaya pencarian dan penyelamatan.

Kapal pencari, pesawat pengintai, dan kapal selam penyelamat telah dikerahkan untuk menjelajahi zona seluas sekitar 10 mil laut persegi [34 kilometer persegi].

Kapal selam - salah satu dari lima armada Indonesia - menghilang Rabu pagi ketika dijadwalkan untuk melakukan latihan torpedo di lepas pantai Bali. Awak kapal meminta izin untuk menyelam. Itu kehilangan kontak tidak lama setelah itu.

Kemudian, tim pencari menemukan tumpahan minyak di mana kapal itu diperkirakan tenggelam, yang menunjukkan kemungkinan kerusakan tangki bahan bakar, dan kecelakaan yang sangat dahsyat.

Kapal selam naas tersebut - dikirim ke Indonesia pada 1981 - layak laut, kata TNI AL.

Model ini telah digunakan oleh lebih dari selusin angkatan laut di seluruh dunia.

Tetapi penyelidik akan melihat usia kapal selam Indonesia sebagai faktor potensial, kata para analis.

Bencana tersebut merupakan salah satu dari serangkaian kecelakaan kapal selam yang fatal selama beberapa dekade terakhir.

Di antara yang terburuk adalah tenggelamnya Kursk pada tahun 2000, kebanggaan Armada Utara Rusia.

Kapal selam itu sedang bermanuver di Laut Barents ketika tenggelam dengan kehilangan semua 118 penumpang.

Penyelidikan menemukan sebuah torpedo telah meledak, meledakkan yang lainnya.

Sebagian besar awaknya tewas seketika tetapi beberapa selamat selama beberapa hari sebelum mati lemas seperti dikutip AFP yang dilansir MailOnline.
ALL 53 CREW aboard an Indonesian submarine that disappeared last week were killed, the military said Sunday as it confirmed the vessel had been found in pieces on the seafloor.

Authorities said that they picked up signals early Sunday from a location more than 800 metres (2,600 feet) deep -- far below what the KRI Nanggala 402's steel hull was built to withstand.

They had used an underwater submarine rescue vehicle supplied by neighbouring Singapore to get visual confirmation of the stricken vessel.

"It was broken into three pieces," said Navy Chief of Staff Yudo Margono.

More parts from the doomed submarine were also retrieved, including an anchor and fluorescent orange safety suits for emergencies, authorities said.

The discovery comes a day after the navy had first confirmed the retrieval of fragments from the submarine and declared that it had sunk, effectively ending any chance of finding survivors.

Among the earlier items recovered were a piece of the torpedo system and a bottle of grease used to lubricate periscopes.

They also found a prayer mat commonly used in Indonesia, the world's most populous Muslim-majority nation.

Warships, planes and hundreds of military personnel had led a frantic search for the submarine since it disappeared this week during training exercises, hoping for a miracle rescue before its known oxygen reserves ran out.

But on Sunday, Indonesian military head Hadi Tjahjanto said there was no chance of finding any of the crew alive.

"With deep sadness, I can say that all 53 personnel onboard have passed," he told reporters.

- 'Folding accordion' -
Relatives of First Lieutenant Muhammad Imam Adi, a 29-year-old father of a young son, clung to hope earlier Sunday.

"My wish now is that my son and all the crew can be found," Adi's father Edy Sujianto said from his home on Java island.

"My son had wanted to become a soldier since he was a child. That was his dream."

President Joko Widodo described the sailors as Indonesia's "best patriots".

"All Indonesians convey their deep sadness over this incident, especially to the families of the submarine crew," he said.

Authorities have not given an explanation for the accident, but said that the submarine may have suffered a blackout that left its crew unable to resurface.

They discounted an explosion, however, saying Saturday that the evidence suggested the submarine came apart as it was crushed by massive water pressure in the vast depths.

"Submarine hulls are pressurised... but when they're breached then water would come flooding inside," said Wisnu Wardhana, a maritime expert at Indonesia's Sepuluh Nopember Institute of Technology.

"Can you imagine if water with that kind of pressure hits people?"

Retired French vice-admiral Jean-Louis Vichot earlier told AFP that a submarine's hull could collapse "like a folding accordion" if it hits depths way beyond its limits.

- Salvage Operation -
Any salvage operation would be risky and difficult, navy chief Margono said.

"We'll discuss it to make a decision on how to lift the submarine in this condition," he said Sunday.

"I want to lift it, but how do we bring it up from (these depths)?"

Neighbouring Malaysia, as well as the United States, India and Australia, were among the nations helping in the hunt.

Search vessels, reconnaissance aircraft and submarine rescue ships had been deployed to scour a zone of about 10 square nautical miles (34 square kilometres).

The submarine -- one of five in Indonesia's fleet -- disappeared early Wednesday while it was scheduled to do live torpedo training exercises off Bali.

The crew asked for permission to dive. It lost contact shortly after.

Later, search teams spotted an oil spill where the vessel was thought to have submerged, pointing to possible fuel-tank damage, and a catastrophic accident.

The submarine -- delivered to Indonesia in 1981 -- was seaworthy, the military said.

The model has been used by more than a dozen navies around the world.

But investigators would look at the Indonesian submarine's age as a potential factor, analysts have said.

The disaster was among a string of fatal submarine accidents over the past few decades.

Among the worst was the 2000 sinking of the Kursk, the pride of Russia's Northern Fleet.

That submarine was on manoeuvres in the Barents Sea when it sank with the loss of all 118 aboard. An inquiry found a torpedo had exploded, detonating all the others.

Most of its crew died instantly but some survived for several days before suffocating.