Pengunjuk Rasa di Honduras Tewas Akibat Unjuk Rasa Tolak Presiden Hernandez Kembali Berkuasa
Demonstrators in Honduras Battle with Soldiers and Police over President`s Re-election
Editor : Ismail Gani
Translator : Novita Cahyadi

PUBLISHED: Minggu, 21 Januari 2018 , 21:10:00 WIB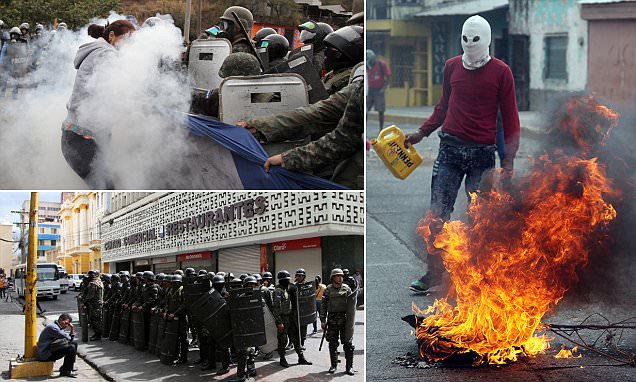 Foto2: MailOnline
SEORANG pria berusia 60 tahun diyakini tewas saat polisi melepaskan tembakan ke para pengunjuk rasa di kota Saba, 130 mil timur laut Tegucigalpa.

Aksi-aksi kekerasan aparat polisi dan militer juga terjadi di Tegucigalpa, ibukota Honduras (foto kiri atas), setelah para pengunjuk rasa memblokir jalan dengan ban bekas (kanan) dan polisi anti huru-hara menggunakan gas air mata untuk membubarkan pengunjuk rasa kemarin (kiri bawah).

Tiga petugas polisi dan satu orang bersenjata juga terluka dalam aksi unjuk rasa tersebut, sementara 12 pengunjuk rasa ditangkap di seluruh Honduras.

Unjuk rasa dipicu penolakan rakyat yang menolak terpilihnya kembali Presiden Juan Orlando Hernandez pada 26 November.

Presiden berusia 49 tahun itu berkuasa sejak 2013, dan merupakan Presiden Honduras pertama yang mencalonkan diri untuk masa jabatan kedua setelah mahkamah agung mencabut larangan Presiden Juan Orlando Hernandez mencalonkan diri kembali seperti dilansir MailOnline.
A 60-YEAR-OLD man is believed to have died when police opened fire on protesters in the town of Saba, 130 miles north east of Tegucigalpa.

Violent images are also emerging from the capital (main), where demonstrators blocked roads with burning tyres (right) and riot police used tear gas to break up crowds (left) yesterday.

Three police officers and one solider were also injured in the chaos, while 12 protesters were arrested nationwide.

Discontent is still raging after the re-election of centre-right President Juan Orlando Hernandez on November 26.

The 49-year-old has been in power since 2013, and is the first President of Honduras to run for a second term after the supreme court lifted a re-election ban.