Teror di Bandara Orly, Polisi Prancis Tembak Mati Muslim Radikal
Paris Orly Airport Terror Fears as `Radicalised Muslim` Snatches Female Soldier`s Gun
Editor : Ismail Gani
Translator : Novita Cahyadi

PUBLISHED: Sabtu, 18 Maret 2017 , 21:02:39 WIB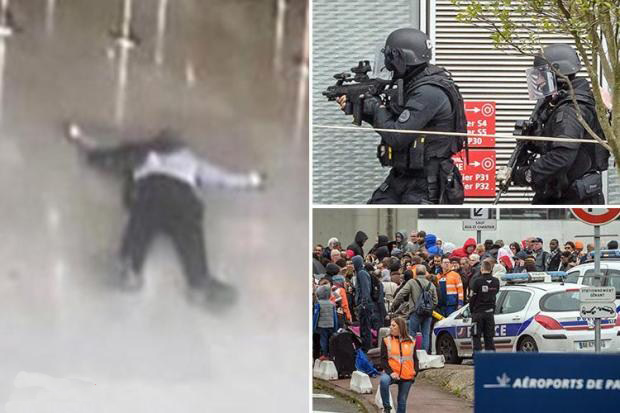 Tersangka melarikan diri ke sebuah toko di bandara sebelum ia ditembak mati, kata seorang juru bicara di kementerian dalam negeri (Foto2: The Sun)
SEORANG pria yang merampas pistol tentara ditembak mati di Bandara Orly yang sebelumnya diyakini telah menembaki polisi saat melakukan razia di jalan, kata pihak berwenang.

Tersangka, kata sumber di kepolisian kepada Reuters menyatakan tersangka 'radikal Muslim menurut pihak berwenang' bergumul dengan tentara, yang dikerahkan untuk menghentikan aksi terorisme di bandara terbesar kedua di Paris," dan berhasil dilumpuhkan pada pukul 8:30 pagi waktu setempat.

Kantor kejaksaan Paris mengatakan tersangka adalah pria berusia 39 tahun dengan sejumlah catatan kriminal, tapi tidak terjadi di Paris.

Sebelum terjadi insiden berdarah di bandara seorang pria yang menggunakan mobil melepaskan tembakan saat melakukan razia stop and search yang berlangsung rutin di utara kota, dan melukai kepala seorang petugas.

Pria itu kemudian melarikan diri, mengancam pengendara bermotor dengan senjata untuk mencuri mobil. Polisi mengatakan mobil tersebut kemudian ditemukan di dekat Orly.

Tersangka kakak dan ayahnya juga ditahan polisi, katasumber di peradilan kepada Reuters.

Penumpang di bandara melaporkan mendengar tembakan sekitar pukul 08:30 pagi waktu setempat.

Menteri Pertahanan Prancis Jean-Yves Le Drian mengatakan penyerang, yang belum teridentifikasi, menyerang tiga tentara dari Angkatan Udara yang sedang berpatroli bandara.

Ia mengatakan, tentara yang diserang berhasil mempertahankan senapan dan dua tentara yang mendampinginya melepaskan tembakan untuk melindungi rekannya dan warga.

Ada beberapa pertanyaan mengenai apakah tersangka pernah memiliki pistol dan saksi mengatakan kepada BFM TV bahwa pria tersebut mencoba merampas senjata tentara dan kemudian mengancamnya.
Saksi hanya diidentifikasi sebagai Dominque mengatakan: "Para prajurit membidik pelaku, yang kemudian mengarahkan pistol yang direbutnya kepada dua tentara."

Tersangka melarikan diri ke sebuah toko di bandara sebelum ia ditembak mati, kata seorang juru bicara di kementerian dalam negeri.

Juru bicara itu mengatakan tidak ada orang lain terluka di bandara.

Polisi anti-teror kemudian dikerahkan ke bandara terbesar kedua di Paris dan semua jadwal penerbangan dijadwal ulang.

Para penjinak bom bom juga dipanggil dan mengkonfirmasi tersangka tidak mengenakan rompi bunuh diri.

Prancis saat ini sedang dalam kondisi darurat menyusul serangkaian serangan selama dua tahun terakhir.

Presiden Prancis Francois Hollande memuji keberanian dan kesigapan tentara dan polisi menyusul insiden di Bandara Orly dan di pinggiran utara Paris.

Dalam sebuah pernyataan tertulis, Hollande menegaskan kembali "tekad untuk bertindak tanpa henti untuk memerangi terorisme, mempertahankan keamanan rakyat kami, dan menjamin perlindungan wilayah."
Insiden hari ini terjadi bersamaan dengan kunjungan Pangeran William dan Kate Middleton dari Inggris untuk bertemu dengan veteran Perang Dunia II di Prancis di Les Invalides, di Paris, serta korban dan personel layanan darurat dari Bataclan dan serangan di Nice.

Pasangan dari kerajaan Inggris saat ini berada di kediaman Duta Besar Inggris dan akan menghadiri pertandingan rugby antara timnas Prancis melawan Wales hari ini seperti dilansir The Sun.
A MAN who snatched a soldier's gun before being shot dead at Paris Orly airport is believed to have earlier fired at a cop during a road check, officials have said.

The suspect, who a police source told Reuters was a "radicalised Muslim known to authorities", wrestled the soldier, deployed to stop terrorists at Paris' second biggest airport, to the ground at about 8.30am.

The Paris prosecutors office said the suspect was a 39-year-old man with multiple offences on his criminal record, but was not on the country's

Shortly before the airport shooting a man travelling by car opened fire during a routine stop-and-search operation in the north of the city, slightly wounding one officer in the head.

The man then fled, threatening a motorist with a weapon to steal her car. Police say that car was later found close to Orly Airport.

The suspect's brother and father have also been taken into police custody, a judicial source told Reuters.

Passengers at the airport reported hearing shots at about 8.30am.

French Defense Minister Jean-Yves Le Drian said the attacker, whom he did not identify, assaulted three Air Force soldiers who were patrolling the airport.

He said the soldier who was attacked managed to hold on to her rifle and the two soldiers she was with opened fire to protect her and the public.

There is some confusion as to whether the suspect ever had the gun with a witness telling BFM TV the man was in possession of the soldier's rifle and threatening her.

The witness identified only as Dominque said: "The soldiers took aim at the man, who in turn pointed the gun he had seized at the two soldiers."

The suspect fled into a shop at the airport before he was shot dead, an interior ministry spokesman said.

The spokesman said no others were wounded at the airport.

Anti-terror cops have flooded Paris' second biggest airport and all flights are being redirected.

Bomb disposal experts were also called in and have confirmed the suspect was not wearing a suicide vest.

France is currently under a state of emergency following a series of attacks over the past two years.

French president Francois Hollande has praised the courage and efficiency of troops and police following the incidents at Orly Airport and in a northern Paris suburb.

In a written statement, Hollande reaffirms the state's "determination to act without respite to fight terrorism, defend our compatriots' security and ensure the protection of the territory."

Today's incident comes as the Duke and Duchess of Cambridge met with French Second World War veterans at Les Invalides, in Paris, as well as victims and members of the emergency services from the Bataclan and Nice attacks.

The royal couple are currently staying at the British Ambassador's residence by the British Embassy and will attend the France v Wales rugby match later today.