Luar Biasa! Semut Angkat Bangkai Lebah, Bobotnya 40 Kali Lipat Beratnya
Incredible Pictures Show Super-strong Ant Using Its Jaws to Lift Insect 70 Times Its Own Weight
Editor : Ismail Gani
Translator : Novita Cahyadi

PUBLISHED: Kamis, 20 Juli 2017 , 21:12:00 WIB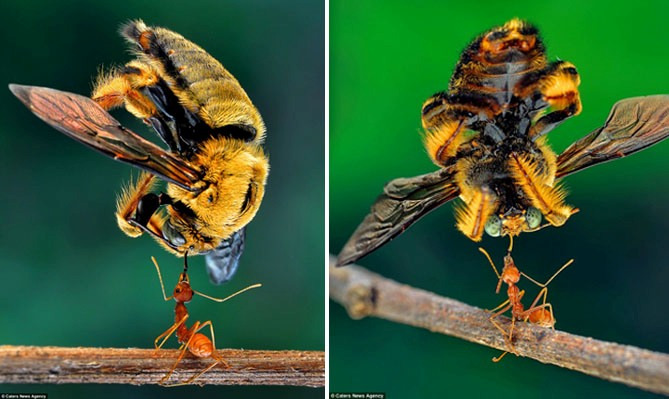 APABILA Anda suatu ketika terbebani beratnya barang belanjaan, bagaimana dibandingkan dengan semut merah ini.

Semut ini berhasil menyeimbangkan lebah mati yang ukurannya belasan kali dari ukuran semut pekerja dan mengangkutnya sendirian di atas ranting tipis.

Hal itu sangat luar biasa karena ukuran semut pekerja beratnya hanya 5 mg dan berat lebah rata-rata mencapai 200 mg.

Dengan kata lain, berat lebah sekitar 40 kali bobot semut. Beberapa saat kemudian beberapa semut pekerja lagi, yang bisa membawa beban hingga 100 kali lipat beratnya sendiri, datang untuk membantu rekannya membawa hadiah kembali ke sarang mereka.

Fotografer Eko Adiyanto, 43, melihat pemandangan langka di halaman depan rumahnya di Jawa Barat, Indonesia. Dia mengatakan: "Semut ini adalah hewan kecil tapi memiliki kekuatan besar dan bisa bekerja sama."

Fakta dan Figur Semut
Semut dapat membawa hingga 100 kali berat badan mereka karena otot mereka lebih tebal dibandingkan dengan ukuran tubuh mereka atau dibanding dengan hewan yang lebih besar.

Jika manusia sekuat itu, kita bisa mengangkat 4,5 ton di atas kepala kita - sama dengan tiga mobil.

Bisa dibayangkan 24 juta semut mampu mengangkat bus tingkat seberat 12 ton.

Semut telah menghuni planet ini selama 130 juta tahun (manusia primitif pertama kali berevolusi sekitar 2 juta tahun yang lalu).

Bobot gabungan semua semut di Bumi - sepuluh ribu triliun - kira-kira sama dengan tujuh miliar manusia.

Mereka bisa ditemukan di seluruh dunia, kecuali di Antartika, Greenland dan beberapa pulau terpencil.

Semut prajurit memiliki kepala besar yang penuh dengan otot sementara semut ratu, dipaksa meletakkan telur secukupnya untuk memastikan koloni itu bertahan, memiliki perut yang lebih besar.

Semut memiliki pasangan di udara dan juga di tanah. Semut jantan mati dalam satu atau dua hari, sementara ratu semut dapat kawin dengan lebih banyak pasangan.

Semut memiliki dua perut, satu untuk mencerna makanannya sendiri dan yang kedua menyimpan makanan untuk semut lain, tapi tidak memiliki paru-paru, dan oksigen memasuki tubuhnya melalui lubang kecil.

Semut dapat dimakan, dengan beberapa rasa pedas karena asam format yang mereka hasilkan.

Semut yang hancur mengeluarkan aroma `alarm` yang mengirim semut di dekatnya ke dalam hiruk-pikuk yang menyerang.

Sementara beberapa semut hidup berminggu-minggu, ratu bisa hidup hingga 30 tahun seperti dilansir MailOnline.
IF YOU`VE ever bumbled home loaded down with heavy shopping, spare a thought for this little red weaver ant.

It managed to balance a dead bee many times its own size in its jaws as it stood upon a thin twig.

It`s all the more remarkable because the weaver ant weighs around 5mg – that`s 0.00018 of an ounce – and a typical bee is up to 200mg, or a hefty 0.007 of an ounce.

In other words, the bee is about 40 times the weight of the ant. A short while later some more weaver ants, which can carry loads up to 100 times their own weight, arrived to help him bear the prize back to their nest.

Photographer Eko Adiyanto, 43, spotted the scene in the front garden of his home in West Java, Indonesia. He said: "These ants are small animals but have enormous strength and are able to work together."

Ant Facts and Figures
Ants can carry up to 100 times their weight because their muscles are thicker relative to their body size than those of larger animals

If humans were as strong, we could lift 4.5 tons above our heads – equal to three cars.

24million ants would be needed to lift a 12-ton double decker bus.

Ants have been on the planet for 130million years (primitive humans first evolved around 2million years ago).

The combined weight of all the ants on Earth – ten thousand trillion – is roughly the same as all 7billion humans.

They are found all over the world, except in Antarctica, Greenland and a few remote islands.

Soldier ants have large heads packed with muscle while queen ants, forced to lay enough eggs to ensure the colony survives, have a larger abdomen.

Ants mate in the air as well as on the ground. The male dies within a day or two, while the queen can mate with many more partners.

An ant has two stomachs, one to digest its own food and the second to store food for others, but no lungs, with oxygen entering its body through tiny holes.

Ants are edible, with some tasting spicy because of the formic acid they produce.

A crushed ant emits an `alarm` scent that sends nearby ants into an attacking frenzy.

While some ants live for weeks, queens can live for up to 30 years.