Pertahankan Status WTP dari BPK, Mentan Apresiasi Dukungan Jajaran Kementan
Indonesian Agriculture Ministry Declared Obey Government Accounting Standards
Editor : M. Achsan Atjo
Translator : Dhelia Gani

PUBLISHED: Kamis, 07 Juni 2018 , 02:28:00 WIB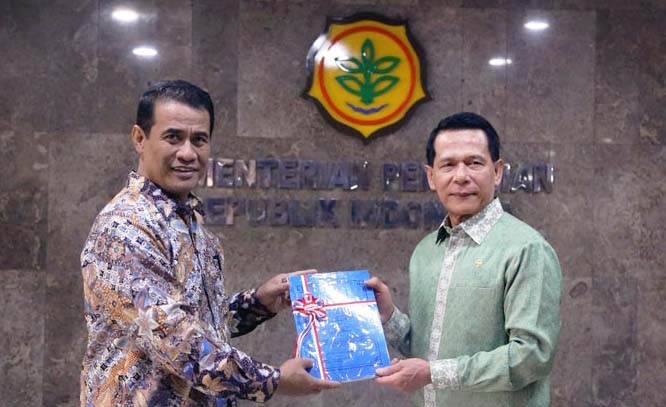 Mentan Andi Amran Sulaiman menerima Laporan Keuangan Pemerintah Pusat (LKPP) dari BPK dengan Opini WTP 2017 dari Anggota IV BPK, Rizal Djalil (kanan) Foto: B2B/M. Achsan Atjo
Jakarta (B2B) - Menteri Pertanian Andi Amran Sulaiman menyampaikan terima kasih atas dukungan seluruh jajarannya di Kementerian Pertanian RI yang berhasil mempertahankan opini Wajar Tanpa Pengecualian (WTP) dari Badan Pemeriksa Keuangan RI (BPK) untuk kedua kalinya, setelah 2016 yang tertuang pada Laporan Keuangan Pemerintah Pusat (LKPP) yang diserahkan oleh Anggota IV BPK, Rizal Djalil kepada Mentan di Jakarta, Rabu (6/6).
"Saya mengapresiasi kerja keras dan kepatuhan seluruh jajaran di Kementan untuk mempertahankan Opini WTP dari BPK untuk kedua kalinya setelah 2016 lalu. Ke depan, kita akan bekerja keras meningkatkan produksi pangan nasional tanpa mengabaikan aturan laporan keuangan sesuai ketentuan pemerintah," kata Mentan dalam arahannya usai menerima LKPP WTP dari Rizal Djalil.
Rizal Djalil mengatakan bahwa penilaian Opini WTP menjadi acuan penilaian laporan keuangan telah diatur oleh standar pemerintah, bukan dari penilaian subjektif BPK.
"Untuk memberikan keyakinan apakah laporan keuangan itu telah disajikan secara material atau basis akuntansi yang berlaku umum di Indonesia, kriteria adalah kesesuaian dengan standar akuntansi pemerintah bukan akuntansi yang dibuat BPK," katanya lagi.
Tampak hadir seluruh jajaran eselon satu di Kementan antara lain Kepala Badan Penyuluhan dan Pengembangan SDM Pertanian (BPPSDMP) Momon Rusmono; Kepala Badan Karantina Pertanian (Barantan) Banun Harpini; Sekretaris Ditjen Prasarana dan Sarana Pertanian (PSP) Abdul Madjid mewakili Dirjen PSP Pending Dadih Permana; dan Sekretaris BPPSDMP Andriko Noto Susanto.
Jakarta (B2B) - Indonesian Agriculture Minister Andi Amran Sulaiman appreciates the support of his whole line at the ministry, because it managed to maintain the with reasonable opinion without the exception or WTP by the Supreme Audit Board or the BPK RI, for the second time, after 2016 as stated in the central government financial report or LKPP who was submitted by the BPK Member Rizal Djalil to the Minister Sulaiman here on Wednesday (June 6).
"I appreciate the hard work and obedience of all the officials and staff at the ministry to maintain a positive assessment of the BPK for the second time after 2016.
"In the near future, we will work hard to increase national food production without neglecting the rules of the financial statements in accordance to government provisions," Minister Sulaiman in his speech.
Mr Djalil said that the assessment of BPK to be a benchmark assessment of financial statements, which is governed by government standards and not a subjective assessment of BPK.
"To provide confidence whether the financial statements have been presented accounting basis generally, meet the compliance of government accounting standards, and not set by the BPK," he said.
Also attended Director General of Agricultural Extension and Agricultural Human Resources or the BPPSDMP, Momon Rusmono; Director General of Indonesian Agricultural Quarantine Agency Banun Harpini; Secretary Directorate General of Infrastructure and Agricultural Facility, Abdul Madjid representing his boss, Pending Dadih Permana; and Secretary of the BPPSDMP, Andriko Noto Susanto.