STPP Yogya Eratkan Silaturahim di Hari Fitri, Usung `Semangat Petani`
Indonesia`s STPP Yogyakarta Strengthen the Relationship in Eid al-Fitr Festival
Editor : M. Achsan Atjo
Translator : Dhelia Gani

PUBLISHED: Minggu, 24 Juni 2018 , 04:16:00 WIB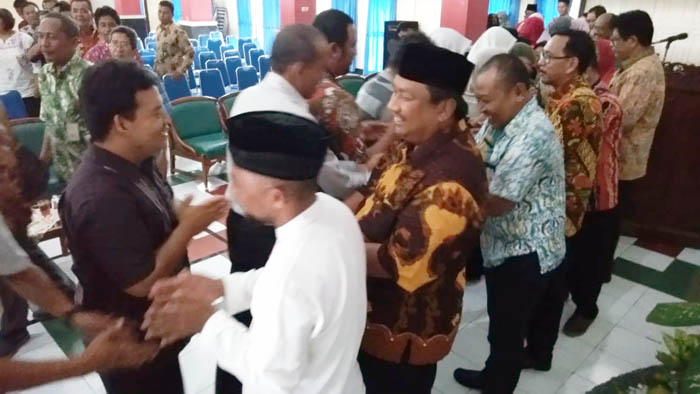 Ketua STPP Yogyakarta Ali Rachman (batik coklat) didampingi Wakil Ketua I Rajiman SP dan Kabag Adminsitrasi Umum, Irwan JS bersilaturahim dengan jajaran STPP Jurluhtan Yogyakarta (Foto: Humas STPP Yogykarta)
JAJARAN Sekolah Tinggi Penyuluhan Pertanian - STPP Yogyakarta diharapkan bekerja penuh loyalitas dan mengabdi sebaik mungkin, seperti dikatakan Ustadz HM Hamid SAg bahwa STPP Jurluhtan Yogyakarta melaksanakan fungsi akademis dengan menanamkan amanah sabar, ikhlas, dan tawadhu seperti halnya ´semangat petani´ bekerja keras memenuhi kebutuhan pangan rakyat meskipun penghidupan sebagian besar dari mereka belumlah sejahtera.
Semangat petani, kata Ustadz HM Hamid, diharapkan mampu memacu semangat kerja para pegawai sekaligus meningkatkan silaturahim di antara para pegawai dan keluarga, dengan menjauhi ´penyakit hati´ seperti sombong, iri dan dengki, dan sifat tamak.
"Dengan semangat petani, STPP Yogyakarta harus maju dan mampu bersaing menjadi kampus bagi para penyuluh pertanian, yang akan bekerja keras secara ikhlas dan sabar mendukung petani meningkatkan hasil produksi pertanian dan meningkatkan kesejahteraan keluarga dan masyarakat sekitarnya," katanya pada kegiatan pembinaan rohani jajaran STPP Yogyakarta, Jumat (22/6).
Kegiatan halal bihalal dan silaturahim merayakan Hari Raya Idul Fitri 1439 H, STPP Yogyakarta mengusung tema ´Etos Kerja menurut Pandangan Islam´ untuk mendukung terwujudnya Indonesia menjadi lumbung pangan dunia 2045.
"Nikmat yang diberikan Allah kepada manusia sebagai mahluk ciptaan-Nya tidak terhitung jumlahnya, dan kita wajib mensyukuri nikmat dan karunia tersebut dengan meningkatkan etos kerja sebagai insan pertanian, untuk memanfaatkan karunia tanah yang subur dan keanekaragaman tangaman pangan, hortikultura, perkebunan untuk kemakmuran bangsa dan kesejahteraan rakyat," kata Ketua STPP Yogyakarta, Ali Rachman.
Kegiatan silaturahim di STPP Yogyakarta dihadiri oleh seluruh pegawai, pengajar dan dosen. Tampak hadir Wakil Ketua III Teguh Susilo, Kabag Administrasi Umum, Irwan Johan Sumarno; Kabag Administrasi Akademik dan Kemahasiswaan, Budi Handojo;
THE STAFF and lecturers Yogyakarta´s Agriculture Extention College or the STPP Yogyakarta are expected to work full loyalty and serve their best, as stated by Islam cleric HM Hamid, should be able function as best agricultural education center in Indonesia.
The spirit of farmers, said HM Hamid, is expected to trigger employee morale as well as improve friendships among employees and families, away from the ´heart disease´ such as arrogant, jealous, and greedy.
"With the spirit of farmers, STPP Yogyakarta should be able to compete to be a campus for the best agricultural extension across the country, who will work hard to encourage farmers to increase agricultural production and improve the welfare of their families," he said on Islamic spiritual guidance activities here on Friday (June 22).
In the activity of friendship celebrating Islamic holiday of Eid al-Fitr, the STPP Yogyakarta carries the theme of ´Work Ethos according to the Islamic View´ to support Indonesia into the 2045 world food barn.
"The favor of God to man as His creatures is countless, and we must be grateful for the favors and gifts by increasing the work ethic, to take advantage of the fertile land gifts and the diversity of food, horticulture, plantations for the nation´s prosperity," said Rector of STPP Yogyakarta Chairman Ali Rachman.
Religious gatherings attended by all civil servants with the wife or husband, related institutions stakeholders, and the retired civil servant of the STPP Yogyakarta.