BPTP Kaltim Dukung Kutai Timur Tanam Padi Inpago 8 Sistem Jajar Legowo
Synergy of Central and Local Govt for Food Self-sufficiency in East Borneo
Reporter : Gusmiati Waris
Editor : Cahyani Harzi
Translator : Dhelia Gani

PUBLISHED: Sabtu, 06 Januari 2018 , 20:12:00 WIB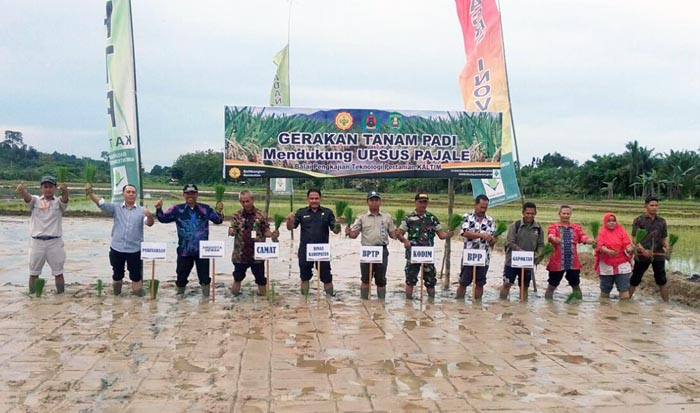 TANAM PADI KUTAI TIMUR: Kepala BPTP Kaltim, Mohammad Amin (ke-6 kiri) saat panen padi dengan sejumlah pimpinan dinas terkait di Provinsi Kaltim (Foto: Humas BPTP Kaltim)
Jakarta (B2B) - Kementerian Pertanian RI mendukung pencapaian swasembada pangan di Kabupaten Kutai Timur, Provinsi Kalimantan Timur melalui Balai Pengkajian Teknologi Pertanian (BPTP) Kaltim, dengan menanam padi varietas unggulan baru (VUB) Inpago 8 dengan sistem tanam jajar legowo disingkat Jarwo.
Kepala BPTP Kaltim, Mohammad Amin mendampingi kegiatan tanam bersama di Desa Suka Damai, Kecamatan Teluk Pandan yang dipimpin oleh kepala dinas pertanian Kutai Timur, sejumlah pejabat terkait, dan didukung oleh tim peneliti dan penyuluh dari BPTP Kaltim, yang merupakan unit pelaksana teknis (UPT) dari Badan Penelitian dan Pengembangan Pertanian (Balitbangtan).
"Gerakan tanam bersama VUB Inpari 8 dengan sistem jajar legowo diharapkan dapat memotivasi petani untuk kembali bertani dan menggarap lahan sawahnya," kata Mohammad Amin kepada pers.
Menurutnya, kegiatan tersebut merupakan rangkaian dari BPTP Kaltim mencapai kemandirian pangan lokal, dan mendukung keberlanjutan swasembada pangan sehingga di masa mendatang dapat diikuti kabupaten lain di Kaltim.
Jakarta (B2B) - Indonesian Agriculture Ministry supports achievement of food self-sufficiency in East Kutai district of East Borneo province through the East Borneo´s Assessment Institute for Agricultural Technology or the BPTP Kaltim by planting new varieties Inpago 8 with legowo jajar system abbreviated as the Jarwo.
Director of the BPTP Kaltim, Mohammad Amin attended rice planting activities in Suka Damai village of Teluk Pandan subdistrict was led by Head of East Kutai agricultural service, with number related officials, researchers and agricultural extension of the BPTP Kaltim.
"The activity is expected to motivate the community return to farming and working on rice fields," Mr Amin told the press.
According to him, the activity is a series of BPTP Kaltim achieve local food independence, and support sustainability of food self-sufficiency so that in the future can be followed other districts in East Borneo.