Evaluasi Semester Ganjil, Polbangtan YoMa Songsong Kegiatan Januari - Juni 2019
Indonesian Agricultural Polytechnic Welcomes Optimistic Even Semester of 2018/2019
Editor : M. Achsan Atjo
Translator : Dhelia Gani

PUBLISHED: Rabu, 30 Januari 2019 , 02:34:00 WIB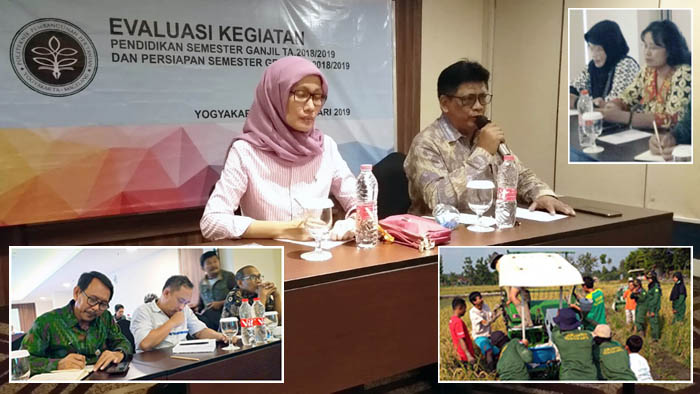 SEMESTER GENAP: Wadir I Polbangtan YoMa, Dr Ananti Yekti SP MP didampingi Dr Ir Sujono MP membuka evaluasi kegiatan semester ganjil dan songsong semester genap 2018/2019 (Foto2: Humas Polbangtan YoiMa)
Yogyakarta, DIY (B2B) - Civitas Academica Polbangtan YoMa menyongsong kegiatan pendidikan semester genap 2018/2019 dengan optimistis untuk mencapai target output yang ditetapkan Badan Penyuluhan dan Pengembangan SDM Pertanian di Kementerian Pertanian RI (BPPSDMP) mencapai kinerja terbaik mendukung target Menteri Pertanian RI untuk mencetak lulusan berkompetensi dan siap pakai sebagai job creator agribisnis.
Keyakinan dan optimisme Politeknik Pembangunan Pertanian Yogyakarta - Magelang disingkat Polbangtan Yoma dikemukakan oleh Direktur Dr Rajiman SP MP dalam arahannya pada kegiatan ´evaluasi kegiatan pendidikan semester ganjil dan persiapan menyongsong semester genap 2018/2019.
"Enam bulan terakhir sebagai masa transisi yang krusial, apa pun peran kita, harus bersungguh-sungguh memberikan dukungan dan kontribusi demi kemajuan Polbangtan YoMa, sesuai target yang ditetapkan oleh BPPSDMP Kementan," kata Dr Rajiman SP MP dalam arahannya di Yogyakarta, Selasa (29/1), yang disampaikan oleh Dr Ananti Yekti SP MP selaku Wakil Direktur I Polbangtan YoMa.
Wadir I Ananti Yekti mengapresiasi dukungan semua pihak di civitas academica dari kampus Yogyakarta dan Magelang selama semester ganjil, dan diharapkan dapat ditingkatkan lebih optimal pada semester genap 2018/2019.
"Proses transformasi tidak langsung mapan dan stabil, tetapi penuh dinamika, maka kita semua harus bekerja keras mencapai output yang ditetapkan kementerian," kata Ananti Y didampingi Dr Ir Sujono MP selaku ketua panitia kegiatan.
Sedikitnya 48 orang mengikuti rapat yang berlangsung hingga Kamis (31/1) di Hotel Satoria Yogyakarta, terdiri atas dosen, pejabat struktural, asisten dosen, tenaga penunjang akademik, dan tenaga teknis di antaranya Kabag Umum Irwan Johan Sumarno; dan R Hermawan SP MP, dosen kewirausahaan.
Yogyakarta (B2B) - Indonesia´s Polbangtan Yoma academic community to meet the second semester of 2018/2019 with optimistic to achieve target output of the Directorate General of Extension and Agricultural HR Development or the BPPSDMP to produce graduates who are competent as agribusiness job creators according to target of Indonesian agriculture ministry.
Beliefs and optimism of Yogyakarta - Magelang Agricultural Development Polytechnic or the Polbangtan YoMa stated by Director Dr Rajiman SP MP in his direction at the odd semester evaluation meeting and ahead of second semester 2018/2019.
"The last six months have been a crucial transition period, whatever our role, must really support the progress of Polbangtan Yoma, according to target set by the agriculture ministry," said Rajiman SP MP in his direction here on Tuesday (January 29) who was delivered by Dr Ananti Yekti SP MP as Deputy Director I of Polbangtan YoMa.
Yekti appreciates support of all parties in Yogyakarta and Magelang campuses during the odd semester, and is expected to further increase in second semester of 2018/2019.
"Transformation processis not directly run smoothly, but full of dynamics, we all have to work hard to achieve the output set by the government," said Yekti accompanied by Dr Ir Sujono MP as chairman of the committee.