Teknologi Agronomi Berperan Percepat Penciptaan dan Hilirisasi Inovasi Pertanian
Technological Innovation becomes the Pillar of Indonesia`s Agricultural Development
Reporter : Gusmiati Waris
Editor : Cahyani Harzi
Translator : Dhelia Gani

PUBLISHED: Rabu, 19 Juli 2017 , 09:25:00 WIB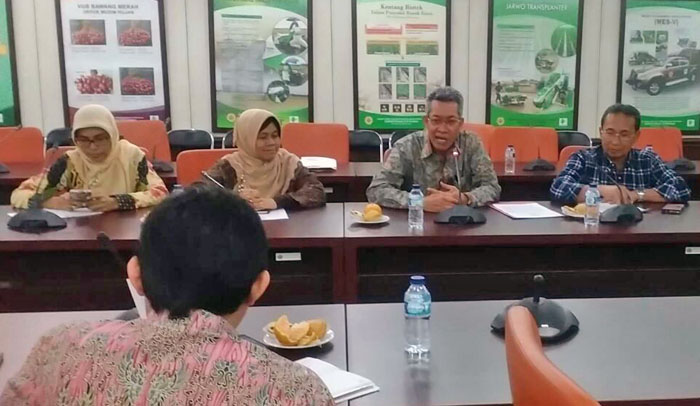 Kepala Badan Litbang Kementan, Mohammad Syakir (ke-2 kanan) menjawab pers di kantornya (Foto: B2B/Gusmiati Waris)
Jakarta (B2B) - Saat ini dan ke depan, setiap negara di dunia dibebani kewajiban untuk pemenuhan kebutuhan pangan domestik, sekaligus menghadapi persaingan kuantitas dan kualitas produk di pasar global disertai pengaruh politik pangan dan ekonomi, maka sektor pertanian Indonesia harus mengambil peran untuk tampil kompetitif, tangguh dan ekspansif melalui inovasi teknologi pertanian modern.

Kepala Badan Penelitian dan Pengembangan Pertanian (Badan Litbang) Kementerian Pertanian, Mohammad Syakir mengatakan bahwa pertumbuhan, perkembangan, dan kemajuan sektor pertanian saat ini dan di masa mendatang tidak terlepas dari kontribusi dan kemajuan inovasi pertanian lantaran tuntutan terhadap kebutuhan pangan untuk masyarakat domestik dan dunia semakin meningkat.

"Pertanian Indonesia harus dikelola dan tampil secara modern dan menjadi sumber-sumber pertumbuhan ekonomi baru dengan memaksimalkan seluruh potensi sumber daya pertanian dengan target peningkatan kesejahteraan petani, tercapainya swasembada dan lumbung pangan dunia," kata Syakir kepada pers di Jakarta pada Selasa (18/7).

Menurutnya, peran tersebut tentunya tidak hanya dibebankan kepada pemerintah, namun juga harus melibatkan berbagai pihak terutama perguruan tinggi, lembaga-lembaga riset dan organisasi profesi pertanian khususnya di bidang agronomi.

Menyikapi hal itu, Perhimpunan Agronomi Indonesia (Peragi) sebagai organisasi profesi yang berdiri sejak 1977 terpanggil menjadi bagian dari pembangunan pertanian, dan memperingati HUT ke-40 yang jatuh hari ini, 19/7, di IPB Convention Center - Bogor mengadakan seminar nasional bertema 'Peran Teknologi Agronomi dalam Mempercepat Penciptaan dan Hilirisasi Inovasi Pertanian' dan Menteri Pertanian RI Andi Amran Sulaiman dijadwalkan hadir sebagai pembicara utama.

"Saya sendiri tampil sebagai plenary session bersama Wakil Ketua Komisi IV DPR Herman Khaeron, Jumain Appe Dirjen Penguatan Inovasi Kemenristek Dikti dan Gunung Sutopo yang dikenal sebagai motivator agrotechnopreneur dan pengusaha sukses bidang pertanian," kata Syakir.
Jakarta (B2B) - At present and in the future, every country in the world must meet domestic food needs, as well as facing competition of quantity and quality of products in the global market with the influence of food politics and economy, and therefore, Indonesia's agriculture sector must be competitive, and expansive with modern agricultural technology innovation, according to Indonesian senior official.

The Director General of Agency for Agricultural Research and Development of Agriculture Ministry, Mohammad Syakir said the current and future agricultural progress depends on agricultural innovation, as demand for food for the domestic and world is increasing.

"Indonesian agriculture should be managed in a modern way as a source of new economic growth, maximizing the potential of agricultural resources to improve the welfare of farmers, food self-sufficiency and world food barns," Mr Syakir told reporters here on Tuesday (July 18).

According to him, the role is not only a responsibility of the government, but also must involve various parties, especially universities, research institutions, and agricultural profession organizations, especially agronomy.

In response, the Indonesian Agronomy Association is called the Peragi as the professional organization established since 1977 called to be part of agricultural development, and commemorated 40th anniversary, today (July 19) in Bogor's IPB Convention Center held the national seminar entitled: 'The Role of Agronomic Technology to Accelerate Creation and Downstream of Agricultural Innovation' and Agriculture Minister Andi Amran Sulaiman was scheduled to present as the keynote speaker.

"I am present as a plenary session with Vice Chairman of House's Commission IV, Herman Khaeron, Director General of Innovation Reinforcement of research and technology ministry Jumain Appe, and Gunung Sutopo known as agrotechnopreneur motivator and agribusiness entrepreneur motivator," Mr Syakir said.