Tim SAR Gabungan Berupaya Jangkau Korban Gempa di Pelosok Lombok
Rescuers Struggling to Reach those Affected by Indonesia Quake
Editor : Ismail Gani
Translator : Novita Cahyadi

PUBLISHED: Selasa, 07 Agustus 2018 , 00:05:00 WIB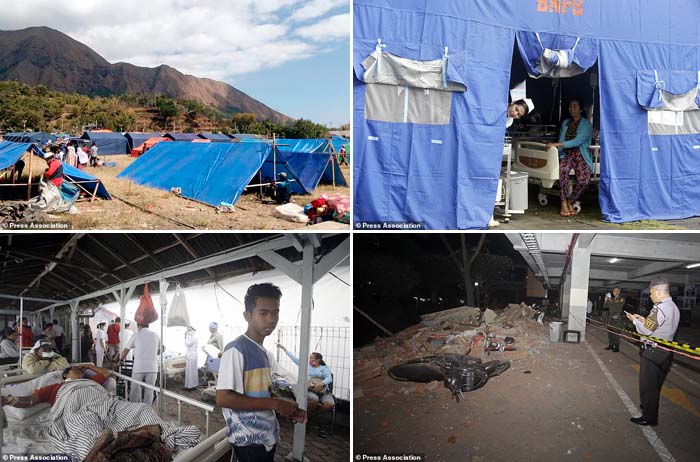 Foto2: Press Association/MailOnline
TIM PENYELAMAT dari Badan SAR berupaya mencapai beberapa wilayah yang terdampak gempa Lombok setelah gempa kuat mengguncang sebagian besar wilayah di Nusa Tenggara Barat (NTB) mengakibatkan rumah dan jembatan ambruk hingga rata dengan tanah.
Setidaknya 91 orang tewas dan Provinsi Bali terguncang gempa dengan korban tewas diperkirakan akan meningkat.
Bencana alam ini adalah gempa mematikan kedua dalam sepekan yang melanda Lombok.
Gempa pada 29 Juli menewaskan 16 orang dan merusak ratusan rumah, beberapa di antaranya roboh akibat gempa berkekuatan 7 skala Richter pada Minggu malam, menewaskan warga yang berada di dalam rumah.
Juru bicara Badan Nasional Penanggulangan Bencana (BNPB) Sutopo Purwo Nugroho mengatakan pada konferensi pers bahwa kerusakan ´terbesar´ di Lombok utara.
Di beberapa kabupaten, lebih dari setengah rumah warga ambruk atau rusak parah.
Beberapa kawasan di pelosok masih belum dijangkau, tim penyelamat berjuang mengatasi rintangan transportasi setelah jembatan roboh, pemadaman listrik dan jalan-jalan yang rusak terhalang puing-puing.
Kurangnya alat berat menghambat upaya untuk menemukan korban di bawah puing-puing sebuah masjid yang ambruk di Lombok utara saat jamaah yang sedang shalat tewas tertimpa reruntuhan masjid, kata Sutopo.
Jumlah korban tewas telah meningkat menjadi 91 dan ´pasti meningkat´, katanya, menambahkan bahwa dua korban tewas di Bali dan selebihnya di Lombok.
Lebih dari 200 orang luka berat.
Ribuan rumah dan bangunan rusak dan 20.000 orang berada di tempat penampungan sementara.
Kekuatan gempa itu, yang diukur pada skala 7,0 oleh pihak berwenang Indonesia dan 6,9 yang masih kuat oleh Survei Geologi AS, terjadi pada Minggu malam di kedalaman yang cukup dangkal enam mil di bagian utara Lombok.
Gempa dangkal cenderung menyebabkan lebih banyak kerusakan daripada yang lebih dalam.
"Kami duduk di sana makan malam sekitar pukul 7 malam tadi malam, kami merasakan guncangan hebat dan semua orang berlarian," kata turis Australia Kim Liebelt sambil menunggu dengan wisatawan lain untuk penerbangan meninggalkan bandara internasional Lombok.
"Dan kemudian atap mulai jatuh menimpa kami, batu-batu dan puing-puing dan kemudian semua orang berlarian menyelamatkan diri," katanya.
Video menunjukkan orang-orang berteriak berlari panik dari pusat perbelanjaan dan lingkungan di Bali di mana kendaraan parkir bergoyang.
Di Lombok, tentara dan penyelamat lainnya membawa orang-orang yang terluka di atas tandu ke pusat-pusat evakuasi.
Banyak korban dirawat di luar karena rumah sakit rusak.
"Orang-orang panik dan tersebar di jalanan, dan bangunan dan rumah-rumah yang telah rusak akibat gempa sebelumnya telah menjadi lebih rusak dan roboh," kata Sutopo seperti dikutip Press Association yang dilansir MailOnline.
Gempa ini memicu peringatan tsunami dan orang-orang yang ketakutan berlarian keluar dari rumah mereka untuk pindah ke tempat yang lebih tinggi, terutama di Lombok Utara dan Mataram, ibukota provinsi Nusa Tenggara Barat.
Peringatan itu dicabut pada hari Minggu setelah hanya gelombang kecil yang tercatat.
"Saya sedang menonton TV ketika saya merasakan guncangan besar," kata Harian, seorang wanita Lombok.
RESCUERS still have not reached some devastated parts of the Indonesian tourist island of Lombok after a powerful earthquake flattened houses and toppled bridges.
At least 91 people were killed and neighbouring Bali was shaken in the tremor with the death toll is expected to rise.
It was the second deadly quake in a week to hit Lombok.
A July 29 quake killed 16 people and damaged hundreds of houses, some of which collapsed in Sunday evening's magnitude 7.0 temblor, killing those inside.
National Disaster Mitigation Agency spokesman Sutopo Purwo Nugroho told a news conference that damage was "massive" in northern Lombok.
In several districts, more than half of homes were destroyed or severely damaged.
Some areas still had not been reached, with rescuers battling against collapsed bridges, electricity blackouts and damaged roads blocked with debris.
Lack of heavy equipment was hampering attempts to find victims beneath the rubble of a mosque that collapsed in northern Lombok while villagers prayed inside, Mr Nugroho said.
The death toll had risen to 91 and will "definitely increase", he said, adding that two of the deaths were in Bali and the rest in Lombok.
More than 200 people were seriously injured.
Thousands of homes and buildings were damaged and 20,000 people are in temporary shelters.
The quake, measured at magnitude 7.0 by Indonesian authorities and a still-powerful 6.9 by the U.S. Geological Survey, struck early on Sunday evening at a fairly shallow depth of six miles in the northern part of Lombok.
Shallow quakes tend to cause more damage than deeper ones.
"We were sitting there having dinner at about 7 o'clock last night, we just felt really big sort of shaking and the lights went off and everyone just ran," said Australian tourist Kim Liebelt as he waited with other travellers for a flight out at Lombok's international airport.
"And then the roof started falling down on us, rocks and rubble and then just everyone running to get away," he said.
Videos showed screaming people running in panic from a shopping mall and a neighbourhood in Bali where parked vehicles swayed.
On Lombok, soldiers and other rescuers carried injured people on stretchers and carpets to evacuation centres.
Many victims were treated outdoors because hospitals were damaged.
"People panicked and scattered on the streets, and buildings and houses that had been damaged by the previous earthquake had become more damaged and collapsed," Mr Nugroho said.
The quake triggered a tsunami warning and frightened people poured out of their homes to move to higher ground, particularly in North Lombok and Mataram, the capital of West Nusa Tenggara province.
The warning was lifted on Sunday after only small waves were recorded.
"I was watching TV when I felt a big shake," said Harian, a Lombok woman.