BNPB Perkirakan Lebih 430 Tewas akibat Gempa Lombok
Death Toll from Quake that Hit Indonesian Island Passes 430
Editor : Ismail Gani
Translator : Novita Cahyadi

PUBLISHED: Selasa, 14 Agustus 2018 , 00:35:00 WIB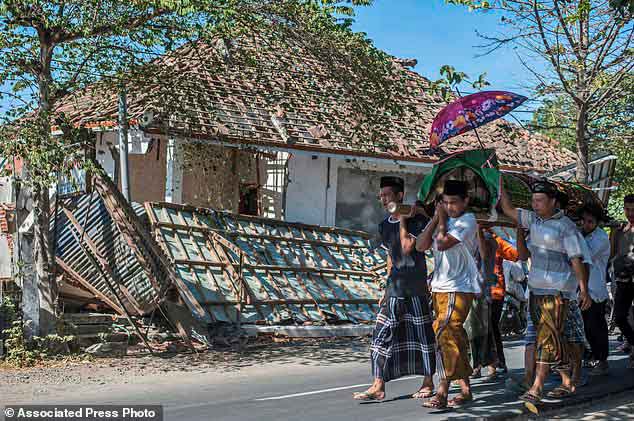 Foto: Associated Press/MailOnline
KORBAN TEWAS akibat gempa yang mengguncang Pulau Lombok, Nusa Tenggara Barat (NTB) sepekan lalu mengakibatkan korban tewas lebih 430 orang dan pemerintah memperkirakan kerugian ekonomi akan melebihi beberapa ratus juta dolar.
Badan Nasional Penanggulangan Bencana (BNPB) mengatakan Senin, gempa 5 Agustus menewaskan 436 orang, sebagian besar di antaranya meninggal di gedung-gedung yang runtuh.
Dikatakan kerusakan rumah, infrastruktur dan properti lainnya setidaknya 5 triliun rupiah, disebutkan bahwa angka sementara yang akan naik karena lebih banyak penilaian dibuat. Badan itu mengatakan pembangunan kembali akan menelan biaya triliunan rupiah.
Gempa berkekuatan 7,0 merubuhkan banyak rumah hingga rata dengan tanah dan menurut perkiraan terbaru BNPB bahwa gempa mengakibatkan sekitar 350.000 orang mengungsi.
"Kerusakan dan kerugiannya sangat besar," kata juru bicara BNPB Sutopo Purwo Nugroho.
"Ketika semua data telah terkumpul, jumlahnya akan lebih besar. Diperlukan triliunan rupiah untuk rehabilitasi dan rekonstruksi. Ini akan memakan waktu untuk memulihkan kehidupan masyarakat dan pembangunan ekonomi," katanya.
Nugroho mengatakan jalan yang rusak menghalangi akses ke daerah pegunungan yang terpencil dan helikopter telah dikerahkan oleh BNPB, militer dan Badan SAR Nasional (Basarnas) dikerahkan untuk mendistribusikan bantuan.
Lombok, tujuan wisata yang populer tetapi kurang berkembang dari tetangga Bali, dilanda tiga gempa kuat dalam waktu kurang dari seminggu dan telah mengalami lebih dari 500 gempa susulan.
Gempa 29 Juli menewaskan 16 orang. Gempa susulan berkekuatan 5,9 pada Kamis menyebabkan kepanikan, lebih banyak kerusakan dan puluhan orang cedera.
Indonesia rentan terhadap gempa bumi karena lokasinya di ´Cincin Api´, jajaran gunung berapi dan garis patahan Pasifik. Pada Desember 2004, gempa bumi berkekuatan 9,1 yang sangat besar di Sumatera memicu tsunami yang menewaskan 230.000 orang di selusin negara seperti dikutip Associated Press yang dilansir MailOnline.
THE DEATH TOLL from the earthquake that rocked the Indonesian island of Lombok a week ago has passed 430 and the government is estimating economic losses will exceed several hundred million dollars.
The national disaster agency said Monday the Aug. 5 quake killed 436 people, most of whom died in collapsing buildings.
It said damage to homes, infrastructure and other property is at least 5 trillion rupiah ($342 million), calling that a temporary figure that will rise as more assessments are made. The agency said rebuilding will cost hundreds of millions of dollars.
The magnitude 7.0 quake flattened thousands of homes and according to the disaster agency´s latest estimate has displaced about 350,000 people.
"The damage and losses are very large," said disaster agency spokesman Sutopo Purwo Nugroho.
"When all data has been collected later, the amount will be greater. It needs trillions of rupiah (hundreds of millions of dollars) for rehabilitation and reconstruction. It will take time to restore community life and economic development," he said.
Nugroho said damaged roads were hindering access to isolated mountainous areas and helicopters had been deployed by the disaster agency, the military and the search and rescue agency to distribute aid.
Lombok, a popular but less developed tourist destination than neighboring Bali, was hit by three strong quakes in little over a week and has endured more than 500 aftershocks.
A July 29 quake killed 16 people. An aftershock measuring magnitude 5.9 on Thursday caused panic, more damage and more than two dozen injuries.
Indonesia is prone to earthquakes because of its location on the "Ring of Fire," an arc of volcanoes and fault lines in the Pacific Basin. In December 2004, a massive magnitude 9.1 earthquake off Sumatra triggered a tsunami that killed 230,000 people in a dozen countries.