Gempa Banten Lukai Enam Pelajar, Pemotor di Jakarta Jatuh Akibat Guncangan
Strong Quake Sparks Panic in Indonesia
Editor : Ismail Gani
Translator : Novita Cahyadi

PUBLISHED: Rabu, 24 Januari 2018 , 00:37:00 WIB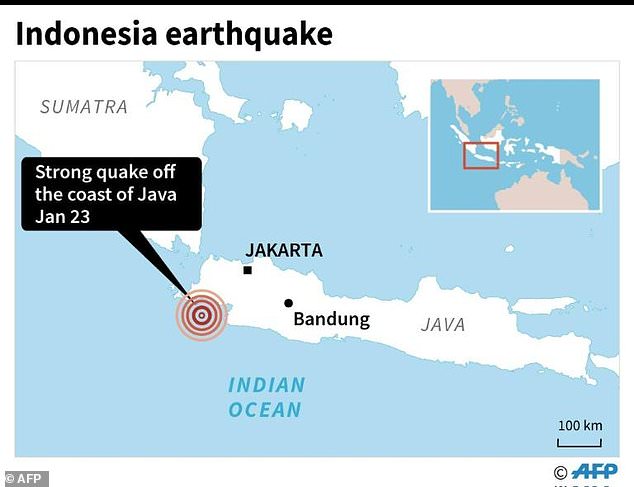 Lokasi gempa (AFP/MailOnline)
GEMPA KUAT mengguncang Indonesia pada Selasa, yang memicu kepanikan, merusak sejumlah rumah dan bangunan dan sekitar enam pelajar terluka.

Pekerja kantor di Jakarta berlarian keluar kantor khususnya di gedung bertingkat setelah lantai bergoyang, sementara beberapa pengendara terjatuh dari sepeda motor mereka akibat guncangan gempa berkekuatan 6 skala Richter.

Tidak ada laporan korban jiwa, namun pemerintah mengatakan enam siswa luka parah setelah atap sekolah roboh di sekolah menengah mereka di Cianjur, Jawa Barat dekat pusat gempa. Dua siswa lainnya mengalami luka ringan.

"Saya sedang duduk saat bangunan tiba-tiba mulai bergetar," kata pegawai toko serba ada di Jakarta Suji, 35.

"Saya berlari ke luar gedung, guncangan cukup kuat dan saya takut."

Badan Survei Geologi Amerika Serikat mengatakan gempa berkekuatan 6.0 itu berpusat pada kedalaman 43 kilometer.

Tidak ada peringatan adanya tsunami.

"Sejauh ini kami telah menghitung setidaknya 115 rumah" yang telah rusak, Abu Salim, seorang juru bicara kelompok bantuan bencana sukarela, Tagana, kepada AFP.

"Kerusakannya berkisar dari kasus kecil sampai yang serius, termasuk dinding yang sebagian roboh.

Pusat gempa berada di lepas pantai, sekitar 130 kilometer barat daya Jakarta, kota terbesar di Indonesia yang berpenduduk lebih dari 10 juta orang.

"Pusat gempa berada di daerah yang rawan gempa. Gempa susulan yang lebih besar sangat mungkin terjadi," kata kepala badan Meteorologi, Klimatologi dan Geofisika Dwikorita Karnawati.

"Saya meminta orang untuk dipersiapkan, terutama jika Anda berada di bangunan dengan struktur yang lemah," tambahnya.

Guncangan tersebut terjadi saat Menteri Pertahanan AS James Mattis berada di Jakarta untuk kunjungan resmi.

Indonesia berada di "Cincin Api" Pasifik di mana lempeng tektonik bertemu, menyebabkan aktivitas seismik dan gunung berapi yang sering terjadi.

Sedikitnya tiga orang tewas menyusul gempa berskala 6.5 di luar kota pesisir Cipatujah di pulau Jawa pada pertengahan Desember.

Getaran terasa di seluruh pulau berpenduduk padat, menyebabkan kerusakan pada ratusan rumah dan bangunan lainnya.

Gempa melanda propinsi Aceh bagian barat Indonesia pada bulan Desember 2016, menewaskan lebih dari 100 orang, melukai lebih banyak lagi dan menyebabkan puluhan ribu orang kehilangan tempat tinggal.

Aceh adalah salah satu daerah yang paling parah terkena dampak tsunami 2004 yang dipicu oleh gempa berskala 9,3 di lepas pantai Sumatra.

Dinding ombak membunuh 220.000 orang di negara-negara di sekitar Samudera Hindia, termasuk 168.000 di Indonesia seperti dikutip AFP yang dilansir MailOnline.
A STRONG earthquake rattled Indonesia Tuesday, sparking panic, damaging scores of homes and leaving at least half a dozen students seriously injured.

Office workers in the capital Jakarta rushed outside as highrises began swaying, while some riders were thrown off their motorbikes by the force of the 6.0 magnitude rumble.

There were no reports of fatalities, but the government said six students were seriously hurt after the roof collapsed at their high school at Cianjur on Java island near the epicentre of the quake. Two other students sustained minor injuries.

"I was sitting when the building suddenly started shaking," said Jakarta department store worker Suji, 35, who like many Indonesians goes by one name.

"I ran outside the building. It was quite strong and I was afraid."

The United States Geological Survey said the 6.0 magnitude quake struck at a depth of 43 kilometres (27 miles).

There was no warning of any tsunami.

"So far we have counted at least 115 homes" that have been damaged, Abu Salim, a spokesman for volunteer disaster relief group Tagana, told AFP.

"The damage ranges from minor...to serious" cases, including partially collapsed walls.

The epicentre was off the coast, about 130 kilometres southwest of Jakarta, a huge city of more than 10 million people.

"The epicentre is in an area prone to quakes. More aftershocks are very likely," Indonesia´s Meteorology, Climatology and Geophysics agency chief Dwikorita Karnawati told Metro TV.

"I´m calling on people to be prepared, especially if you are in buildings with a weak structure," he added.

The tremor came as US Defense Secretary James Mattis was in Jakarta for an official visit.

Indonesia sits on the Pacific "Ring of Fire" where tectonic plates meet, causing frequent seismic and volcanic activity.

At least three people were killed following a 6.5-magnitude earthquake just outside the coastal town of Cipatujah on Java island in mid-December.

The tremor was felt across the densely populated island, causing damage to hundreds of houses and other buildings.

An earthquake struck Indonesia´s western province of Aceh in December 2016, killing more than 100 people, injuring many more and leaving tens of thousands homeless.

Aceh was one of the areas worst hit by the devastating 2004 tsunami triggered by a magnitude 9.3 undersea earthquake off the coast of Sumatra.

The wall of waves killed 220,000 people in countries around the Indian Ocean, including 168,000 in Indonesia.