Tingkatkan Eksporr RI, 11 Universitas Digandeng EximBank Bentuk UNIED
11 Indonesian State Universities Support Development of National Eports
Reporter : Gusmiati Waris
Editor : Cahyani Harzi
Translator : Dhelia Gani

PUBLISHED: Jum'at, 22 Desember 2017 , 01:05:00 WIB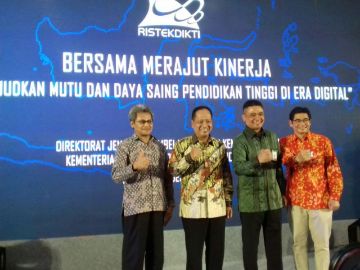 Jakarta (B2B) - 11 universitas negeri digandeng Lembaga Pembiayaan Ekspor Indonesia/Indonesia EximBankdengan nota kesepahaman (MoU) untuk membentuk ´University Network for Indonesia Export Development´ disingkat UNIED sebagai jaringan universitas negeri untuk pengembangan ekspor Indonesia yang akan dikembangkan menjadi centre of excellence ekspor RI.
Menteri Riset Teknologi dan Pendidikan Tinggi (Menristek Dikti) Mohamad Nasir mengatakan bahwa UNIED adalah bentuk kontribusi nyata akademisi dalam meningkatkan perekonomian Indonesia khususnya meIaIui ekspor, dan diharapkan dapat mendorong universitas Iain dapat segera bergabung dengan forum kerjasama yang digagas oIeh Indonesia Eximbank ini.
"Untuk perguruan tinggi, kami mohon dimanfaatkan sebaik-baiknya, jangan hanya MoU terus berhenti di laci namun harus ditargetkan. Tahun 2018 apa yang akan dicapai, jadi progres harus nampak betul tentang pemanfaatan kerja sama tersebut," kata M Nasir di Jakarta, Rabu (20/12).
Naskah MoU diteken oleh Direktur Eksekutif Indonesia EximBank Sinthya Roesly dengan masing-masing rektor dari 11 universitas yang disaksikan oleh Menteri M Nasir dan Menteri Keuangan Sri Mulyani Indrawati.
Nota kesepahaman bertujuan untuk meningkatkan sinergi dan kerja sama antara kedua belah pihak untuk mendukung terciptanya kegiatan riset dan pengembangan ekspor nasional sehingga ke depan UNIED akan menjadi menjadi centre of excellence ekspor Indonesia.
Sinthya Roesly berharap UNIED dapat menyumbangkan pemikiran untuk kemajuan pengembangan ekspor nasional, yang mampu menggali potensi ekspor di masing-masing provinsi maupun daerah dimana universitas anggota UNIED ini berada.
UNIED dibentuk sebagai wadah bagi universitas dapat membantu memberikan solusi dalam pengembangan ekspor Indonesia baik sebagai network of knowledge, enabler dan fasiIitator maupun sebagai eksportir.
Sebagai awal pembentukan universitas yang tergabung dalam UNIED yaitu Universitas Gajah Mada (UGM), Universitas Indonesia (Ul), Universitas Airlangga (Unair), Universitas Diponegoro (UndipP), Universitas Sumatera Utara (USU). Universitas Hasanuddin (Unhas), lnstitut Pertanian Bogor (IPB), Universitas Sebelas Maret (UNS). Universitas Riau (Unri), Universitas Mataram (Unram), dan Universitas Udayana (Unud).
Jakarta (B2B) - 11 Indonesian state universities signed the MoU with Indonesia EximBank Export Financing Institution to establish ´University Network for Indonesia Export Development´ abbreviated UNIED, which will be developed into the center of excellence of Indonesian exports.
Minister of Technology Research and Higher Education, Muhammad Nasir said the UNIED was formed to improve Indonesia´s economy through exports and is expected to encourage state universities to support joining UNIED.
"We ask this opportunity to be utilized, do not just sign MoU without follow-up, but must be realized. What is the target next year, there must be progress," Mr Nasir said here on Wednesday (December 20).
The MoU was signed by Executive Director of Indonesia EximBank Sinthya Roesly with 11 university rectors, witnessed by Minister Nasir and Finance Minister Sri Mulyani Indrawati.
Cooperation aims to increase synergies and cooperation both parties support the research and development of national exports and UNIED become the center of excellence of Indonesian exports.
Sinthya Roesly expects UNIED to support the progress of national export development, by exploring export potential in each province or university location of UNIED members
UNIED is established as the forum for universities to provide solutions to Indonesia´s export development as a network of knowledge, enablers, facilitators and exporters.
11 UNIED member universities are Yogyakarta´s Gajah Mada University or UGM, Surabaya´s Airlangga University (Unair), Medan´s North Sumatera University (USU), Makassar´s Hasanuddin University (Unhas), Bogor´s Agricultural Institute (IPB), Solo´s Sebelas MarUniversity, Pekanbaru´s Riau University, Mataram University (Unram), Denpasar´s Udayana University (Unud).