Anthonius Gunawan Agung Korbankan Jiwa Demi Keselamatan Penumpang Pesawat ID 6321
Indonesia`s Air Traffic Controller Died, Stayed in Tower to Make Sure a Plane Took Off Safely
Editor : Ismail Gani
Translator : Novita Cahyadi

PUBLISHED: Minggu, 30 September 2018 , 01:06:00 WIB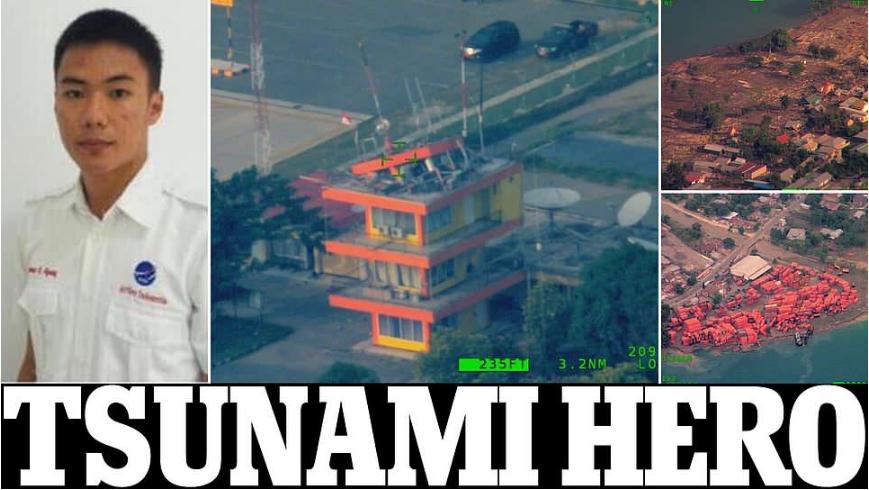 Keberaniannya berhasil menyelamatkan nyawa semua penumpang dan awak di atas pesawat, karena Palu kemudian dihancurkan oleh tsunami yang disebabkan oleh gempa bumi (Foto2: MailOnline)
SEORANG petugas pengendali lalu lintas udara (air traffic control/ATC) berusia muda dipuji sebagai ´pahlawan tsunami´ setelah memilih tetap bertahan di depan layar pemantau untuk memastikan sebuah pesawat yang mengangkut puluhan penumpang lepas landas dengan aman.

Anthonius Gunawan Agung, 21, bekerja di Bandara Mutiara SIS Al-Jufrie di Palu di Provinsi Sulawesi tengah Indonesia pada Jumat malam, ketika gempa berkekuatan 6,1 skala Richter, diikuti oleh gempa berkekuatan 7,5 SR.

Tindakannya yang berani menyelamatkan nyawa puluhan orang tanpa mempedulikan keselamatannya, tetapi setidaknya 384 orang tewas dilanda tsunami dan 500 lainnya terluka setelah gelombang setinggi lebih tiga meter menyapu Palu - dengan kekhawatiran jumlah korban tewas dapat meningkat lebih banyak.

Guncangan gempa mengintai di tarmak bandar udara saat pesawat Batik Air nomor penerbangan Batik Air 6321 sedang bersiap untuk lepas landas dengan puluhan orang di dalamnya.

Rekan-rekan mendiang berlarian menyelamatkan diri ketika menara kontrol mulai bergoyang karena tanah di bawahnya terbelah.

Hanya Agung yang memilih bertahan di atas menara ATC hingga runtuh setelah dia yakin dia sudah cukup memandu pilot pesawat untuk mengudara dengan selamat.

Keberaniannya berhasil menyelamatkan nyawa semua penumpang dan awak di atas pesawat, karena Palu kemudian dihancurkan oleh tsunami yang disebabkan oleh gempa bumi.

Bangunan menara ATC mulai bergetar setelah pesawat itu berangkat dan, karena mendiang khawatir dia akan terperangkap di bawah puing-puing jika menara runtuh di sekitarnya, Agung melompat dari jendela lantai empat.

Dia dilarikan ke rumah sakit karena menderita luka dalam dan patah kaki.

Sebuah helikopter dipanggil untuk membawanya ke rumah sakit yang berbeda untuk perawatan spesialis, dan dia dijadwalkan untuk dijemput lagi dari bandara pada Sabtu pagi.

Namun, dia meninggal sebelum helikopter tiba.

Juru bicara AirNav Indonesia Yohannes Sirait mengatakan bahwa keputusan Agung mengorbankan nyawanya, tetapi dia telah menyelamatkan puluhan orang lainnya.

Dia dianugerahi gelar sebagai ´pahlawan´ dan penghormatan a la militer saat jenazahnya diusung oleh mahasiswa sekolah dinas Kementerian Perhubungan untuk dimakamkan pada Sabtu. Dia sebulan lagi akan merayakan ulang tahunnya yang ke-22.

Bos AirNav juga menaikkan pangkatnya dua level sebagai penghargaan atas pengorbanannya untuk menyelamatkan orang lain seperti dilansir MailOnline.
A YOUNG air traffic controller who remained behind during an earthquake to make sure a plane carrying hundreds of passengers took off safely has been hailed a hero.

Anthonius Gunawan Agung, 21, was working at Mutiara SIS Al-Jufrie Airport in Palu on the central Indonesian island of Sulawesi on Friday night, when a 6.1 magnitude tremor hit, followed by a 7.5-magnitude quake.

His actions unquestionably saved the lives of dozens, but at least 384 people have been killed in a resulting tsunami and another 500 injured after waves up to 18ft tall swept over Indonesia - with fears the death toll could rise into the thousands.

The tremors left deep fissures in the runway just as Batik Air flight 6321 was preparing to take off with hundreds of people on-board.

His colleagues ran for their lives when the control tower began to sway as the ground underneath it split.

Agung alone remained behind in the crumbling tower until he was certain he had done enough guide the pilots of the plane safely into the air.

His bravery could potentially have saved the lives of all the passengers and crew on board the plane, as the city was later devastated later by a tsunami caused by the earthquake.

The building began to shake soon after the plane departed and, fearing he would be trapped beneath the debris if the tower collapsed around him, Agung jumped from a fourth floor window.

He was rushed to hospital having suffered internal injuries and a broken leg.

A helicopter was called to take him to a different hospital for specialist care, and he was due to be picked up again from the airport on Saturday morning.

However, he died before the helicopter arrived.

AirNav Indonesia spokesman Yohannes Sirait said Agung´s decision cost him his life, but he may have saved hundreds of others.

He was given a hero´s send-off amid hundreds of tributes on Saturday as soldiers carried his body to be transported to the burial. He was just one month away from his 22nd birthday.

AirNav bosses also increased his rank by two levels in recognition of the sacrifice he made.