26 Hilang, 13 Tewas Akibat Longsor di Sumedang
26 Missing, at Least 13 Dead in Indonesia Landslides
Editor : Cahyani Harzi
Translator : Dhelia Gani

PUBLISHED: Rabu, 13 Januari 2021 , 00:14:00 WIB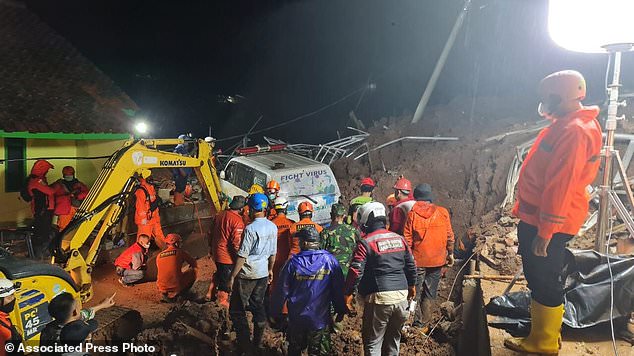 HAMBATAN CUACA: Operasi pencarian dan penyelamatan terhambat cuaca hujan di sekitar lokasi bencana, kata juru bicara Badan Nasional Penanggulangan Bencana [BNPB] Raditya Jati [Foto: Associated Press/MailOnline]
TIM PENCARI dan penyelamat dari Badan Search and Rescue Nasional [Basarnas] berjibaku mencari 26 orang yang masih hilang setelah dua tanah longsor melanda Kabupaten Sumedang di Provinsi Jawa Barat pada Minggu [10/1].
Sedikitnya 13 orang tewas dan 29 lainnya luka-luka akibat tanah longsor yang dipicu oleh hujan lebat pada Minggu di Desa Cihanjuang, Kecamatan Cimanggung. Beberapa korban merupakan anggota tim penyelamat dari bencana longsor pertama.
Operasi pencarian dan penyelamatan terhambat oleh cuaca hujan di sekitar lokasi bencana, kata juru bicara Badan Nasional Penanggulangan Bencana [BNPB] Raditya Jati.
Hujan musiman dan air pasang tinggi dalam beberapa hari terakhir telah menyebabkan lusinan tanah longsor dan banjir yang meluas di sebagian besar wilayah Indonesia, seperti dikutip Associated Press yang dilansir MailOnline.
RESCUERS are searching for 26 people still missing after two landslides hit a village in Indonesia´s West Java province over the weekend, officials said Tuesday.
At least 13 people were killed and 29 others injured in the landslides that were triggered by heavy rain on Sunday in Cihanjuang, a village in West Java´s Sumedang district. Some of the victims were rescuers from the first landslide.
The search and rescue operation has been hampered by rainy weather around the disaster site, said National Disaster Mitigation Agency spokesperson Raditya Jati.
Seasonal rains and high tides in recent days have caused dozens of landslides and widespread flooding across much of Indonesia, a chain of 17,000 islands where millions of people live in mountainous areas or near fertile flood plains close to rivers.