59 Tewas akibat Banjir dan Longsor Landa 13 Kabupaten di Sulsel
Death Toll from Indonesian Floods, Landslides, Climbs to 59
Editor : Ismail Gani
Translator : Novita Cahyadi

PUBLISHED: Sabtu, 26 Januari 2019 , 00:26:00 WIB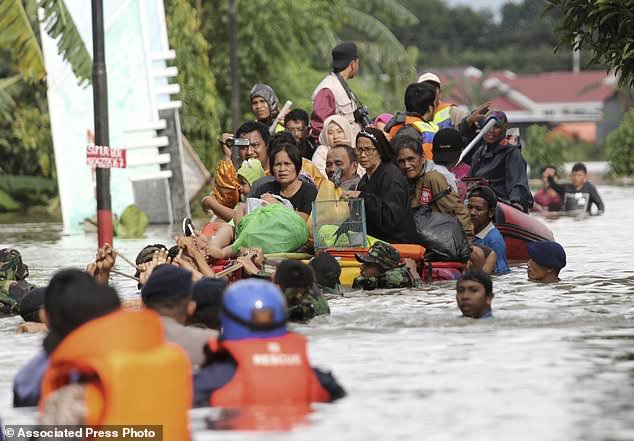 Foto: Associated Press/MailOnline
JUMLAH korban tewas setelah berhari-hari hujan lebat memicu banjir bandang dan tanah longsor di Provinsi Sulawesi Selatan meningkat menjadi 59 orang dengan 25 lainnya hilang, kata seorang pejabat penanganan bencana pada Jumat.
Tim penyelamat menemukan lebih banyak mayat ketika banjir dan curah hujan mereda di beberapa daerah, kata Sutopo Purwo Nugroho, juru bicara Badan Nasional Penanggulangan Bencana (BNPB). Dia mengatakan 45 orang tewas akibat bencana banjir dan 14 lainnya tewas ditimpa tanah longsor.
Operator di Bendungan Bili-bili di Kabupaten Gowa yang kewalahan dipaksa untuk membuka pintu air pada Selasa malam, untuk mencegah banjir lebih besar dan berdampak buruk bagi warga.
Kawasan pemukiman yang dihuni 6.500 warga yang tersebar di tiga belas kabupaten dan kota di Sulsel termasuk Makassar, ibukota provinsi terkena dampak banjir, memaksa lebih dari 3 ribu warga mengungsi.
Tim penyelamat masih mencari 25 orang, sementara 47 lainnya telah dirawat di rumah sakit.
Hujan musiman menyebabkan seringnya tanah longsor dan banjir bandang di Indonesia, rantai 17.000 pulau tempat jutaan orang tinggal di daerah pegunungan atau di dekat dataran banjir yang subur seperti dikutip Associated Press yang dilansir MailOnline.
THE NUMBER of people killed after days of torrential rain triggered flash floods and landslides on Indonesia´s Sulawesi island has climbed to 59 with 25 others missing, a disaster official said Friday.
Rescuers recovered more bodies as floodwaters and rainfall subsided in several areas, said Sutopo Purwo Nugroho, the National Disaster Mitigation Agency spokesman. He said 45 people died in floods and 14 others in landslides.
Operators at the overwhelmed Bili Bili rock-fill embankment dam were forced to release water late Tuesday, which contributed to flooding but avoided a worse disaster.
Houses of more than 6,500 residents in thirteen districts and cities in the province including capital Makassar have been affected by flooding, forcing more than 3,000 people to flee.
Rescuers are still searching for 25 people, while 47 others have been hospitalized.
Seasonal downpours cause frequent landslides and flash floods in Indonesia, a chain of 17,000 islands where millions live in mountainous areas or near fertile flood plains.