Ini Foto dan Identitas Wanita Inggris yang Meninggal akibat Korona di Bali
Kimberley Finlayson, 53, Died in Hospital in Bali after Falling Ill with Coronavirus
Editor : Ismail Gani
Translator : Novita Cahyadi

PUBLISHED: Minggu, 15 Maret 2020 , 00:27:00 WIB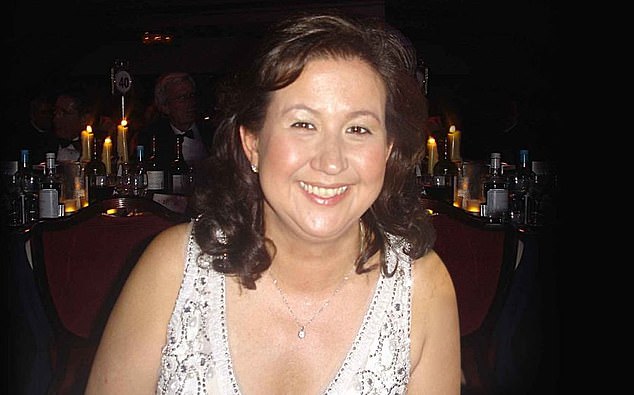 Mendiang Kimberley Finlayson [Foto: MailOnline]
PASIEN positif Corona yang meninggal dunia di Indonesia awal pekan ini adalah warga Inggris, Kimberley Finlayson berusia 53 tahun.
Teman-teman dari ibu empat anak ini memberikan penghormatan kepada 'hasrat, kreativitas, dan tekad' setelah dia meninggal di rumah sakit di Bali.
Dia adalah warga Inggris pertama yang disebut sebagai korban virus Corona.
Kimberley Finlayson dirawat di rumah sakit dalam kondisi kritis dan sudah menderita penyakit paru-paru dan diabetes sebelum didiagnosis menderita Covid-19, kata pemerintah Indonesia.
Suaminya dilaporkan telah diuji dan dinyatakan negatif untuk virus tersebut tetapi akan tetap menjalani isolasi di rumah sakit di Bali selama beberapa hari lagi.
Penghormatan terakhir pada Kimberley Finlayson di situs web Dentistry.co.uk, yang memuji pekerjaannya sebagai penerbit di industri gigi.
Teman-teman memberikan penghormatan kepada 'hasrat, kreativitas, dan tekadnya yang akan selamanya ditulis dalam jalinan bisnis' yang didukungnya selama ini.
"Dia mendapat dukungan dari banyak orang, namun memberi lebih banyak lagi. Kemurahan hatinya bahkan mengalahkan tekadnya untuk memberikan dukungan pada orang lain."
Dia memperjuangkan keluarganya dengan kebanggaan yang sama ketika dia menjalankan bisnisnya, dan keempat anaknya adalah pusat dunianya.
"Orang-orang yang cukup beruntung untuk mengenalnya akan mengingat angin puyuh energi dan ide - dan kemampuan untuk melahirkan karya gemilang."
Laporan di Indonesia mengatakan dia dikremasi pada Rabu.
Pejabat setempat mengatakan suaminya Ken akan segera kembali ke Inggris, tetapi jaringan Australia 7News melaporkan bahwa ia masih di rumah sakit.
Sumber mengatakan dia awalnya dites negatif untuk virus, tetapi perlu diuji lagi untuk mengkonfirmasi hasilnya.
Menurut media setempat, pasangan itu tinggal di sebuah hotel pada 29 Februari hingga 3 Maret.
Pada tanggal terakhir, mendiang Kimberley Finlayson dilaporkan sakit demam di sebuah rumah sakit.
Pada 9 Maret, yang merupakan hari Senin di minggu itu, ia dipindahkan ke RS Sanglah di mana ia kemudian meninggal.
Laporan mengatakan setidaknya satu hotel yang terhubung dengan pasangan ini telah mengkarantina staf dan melakukan pembersihan intensif seperti dilansir MailOnline.
A BRITISH coronavirus patient who died in Indonesia earlier this week has been named as 53-year-old publisher Kimberley Finlayson.
Friends of the mother-of-four paid tribute to her 'passion, creativity and determination' after she died in hospital on the island of Bali.
She is the first British person to be named as a victim of coronavirus.
Mrs Finlayson was admitted to hospital in a critical condition and already suffered from lung disease and diabetes before she was diagnosed with Covid-19, Indonesia's government says.
Her husband has reportedly tested negative for the virus but is expected to remain in hospital isolation in Bali for several more days.
Tributes were paid to Mrs Finlayson on the website Dentistry.co.uk, which hailed her work as a publisher in the dental industry.
Friends paid tribute to her 'passion, creativity and determination that will forever be written into the fabric of the business' which she helped to found.
'She demanded much from her people, yet gave back so much more. Her generosity outmatched even her determination to excel.
'She championed her family with the same fierce pride with which she approached her business, and her four children were the centre of her world.
'Those fortunate enough to know her will remember a whirlwind of energy and ideas - and an ability to make things happen that few can match.'
Reports in Indonesia said she was cremated on Wednesday.
Local officials said her husband Ken was due to return to the UK soon, but Australian network 7News reports that he is still in hospital.
Sources said he had initially tested negative for the virus, but would need to be tested again to confirm the result.
According to local media, the couple had stayed at a hotel between February 29 and March 3.
On the latter date, Mrs Finlayson was reportedly taken ill with a fever at a private hospital.
On March 9, which was Monday his week, she was moved to the Sanglah hospital where she later died.
Reports say at least one hotel connected to the couple has quarantined staff and ordered a deep clean.