Tidak Ada Transaksi, Pemerintah Tegaskan Media Sosial Hanya Digunakan sebagai Promosi
No Transactions, Indonesian Govt Confirms Social Media is Only Used for Promotion
Editor : Ismail Gani
Translator : Novita Cahyadi

PUBLISHED: Selasa, 26 September 2023 , 00:03:00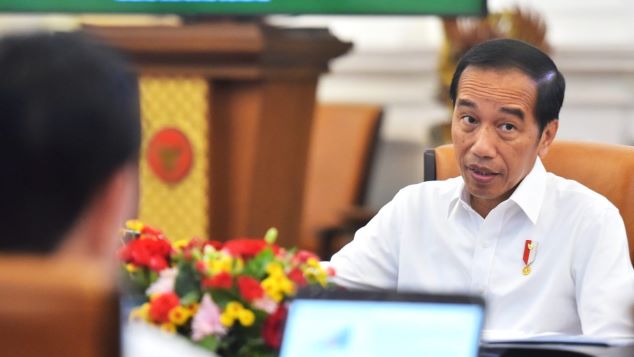 TRANSAKSI ONLINE: Presiden Jokowi memimpin ratas mengenai perniagaan elektronik, di Istana Merdeka, Jakarta
Jakarta [B2B] - Pemerintah akan segera merevisi Peraturan Menteri Perdagangan (Permendag) Nomor 50 Tahun 2020 tentang Ketentuan Perizinan Usaha, Periklanan, Pembinaan, dan Pengawasan Pelaku Usaha dalam Perdagangan Melalui Sistem Elektronik.
Menteri Perdagangan, Zulkifli Hasan menegaskan, dalam peraturan tersebut akan diatur sejumlah ketentuan terkait perniagaan elektronik. Salah satunya, pemerintah hanya memperbolehkan media sosial (medsos) digunakan untuk memfasilitasi promosi bukan untuk transaksi.
"Social commerce itu hanya boleh memfasilitasi promosi barang atau jasa, tidak boleh transaksi langsung, bayar langsung, tidak boleh lagi. Dia hanya boleh untuk promosi seperti TV. Di TV kan iklan boleh, tapi TV kan tidak bisa terima uang kan. Jadi dia semacam platform digital, jadi tugasnya mempromosikan," ujarnya.
Selain itu, lanjut Mendag, pemerintah juga akan melarang medsos merangkap sebagai e-commerce. Hal ini dilakukan pemerintah untuk mencegah penyalahgunaan data pribadi masyarakat.
"Social media dan ini [social commerce] tidak ada kaitannya. Jadi dia harus dipisah, sehingga algoritmanya tidak semua dikuasai, dan ini mencegah penggunaan data pribadi untuk kepentingan bisnis," ujarnya.
Terkait penjualan barang dari luar negeri, revisi Permendag ini juga akan mengatur daftar barang yang mendapatkan izin untuk diperjualbelikan atau positive list. Perdagangan produk impor tersebut juga akan mengikuti aturan yang sama dengan perdagangan luring dalam negeri.
"Barang dari luar itu harus sama perlakuannya dengan yang dalam negeri. Kalau makanan harus ada sertifikat halal, kalau beauty harus ada BPOM-nya kalau enggak nanti yang menjamin siapa. Kemudian kalau elektronik harus ada standarnya bahwa ini betul barangnya. Jadi perlakuannya sama dengan yang ada di dalam negeri atau offline," kata Mendag.
Selanjutnya, Mendag menambahkan, pemerintah juga akan membatasi transaksi barang impor yang dijual di platform digital harus bernilai di atas 100 Dolar AS.
"Kalau ada yang melanggar seminggu itu ada surat saya yang ke Kominfo untuk memperingatkan. Setelah memperingatkan, tutup," pungkasnya.
Jakarta [B2B] - The government will immediately revise the Minister of Trade Regulation (Permendag) Number 50 of 2020 concerning Provisions for Business Licensing, Advertising, Development and Supervision of Business Actors in Trading Through Electronic Systems.
The Minister of Trade, Zulkifli Hasan, emphasized that this regulation will regulate a number of provisions related to electronic commerce. One of them is that the government only allows social media (social media) to be used to facilitate promotions, not for transactions.
"Social commerce can only facilitate the promotion of goods or services, no direct transactions, no direct payments, no more. He is only allowed for promotions such as TV. Advertisements are allowed on TV, but TV can't accept money, right? "So he is a kind of digital platform, so his job is to promote," he said.