Ambil Paksa Jenazah Covid-19 dari Rumah Sakit Disorot Dunia
Indonesian Police Battle Wave of `Body Snatching´ by Grieving Relatives
Editor : Ismail Gani
Translator : Novita Cahyadi

PUBLISHED: Minggu, 14 Juni 2020 , 00:38:00 WIB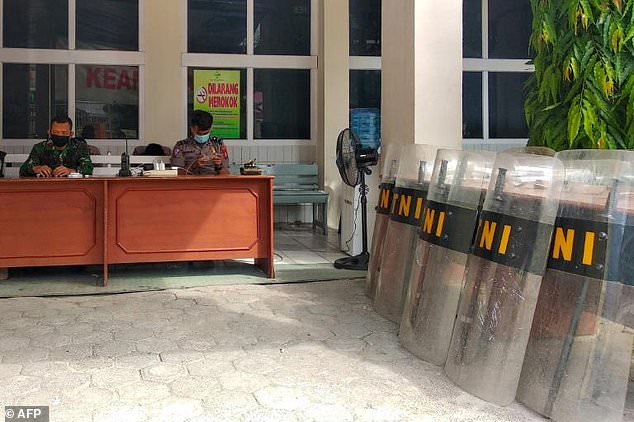 DITANGKAP: Setidaknya 33 orang ditangkap, kata Kabid Humas Polda Sulsel Kombes Ibrahim Tompo, yang mengatakan bahwa para tersangka terancam hukuman tujuh tahun penjara karena melanggar peraturan karantina kesehatan [Foto: AFP/MailOnline]
SEJUMLAH rumah sakit di Indonesia meningkatkan keamanan di kamar mayat mereka setelah rangkaian peristiwa membawa paksa pulang jenazah oleh kerabat, yang ingin memakamkan jasad keluarganya tanpa mematuhi Protokol Covid-19.
Sesuai Protokol Kesehatan, jenazah pasien positif Covid-19 harus dibungkus plastik dan dimasukkan peti jenazah sebelum dimakamkan dengan cepat untuk mencegah penyebaran virus Corona, akibatnya keluarga yang berduka tidak dapat menghadiri pemakaman secara Islam, termasuk memandikan jenazah dari ujung kepala sampai ujung kaki.
Keluarga-keluarga yang berduka di negara berpenduduk mayoritas Muslim juga didesak untuk tidak berlama-lama di pemakaman, mereka pun tidak dapat menshalatkan jenazah untuk orang yang dicintai.
Sejumlah keluarga yang berduka nekat mendatangi beberapa rumah sakit di Makassar, ibukota provinsi Sulawesi Selatan pekan ini, beberapa dari mereka berhasil mengambil jenazah secara paksa yang seharusnya dimakamkan sesuai Protokol Covid-19, menurut pihak berwenang.
Setidaknya 33 orang ditangkap, kata Kabid Humas Polda Sulsel Kombes Ibrahim Tompo, yang mengatakan bahwa para tersangka terancam hukuman tujuh tahun penjara karena melanggar peraturan karantina kesehatan.
Menanggapi hal itu, Polda Sulsel telah mengerahkan lebih banyak personel untuk menjaga rumah sakit setempat, kata Ibrahim Tompo.
Kabar beberapa jenazah yang akan dimakamkan dikabarkan meninggal dunia bukan karena Covid-19 telah memperburuk situasi, kata Tompo.
"Ini membuat keluarga dan penduduk setempat marah sehingga mereka memutuskan untuk membawa pulang mayat-mayat itu dengan paksa."
Di Surabaya, kota terbesar kedua di Indonesia, pihak berwenang mengatakan pada Jumat bahwa mereka telah menangkap empat orang setelah kerabat mengambil mayat seorang tersangka korban Covid-19 dari rumah sakit setempat.
Juga pekan ini, puluhan orang merampas mayat seorang pria yang meninggal di rumah sakit di Bekasi, sebuah kota yang berbatasan dengan ibukota Jakarta, kata polisi.
Mengutip hasil interogasi salah satu tersangka, polisi mengatakan pria itu mengambil kerabatnya karena dia telah meninggal sebelum keluar hasil SWAB. Mereka kemudian mengkonfirmasi bahwa ia terkena virus.
Secara resmi, Indonesia memiliki lebih dari 35.000 kasus Covid-19 dan 2.000 kematian. Tetapi dengan tingkat pengujian yang rendah, jumlah korban sebenarnya diyakini jauh lebih tinggi seperti dikutip AFP yang dilansir MailOnline.
INDONESIAN hospitals are beefing up security at their morgues after a spate of body-snatchings by relatives seeking traditional burials for family members who died of COVID-19, police said Friday.
Under new rules in the sprawling archipelago, COVID-19 victims must be wrapped in plastic and buried quickly to prevent the virus spreading, meaning grieving relatives are unable to follow Muslim funeral practices, which include washing the dead from head to toe.
Families in the Muslim-majority nation have also been urged not to linger at cemeteries, robbing them of the chance to perform prayers for loved ones.
Large groups of distraught relatives descended on several hospitals in Makassar on Sulawesi island this week, with some managing to forcefully take away bodies set to be buried under the virus protocols, according to authorities.
At least 33 people were arrested, said local police spokesman Ibrahim Tompo, who added they faced up to seven years in prison for violating health quarantine regulations.
In response, Makassar authorities have deployed more personnel to guard local hospitals, Tompo said.
Rumours that some victims of the slated for a quick burial had died of unrelated illnesses had exacerbated the situation, Tompo added.
"This angered the families and locals so they decided to forcefully take the bodies home."
In Surabaya, Indonesia's second biggest city, authorities said Friday that they had arrested four people after relatives grabbed the body of a suspected virus victim from a local hospital.
Also this week, dozens of people snatched the corpse of a man who died at hospital in Bekasi, a city that borders the capital Jakarta, police said.
Citing the interrogation of one suspect, police said the man took to snatching his relative because he had died before test results were available. They later confirmed he had the virus.
Officially, Indonesia has more than 35,000 cases of COVID-19 and 2,000 deaths. But with low testing rates, the real toll is widely believed to be much higher.