Fatwa MUI: Vaksin Sinovac Halal Tangkal Covid-19
Indonesia`s Top Islamic Body OKs China`s Sinovac Vaccine
Editor : Kemal A Praghotsa
Translator : Novita Cahyadi

PUBLISHED: Sabtu, 09 Januari 2021 , 00:52:00 WIB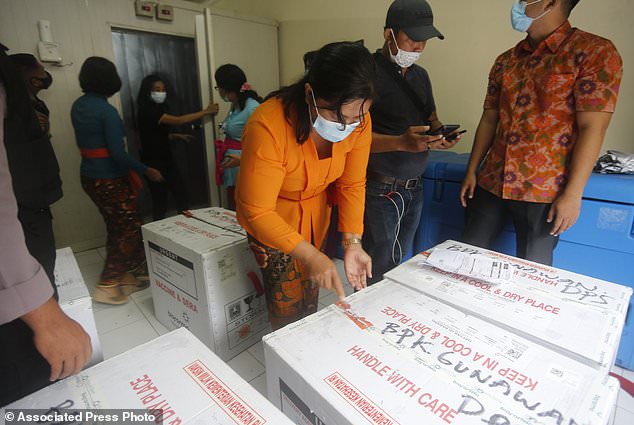 PANDEMI CORONA: Indonesia telah melakukan uji klinis tahap akhir vaksin, tetapi jumlahnya lebih kecil dari Brasil, hanya 1.620 relawan [Foto: Associated Press/MailOnline]
MAJELIS Ulama Indonesia [MUI] pada Jumat [8/1] menyatakan bahwa vaksin Covid-19 produksi Sinovac dari China dinyatakan suci dan halal untuk digunakan.
MUI mengumumkan bahwa vaksin Covid-19 itu suci dan halal, atau layak digunakan sebagai vaksin penangkal pandemi virus Corona.
Sekretaris Komisi Fatwa MUI Asrorun Ni'am Sholeh mengatakan bahwa fatwa lengkap atau fatwa terkait keamanan vaksin masih menunggu lampu hijau dari Badan Pengawas Obat dan Makanan [BPOM].
BPOM selaku regulator mengatakan akan mengambil dari data uji klinis di Brasil dan Turki, serta hasil uji coba BPOM sebelum mengizinkan penggunaan vaksin.
Indonesia telah melakukan uji klinis tahap akhir vaksin, tetapi jumlahnya lebih kecil dari Brasil, hanya 1.620 relawan. Tim peneliti uji klinis diharapkan segera melaporkan hasilnya kepada BPOM dan BUMN farmasi, Bio Farma.
Jika diberikan persetujuan bersyarat, Presiden RI Joko Widodo mengatakan akan menerima suntikan pertama pekan depan, bersama beberapa menteri dan pejabat senior, disusul petugas kesehatan dan pegawai negeri lainnya.
Indonesia telah menandatangani perjanjian dengan Sinovac untuk jutaan dosis vaksin, yang membutuhkan dua suntikan. Sekitar 3 juta dosis telah tiba di Indonesia dan didistribusikan ke seluruh Indonesia yang luas untuk persiapan peluncurannya.
Indonesia juga memiliki perjanjian dengan perusahaan vaksin lain termasuk Novavax dan AstraZeneca, meskipun belum ada yang tiba di Indonesia.
Indonesia mencatat jumlah korban harian tertinggi dengan 10.617 pada Jumat, sehingga totalnya menjadi 808.340 yang dilansir Satgas Covid-19. Satgas juga mencatat 233 kematian dalam 24 jam terakhir, sehingga jumlah korban menjadi 23.753 seperti dikutip Associated Press yang dilansir MailOnline.
INDONESIA'S highest Islamic body on Friday gave its religious approval to China's Sinovac vaccine, paving the way for its distribution in the world's most populous Muslim nation.
The Indonesian Ulema Council announced that the COVID-19 vaccine is holy and halal, or fit for consumption by Muslims.
The head of the council's Fatwa Department Asorirun Niam Sholeh also said that the complete fatwa, or religious edict, related to the safety of the vaccine is still waiting for the green light from the Indonesian Food and Drug Authority.
The drug regulator said it would draw from data of the clinical trials in Brazil and Turkey, as well as own trial results before authorizing use of the vaccine.
Indonesia has had its own late-stage clinical trials of the vaccine, but with smaller pool size than Brazil with just 1,620 participants. The clinical trial research team is expected to report the results to the regulator and state-owned pharmaceutical firm Bio Farma soon.
If given conditional approval, President Joko Widodo said that he will receive the first shot next week, with some of the ministers and senior officials, followed health care workers and other public servants.
Indonesia has signed agreements with Sinovac for millions of doses of the vaccine, which requires two shots. Some 3 million doses have already arrived in Indonesia and are being distributed across the vast archipelago nation in preparation for rollout.
Indonesia also has agreements with other vaccine companies including Novavax and AstraZeneca, though none has arrived in the country yet.
Indonesia recorded the highest daily toll with 10,617 on Friday. It brings the total to 808,340. It also recorded 233 deaths in the last 24 hours, taking the toll to 23,753.