Banjir Landa Jakarta jadi Sorotan Media Asing
Indonesian Capital Slammed by Monsoon Floods, more than 1,000 Forced to Evacuate
Editor : Ismail Gani
Translator : Novita Cahyadi

PUBLISHED: Minggu, 21 Februari 2021 , 01:00:00 WIB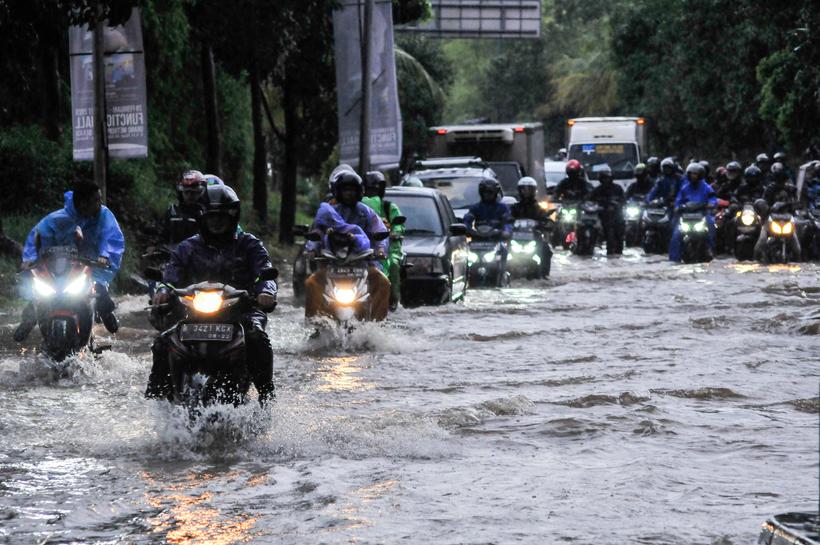 KONDISI LALULINTAS: BMKG telah memperingatkan bahwa hujan terberat di musim ini mungkin akan turun di dan sekitar ibu kota yang padat penduduk itu dalam beberapa hari mendatang [Foto: Reuters]
BANJIR PARAH pada sejumlah kawasan di Jakarta memaksa ribuan warga DKI Jakarta mengungsi dari rumah mereka yang terendam banjir, Sabtu [20/2] sebelumnya Badan Klimatologi, Meteorologi dan Geofisika [BMKG] telah memperingatkan bahwa kondisi tersebut akan berlanjut hingga pekan depan.
Sekitar 1.380 warga Jakarta dievakuasi dari kawasan selatan dan timur Jakarta, ibukota RI yang dihuni 10 juta penduduk, setelah banjir mencapai ketinggian 1,8 meter di sejumlah kawasan, kata Kepala Badan Penanggulangan Bencana Daerah [BNPD] Jakarta dalam pernyataan resminya. Dia menambahkan tidak ada korban jiwa yang dilaporkan.
Sejumlah netizen mengunggah foto-foto di media sosial tentang warga yang mengarungi air berlumpur setinggi bahu manusia, mobil hampir seluruhnya terendam, dan tim pencari mengevakuasi warga lanjut usia dengan perahu karet dari rumahnya yang kebanjiran.
"Dua ratus kelurahan telah terdampak banjir, menurut data terakhir," kata Gubernur Jakarta Anies Baswedan kepada televisi pada Sabtu pagi, menambahkan bahwa lebih dari dua lusin pusat evakuasi telah disiapkan di seluruh Jakarta.
"Hujan sudah reda, tapi air dari wilayah lain masih mengancam Jakarta. Semoga tidak sampai ke pusat kota dan saat air surut masyarakat bisa melanjutkan aktivitasnya."
Banjir datang pada saat Indonesia sudah bergulat dengan beban kasus dan penghitungan kematian tertinggi dari pandemi Covid-19 di Asia Tenggara dan resesi ekonomi.
BMKG telah memperingatkan bahwa hujan terberat di musim ini mungkin akan turun di dan sekitar ibu kota yang padat penduduk itu dalam beberapa hari mendatang, dengan cuaca ekstrem, termasuk hujan lebat, petir, dan angin kencang, diperkirakan akan terjadi sepanjang pekan depan.
"Ini masa kritis yang perlu kita waspadai," kata Dwikorita Karnawati, Kepala BMKG.
"Jakarta dan sekitarnya masih dalam masa puncak musim hujan yang diperkirakan akan terus berlanjut hingga akhir Februari atau awal Maret."
BMKG menyebutkan, Jakarta akan siaga selama empat hari ke depan dengan data dari BMKG yang menunjukkan curah hujan tinggi dalam 24 jam terakhir dengan wilayah Pasar Minggu, selatan Jakarta, mencatat curah hujan tertinggi, mencapai 226 milimeter sejak Jumat seperti dikutip Reuters yang dilansir MailOnline.
SEVERE flooding across several areas in the Indonesian capital forced more than a thousand people to flee their homes on Saturday, with the country´s meteorology agency warning the conditions were set to continue for the next week.
Some 1,380 Jakarta residents were evacuated from southern and eastern areas of the city, home to 10 million people, after floodwaters reached up to 1.8 meters high in some areas, said Sabdo Kurnianto, the acting head of Jakarta´s disaster mitigation agency in a statement. He said no casualties had been reported.
People posted photos on social media of residents wading through shoulder-high muddy waters, cars almost entirely submerged, and search teams evacuating elderly residents in rubber dinghies in the peak of the monsoon season.
"Two hundred neighbourhoods have been affected, according to the latest data," Jakarta Governor Anies Baswedan told local television early on Saturday, adding that more than two dozen evacuation centres have been prepared across the city.
"The rain has stopped, but water from other areas is still affecting Jakarta. Hopefully it won´t hit the city centre and when the water recedes people can resume their activities."
The floods come at a time when Indonesia is already grappling with the highest caseload and death tally from COVID-19 in Southeast Asia and an economic recession.
Indonesia´s meteorology agency (BMKG) has warned the heaviest rain of the season may fall in and around the densely populated capital in the coming days, with extreme weather, including heavy rain, thunder and strong winds, expected throughout next week.
"These are critical times that we need to be aware of," said Dwikorita Karnawati, the head of BMKG.
"Jakarta and its surrounding areas are still in the peak period of the rainy season, which is estimated to continue until the end of February or early March."
The BMKG said Jakarta would be on alert for the next four days with data from the meteorology agency showing intense rainfall in the past 24 hours with the area of Pasar Minggu, in Jakarta´s south, recording 226 millimeters of rain since Friday.