Go Internasional, Dosen Polbangtan Berlatih Tulis Jurnal
Lecturers of Indonesian Agricultural Vocational Colleges Practice Journal Writing
Editor : M. Achsan Atjo
Translator : Dhelia Gani

PUBLISHED: Rabu, 09 Oktober 2019 , 10:40:00 WIB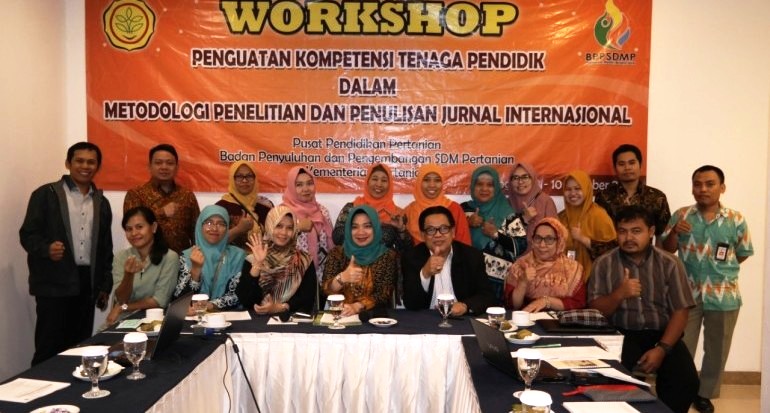 Bogor, Jabar [B2B] - Perguruan tinggi vokasi pertanian di lingkup Kementerian Pertanian RI, Politeknik Pembangunan Pertanian [Polbangtan] berupaya untuk go internasional agar kian siap, dosen pengajar Polbangtan kini dilatih untuk menulis jurnal internasional melalui pelatihan dan workshop seperti dilaksanakan di Bogor, 8 - 10 Oktober 2019. Tema workshop adalah 'Penguatan Kompetensi Tenaga Pendidik Dalam Metodologi Penelitian dan Penulisan Jurnal Internasional'.
Kepala Bidang Kelembagaan dan Ketenagaan Pendidikan, Inneke Kusumawati mengatakan bahwa Workshop tersebut terdorong dari target Kementan itu sendiri. Yakni ingin menjadikan Politeknik Kementan bertaraf internasional. "Workshop ini meliputi bagaimana menulis jurnal dan metode penelitiannya seperti apa. Kita harus bisa memiliki itu semua jika ingin Polbangtan bertaraf Internasional," ujar Inneke.
Dilihat dari data Polbangtan, mayoritas menjabat Lektor. Namun masih terkendala untuk naik jabatan ke Lektor Kepala dan Profesor karena terhambat dalam penerbitan Jurnal Ilmiah Internasional.
"Untuk itu kami disini bisa memberikan pendampingan bersama Tim Kemenristekdikti terangnya. Harapannya dari sini mereka bisa menjadi agen pendorong bagi dosen-dosen lain di Polbangtan untuk bisa mulai menulis dan melakukan artikel yg bisa dipublish internasional," tambahnya.
Sebagaimana diketahui, Pusat Pendidikan Pertanian [Pusdiktan BPPSDMP] menyelenggarakan Workshop Penguatan Komopetemsi Tenaga Pendidik. Workshop ini menekankan pendalaman materi secara teori dan praktek mengenai metodologi penelitian dan penulisan jurnal internasional. Hal ini dirasa penting untuk dilakukan sebagai salah satu upaya mendorong para dosen untuk mulai bergerak mempublikasikan hasil-hasil penelitian pada jurnal terakreditasi internasional.
Pengembangan budaya dan kempuan menulis dosen menjadi suatu tantangan yang harus segera diatasi dalam rangka mewujudkan visi dan misi Politeknik Kementerian Pertanian di masa akan datang. Berbagai kebijakan telah dikeluarkan oleh Kementerian Pertanian.
Salah satunya dengan kebijakan Direktur Jenderal Pendidikan Tinggi Nomor 152/E/T/2012 tanggal 27 Januari 2012 tentang keluaran publikasi ilmiah, terbitan berkala internasional, dengan harapan dapat memotivasi para mahasiswa, dosen, peneliti dalam menumbuhkan budaya menulis artikel ilmiah.
Bogor of West Java [B2B] - The agricultural vocational colleges in the scope of the Indonesian Agriculture Ministry, Agricultural Development Polytechnic [Polbangtan] strive to go international, Polbangtan lecturers are trained to write international journals through training and workshops in Bogor, 8 to 10 October 2019.