Menteri KKP Susi Pudjiastuti Pimpin Penenggelaman 51 Kapal Pencuri Ikan
Indonesia Sinks 51 Foreign Boats to Fight Against Poaching
Editor : Ismail Gani
Translator : Novita Cahyadi

PUBLISHED: Minggu, 05 Mei 2019 , 01:42:00 WIB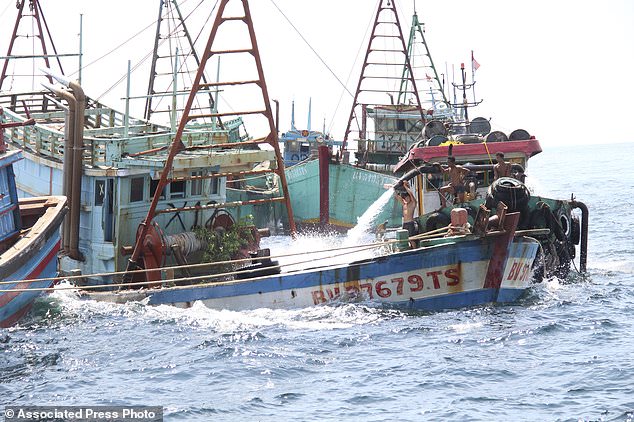 Kapal nelayan asing pencuri ikan ditenggelamkan dengan cara membocorkan lambung kapal [Foto: Associated Press/MailOnline]
PEMERINTAH RI kembali bertindak tegas terhadap kapal nelayan asing pencuri ikan yang memasuki wilayah perairan Indonesia secara ilegal, dengan menenggelamkan 51 kapal asing pada Sabtu [4/5], Kementerian Kelautan dan Perikanan RI [KKP] meningkatkan pengawasan di seluruh perairan Indonesia.
Kapal-kapal pencuri ikan tersebut disita untuk ditenggelamkan di lima pelabuhan di seluruh Indonesia, yang memiliki beberapa daerah penangkapan ikan terkaya di dunia, menurut pernyataan resmi KKP.
Kapal yang disita tenggelam termasuk 38 kapal berbendera Vietnam, 6 Malaysia, 2 Cina, dan 1 Filipina. Sisanya adalah kapal milik asing menggunakan bendera Indonesia.
Menteri KKP Susi Pudjiastuti mengatakan dalam pidatonya bahwa kapal ilegal adalah ancaman bagi industri perikanan nasional. Nelayan asing kerap melakukan praktik perbudakan modern di atas kapal ikan.
"Kejahatan penangkapan ikan ilegal di perairan Indonesia tidak bisa lagi ditolerir," kata Susi Pudjiastuti. "Kami tidak tahan lagi."
Peristiwa hari Sabtu dilakukan dengan cara yang sederhana dibandingkan dengan tindakan tegas sebelumnya, dengan meledakkan kapal dan disiarkan langsung melalui layar televisi sebagai efek jera.
Sebuah video diambil dari pulau Datuk di Provinsi Kalimantan Barat dan dirilis oleh kementerian menunjukkan Pudjiastuti dan petugas perikanan lainnya bergegas ke kapal yang berdekatan dari kapal yang tenggelam yang telah diisi dengan pasir dan banjir. Dia bertepuk tangan ketika melihat beberapa kapal berhasil tenggelam.
Langkah itu dilakukan seminggu setelah sebuah kapal patroli angkatan laut Indonesia ditabrak oleh dua kapal penjaga pantai Vietnam setelah mencegat sebuah kapal yang katanya sedang menangkap ikan secara ilegal di perairannya. Orang Vietnam mengklaim bahwa daerah itu adalah perairan Vietnam.
Indonesia menahan 12 nelayan Vietnam dari kapal itu, yang tenggelam dalam bentrokan Sabtu lalu, dan mereka ditahan di pangkalan TNI AL di Pulau Natuna.
Pemerintah Indonesia mengatakan telah menenggelamkan lebih dari 500 kapal penangkap ikan ilegal sejak Oktober 2014, banyak dengan bahan peledak.
Tahun lalu, kementerian itu menenggelamkan 125 kapal asing, termasuk 86 kapal berbendera Vietnam, 20 Malaysia, dan 14 dari Filipina.
Indonesia, negara kepulauan dengan lebih dari 17.000 pulau, mengklaim zona ekonomi eksklusif yang sangat luas, yang sering ditembus oleh kapal penangkap ikan asing. Jangkauan utaranya dianggap oleh Cina sebagai tempat penangkapan ikan tradisional meskipun jaraknya jauh dari daratan Cina seperti dikutip Associated Press yang dilansir MailOnline.
INDONESIAN authorities resumed their tough stance against illegal fishing in the country´s waters by sinking 51 foreign ships Saturday, as the government ramps up efforts to exert greater control over its vast maritime territory.
The seized ships were sunk at five ports across the archipelago, which has some of the world´s richest fishing grounds, the Maritime and Fisheries Ministry said in a statement.
The seized vessels sunk included 38 Vietnamese-flagged ships, 6 Malaysian, 2 Chinese and 1 Filipino. The rest were foreign-owned ships using Indonesian flag.
Fisheries Minister Susi Pudjiastuti said in a speech that the illegal boats were a threat to the local fishing industry. Their operators are frequently perpetrators of modern day slavery.
"This crime of illegal fishing in our waters was out of mind," Pudjiastuti said. "We can´t tolerate anymore."
Saturday´s events were carried out in a low-key fashion compared with previous occasions, when boats were blown to pieces and their destruction broadcast live.
A video taken off Datuk island in West Kalimantan province and released by the ministry showed Pudjiastuti and other fishery officers scrambling to an adjacent boat from a sinking vessel that had been filled with sand and flooded. She clapped her hands when she saw several ships successfully sunk.
The move came a week after an Indonesian navy patrol ship was rammed by two Vietnamese coast guard ships after intercepting a boat it says was fishing illegally in its waters. The Vietnamese claimed that the area was Vietnamese waters.
Indonesia detained 12 Vietnamese fishermen from the boat, which sank in last Saturday´s clash, and they are being held at a naval base on Natuna island.
Indonesian government says it has sunk more than 500 illegal fishing vessels since October 2014, many with explosives.
Last year, the ministry sunk 125 mostly foreign vessels, included 86 Vietnamese-flagged ships, 20 Malaysian and 14 from the Philippines.
Indonesia, an archipelago of more than 17,000 islands, claims a huge exclusive economic zone, which is frequently penetrated by foreign fishing vessels. Its northerly reaches are regarded by China as its traditional fishing grounds despite their distance from the Chinese mainland.