Bansos PSBB, Pemprov DKI Jakarta Salurkan Bertahap ke Seluruh Kelurahan
Indonesia`s Jakarta Assistance Distributed for Large-scale Social Restriction
Reporter : Kemal Agus Praghotsa
Editor : Cahyani Harzi
Translator : Dhelia Gani

PUBLISHED: Jum'at, 10 April 2020 , 12:21:00 WIB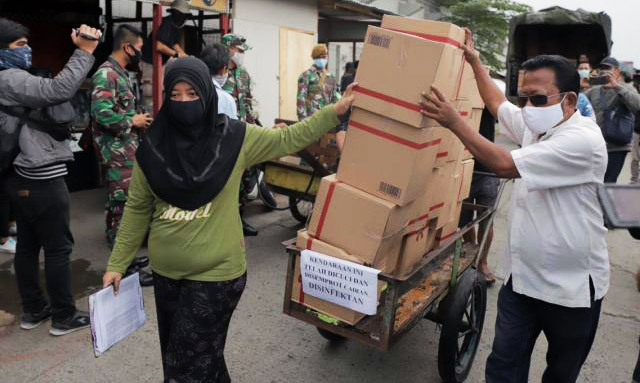 Foto: istimewa
Jakarta [B2B] - Dinas Sosial Pemerintah Provinsi DKI Jakarta [Dinsos Pemprov DKI] mendistribusikan secara bertahap bantuan sosial [Bansos] untuk mendukung penerapan Pembatasan Sosial Berskala Besar [PSBB] sejak kemarin, Kamis [9/4], yang diawali dari Kelurahan Penjaringan di Kecamatan Penjaringan, Jakarta Utara.
Kepala Dinsos Pemprov DKI Jakarta, Irmansyah mengatakan penyaluran Bansos PSBB dibagi dua tahap. Tahap pertama mulai 9 - 18 April 2020 dengan target penerima 1,2 juta kepala keluarga [KK] masyarakat kurang mampu dan rentan terdampak Covid-19. Tahap kedua pada 19 - 23 April bagi masyarakat miskin dan rentan yang belum terdaftar.
Mekanisme pelaksanaan distribusi Bansos tahap dua bagi masyarakat miskin dan rentan terdampak Covid-19 yang belum terdaftar, dengan mengisi form yang telah disiapkan untuk diberikan ke RW dan akan diteruskan ke kelurahan. Data tersebut nantinya akan diverifikasi untuk penentuan jadwal dan lokasi distribusi.
Dinsos Pemprov DKI melakukan pendistribusian setelah mendata kelurahan di seluruh DKI Jakarta dengan metode pengantaran hingga ke rumah warga, untuk mencegah kerumunan warga untuk menimalisir penyebaran virus Corona.
Bantuan yang diberikan berupa paket komoditas bahan pangan pokok, masker kain, dan sabun. Paket disiapkan oleh Perumda Pasar Jaya dengan pengemasan yang rapat untuk menjaga agar barang tetap higienis.
Kepala Dinas Sosial DKI Jakarta, Irmansyah mengatakan dalam proses pendistribusian, pihaknya menggandeng TNI dan Polri, serta tetap mengindahkan ketentuan menjaga jarak dan hindari kerumunan [physical distancing].
"Masyarakat tidak perlu berkumpul untuk mendapatkan Bansos, kami yang akan datang door to door agar tidak menimbulkan kerumunan yang berpotensi menyebabkan penularan virus Corona lebih luas lagi," kata Irmansyah, dikutip dari siaran pers PPID Provinsi DKI Jakarta.
Kelurahan Penjaringan, Jakarta Utara menjadi kelurahan pertama yang akan menerima Bansos PSBB dengan mempertimbangkan jumlah penduduk.
Berdasarkan data Dinas Kesehatan Pemprov DKI, Kelurahan Penjaringan merupakan salah satu wilayah yang memiliki angka akumulasi orang dalam pemantauan [ODP] dan pasien dalam perawatan [PDP] dengan jumlah banyak.
Pemilihan kelurahan prioritas mempertimbangkan Peraturan Gubernur No 90/2018 tentang 'Peningkatan Kualitas Pemukiman Dalam Rangka Penataan Kawasan Permukiman Terpadu' yang menyatakan Kelurahan Penjaringan termasuk kawasan pemukiman yang perlu ditata dengan mempertimbangkan aspek penataan fisik lingkungan, pemberdayaan sosial dan budaya, serta kondisi ekonomi masyarakat.
Jakarta [B2B] - Jakarta provincial government through Social Agency starts distributing social assistance to Penjaringan Urban Village residents, North Jakarta since yesterday, Thursday [April 9] ahead of large-scale social restriction [PSBB] implementation.
After city collected data from all urban villages in Jakarta, assistance was distributed by delivering it one-by-one to residents' houses. Each package consists of staple food, cloth face mask, and soap which are provided by Perumda Pasar Jaya.
Jakarta Social Agency Head, Irmansyah explained, his side cooperated with military and police to distribute the packages with physical distancing method.
"Thus they don't need to gather to get the assistance. We will deliver it door-to-door to prevent transmission of Covid-19," he stated as quoted from Jakarta press release.
Penjaringan Urban Village in North Jakarta became the first urban village which got assistance considering the number of its residents.
Based on data from Jakarta Health Agency, Penjaringan Urban Village is one of the areas in Jakarta that has a large number of ODP and PDP.
Urban villages were selected based on its priority by considering Governor's Regulation [Pergub] No. 90/2018 concerning the Improvement of Settlement's Quality within Integrated Settlement Areas Arrangement.
That Pergub stated Penjaringan Urban Village is included as a residential area that needs to be arranged by considering several aspects related to physical environment arrangement, social and cultural empowerment, and community's economic condition.
According to him, assistance will be distributed in two phases.
"On the first phase, assistance will be delivered on April 9-18, 2020 with target 1.2 poor families and those who are considered vulnerable of Covid-19. The second phase will be held on April 19-23 for the poor and vulnerable groups who have not been registered," he explained.
The second phase will be carried out by asking those who are not registered yet to fill the form that has been provided and submit it to the local RW and it will be forwarded to the urban village. Later, those data will be verified to be scheduled for the next phase and its location.