119, Korban Tewas Banjir Bandang Nusa Tenggara Timur
Indonesia Landslides Death Toll Rises to 119, Dozens Missing
Editor : Ismail Gani
Translator : Novita Cahyadi

PUBLISHED: Rabu, 07 April 2021 , 12:52:00 WIB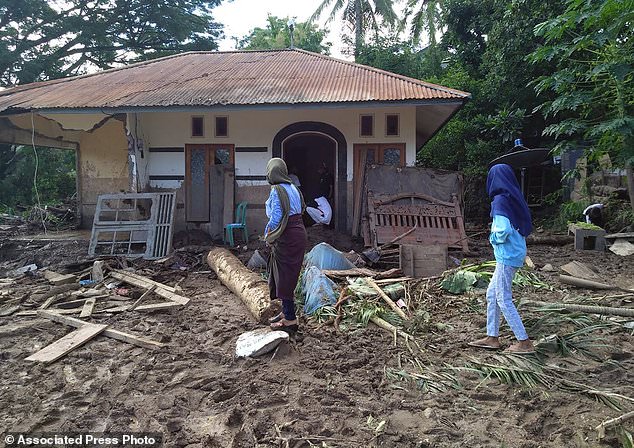 RUMAH WARGA: Ribuan rumah rusak dan ribuan orang mengungsi akibat cuaca, yang diperkirakan akan berlanjut hingga setidaknya Jumat saat badai bergerak ke selatan menuju Australia [Foto: Associated Press/MailOnline]
KORBAN tewas akibat banjir bandang di Provinsi Nusa Tenggara Timur [NTT] menjadi 119 dan puluhan orang hilang, yang dirilis Badan Nasional Penanggulangan Bencana [BNPB] karena hujan masih terus mengguyur wilayah tersebut sehingga menghambat upaya pencarian.
Desa Lamanele di pulau Adonara menderita kerugian tertinggi dengan 60 mayat ditemukan sejauh ini dan 12 hilang. Lumpur berjatuhan dari bukit-bukit sekitarnya pada Minggu pagi, ketika sebagian warga masih terlelap.
Di pulau Lembata di dekatnya, hujan lebat yang dipicu oleh Topan Tropis Seroja menjadi banjir bandang dari lava yang membeku akibat letusan gunung berapi pada November, menghantam lebih dari selusin desa, menewaskan sedikitnya 28 dan 44 belum ditemukan, menurut BNPB.
Ratusan polisi, tentara, dan penduduk menggali puing-puing dengan tangan kosong, sekop, dan cangkul untuk mencari mereka yang terkubur. Pada Selasa, sanak keluarga meratap ketika mereka menyaksikan tim penyelamat mengeluarkan tubuh yang berlumuran lumpur, meletakkannya di atas tandu bambu dan membawanya untuk dimakamkan.
Secara keseluruhan, tanah longsor dan banjir telah menewaskan sedikitnya 119 orang pada beberapa pulau di NTT serta 27 orang di negara tetangga, Timor Leste. Ribuan rumah rusak dan ribuan orang mengungsi akibat cuaca, yang diperkirakan akan berlanjut hingga setidaknya Jumat saat badai bergerak ke selatan menuju Australia.
Upaya penyelamatan terhambat oleh hujan dan keterpencilan daerah, di mana jalan dan jembatan rusak di banyak tempat.
Petugas penyelamat dengan ekskavator dan berton-ton makanan dan obat-obatan dikerahkan dari kota Makassar, ibukota Sulawesi Selatan, tetapi terhalang oleh kurangnya transportasi laut.
Kepala BNPB Doni Monardo meminta sektor swasta untuk mendukung upaya bantuan seperti dikutip Associated Press yang dilansir MailOnline.
Tiga helikopter mulai mencapai daerah-daerah terpencil di pulau-pulau itu pada Selasa, dan Presiden Joko Widodo mengadakan rapat Kabinet di Jakarta untuk mempercepat operasi tersebut.
THE DEATH toll from mudslides in eastern Indonesia has risen to 119 with scores still missing, officials said Wednesday, as rain continued to pound the region and hamper the search.
The village of Lamanele on Adonara island suffered the highest losses with 60 bodies recovered so far and 12 missing. Mud tumbled down from surrounding hills early on Sunday, catching people at sleep.
On nearby Lembata island, the downpour triggered by Tropical Cyclone Seroja sent solidified lava from a volcanic eruption in November to crash down on more than a dozen villages, killing at least 28 and leaving 44 unaccounted for, according to the National Disaster Mitigation Agency.
Hundreds of police, soldiers and residents dug through the debris with their bare hands, shovels and hoes searching for those buried. On Tuesday, relatives wailed as they watched rescuers pull out a mud-caked body, place it on a bamboo stretcher and take it away for burial.
In all, landslides and flooding have killed at least 119 across several islands in Indonesia as well as 27 people in neighboring East Timor. Thousands of homes have been damaged and thousands of people displaced by the weather, which is expected to continue until at least Friday as the storm moves south toward Australia.
Rescue efforts were being hampered by the rains and the remoteness of the area, where roads and bridges were damaged in many places.
Rescue personnel with excavators and tons of food and medicine were being deployed from Makassar city on Sulawesi island, but were hindered by a lack of sea transportation. National Disaster Mitigation Agency chief Doni Monardo called on the private sector to support relief efforts.
Three helicopters began reaching isolated areas of the islands on Tuesday, and President Joko Widodo held a Cabinet meeting in Jakarta to speed up the operation.