Dampak Virus Corona, Bandara Ngurah Rai Sunyi Senyap Tanpa Wisatawan
Sad Photos of Bali Airport Reveal the Impact the Coronavirus
Editor : Ismail Gani
Translator : Novita Cahyadi

PUBLISHED: Jum'at, 13 Maret 2020 , 01:33:00 WIB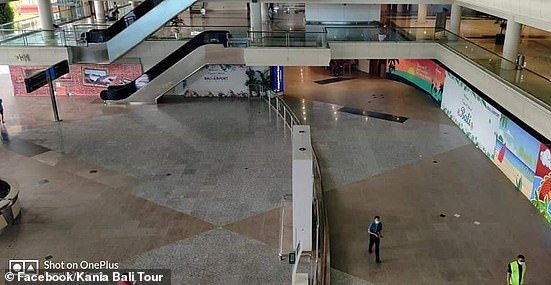 Foto-foto tersebut menunjukkan bandara internasional yang dulunya ramai, kini nyaris tanpa orang, disertai keterangan: ´Bandara Bali Hari Ini jam 9.30 pagi. Sangat kosong. Bali sangat bersedih dan sulit.´ [Foto: MailOnline]
FOTO-FOTO Bandara Internasional Ngurah Rai di Denpasar, Bali menguak dampak buruk virus Corona, COVID-19 coronavirus terhadap industri pariwisata di Indonesia.
Foto-foto Bandara Ngurah Rai yang mendadak senyap adalah hasil jepretan seorang karyawan dari Kania Bali Tour pada Kamis [12/3] pukul 09.30 Wita.
Foto-foto tersebut menunjukkan bandara internasional yang dulunya ramai, kini nyaris tanpa orang, disertai keterangan: 'Bandara Bali Hari Ini jam 9.30 pagi. Sangat kosong. Bali sangat bersedih dan sulit.'
Indonesia memiliki 34 kasus virus yang dikonfirmasi, termasuk seorang wanita berusia 53 tahun dari Inggris yang meninggal karena COVID-19 di Bali pada Rabu pagi.
Karyawan dari grup usaha perjalanan menginformasikan Daily Mail Australia bahwa Maret biasanya adalah waktu yang sibuk.
"Setiap negara mengeluarkan peringatan perjalanan untuk tidak bepergian ke Indonesia," katanya.
"Saya mengerti bahwa Corona sangat buruk bagi industri pariwisata, tetapi sekarang semua orang takut datang ke Bali."
Dia menggunakan bagian komentar di halaman Facebook bandara untuk memohon kepada para wisatawan agar memberikan bisnisnya pada perusahaannya.
"Jika Anda masih datang ke Bali untuk liburan Anda, gunakan layanan transportasi kami," tulisnya.
Operator tur menjelaskan bahwa dengan mengunjungi Bali dan membelanjakan uangnya, pelanggan dapat membantu keluarga lokal bertahan dari keterpurukan.
"Tidak ada turis, tidak ada uang," tulisnya.
Pecinta Bali dan wisatawan asing yang memesan liburan mereka melalui grup wisata sama-sama khawatir dan terpukul oleh foto tersebut.
"Soooo berharap liburan kita tidak dibatalkan," komentar satu orang.
"Semoga kamu masih datang," jawab seorang karyawan.
"Omg, saya belum pernah melihat. Sangat menyedihkan untuk Bali, 'tulis yang lain.
Tetapi banyak pengguna Facebook berjanji untuk tetap datang dengan rencana perjalanan mereka untuk mendukung industri pariwisata Bali yang sedang terpuruk.
"Kami akan berada di sana pada 26 Maret dan saya tidak bisa menunggu," tulis seorang wanita.
"Kami akan datang untuk Paskah," komentar yang lain.
Saran pemerintah untuk warga Australia yang pergi ke Indonesia ditingkatkan minggu lalu dengan menyarankan mereka untuk 'berhati-hati tingkat tinggi' karena penyebaran virus.
Indonesia mengumumkan tujuh kasus COVID-19 baru pada Rabu malam.
Ketua gugus tugas COVID-19 Bali, Dewa Made Indra, mengatakan wanita Inggris berusia 53 tahun yang meninggal itu memiliki kondisi yang mendasarinya, seperti diabetes, hipertensi, hipertiroidisme, dan penyakit paru-paru, menurut laporan 7 News.
Dia mulai menunjukkan gejala pada 3 Maret - tiga hari setelah dia tiba di pulau itu - dan dirawat selama lima hari sebelum dia dibawa ke Rumah Sakit Sanglah, dekat Kuta, di mana dia meninggal.
Pihak berwenang Bali percaya dia tidak mendapatkan virus di pulau itu.
Dewa Made Indra mengatakan semua orang yang berhubungan dengan virus telah dihubungi dan diminta untuk mengisolasi diri seperti dilansir MailOnline.
PHOTOS OF a virtually deserted Bali Airport have revealed the devastating impact COVID-19 coronavirus is having on the Indonesian island's tourism industry.
The photographs of Ngurah Rai International Airport were taken by an employee from Kania Bali Tour at 9.30am on Thursday.
They showed the once-bustling international airport almost devoid of people, accompanied by the caption: 'Bali Airport Today at 9.30am. Very Empty. Bali very sad and hard life.'
Indonesia has 34 confirmed cases of the virus, including a 53-year-old woman from the UK who died from COVID-19 on the holiday island on Wednesday morning.
The tour group employee told Daily Mail Australia that March is normally a busy time.
'Every country has travel warnings now not to travel to Indonesia,' he said.
'I understand that corona is very bad for the tourism industry, but now everyone is scared come to Bali.'
He used the comments section on the airport's Facebook page to plead with tourists to give his company some business.
'If you still come to Bali for your holiday, use our transport service,' he wrote.
The tour operator explained that by visiting the resort holiday island and spending money, customers can help local families survive the slump.
'No tourists, no money,' he wrote.
Bali lovers and travellers who booked their holidays through the tour group were both worried and devastated by the photos.
'Soooo hoping our holiday doesn't get cancelled,' one person commented.
'Hopefully you still come,' an employee replied.
'Omg I've never seen this. So sad for Bali,' another wrote.
But many Facebook users vowed to go ahead with their travel plans to support the island's struggling tourism industry.
'We will be there March 26 and I can't wait,' one woman wrote.
'We are coming for Easter,' another commented.
Government advice for Australians going to Indonesia was upgraded last week to advise them to 'exercise a high level of caution' due to the spread of the virus.
Indonesia announced seven new COVID-19 cases on Wednesday night.
The Chair of Bali's COVID-19 task force, Dewa Made Indra, said the 53-year-old British woman who died had underlying conditions, such as diabetes, hypertension, hyperthyroidism and lung disease, 7 News reported.
She started showing symptoms on March 3 - three days after she arrived on the island - and was treated for five days before she was taken to Sanglah Hospital, near Kuta, where she died.
Bali authorities believe she did not get the virus on the island.
Mr Indra said everyone who she came into contact with the virus has been contacted and asked to self-isolate.