1 Anggota TNI Gugur dan 2 Tewas akibat Demo Ricuh di Deiyai Papua
Police Say 3 Killed in Violent Protest in Indonesia`s Papua
Editor : Ismail Gani
Translator : Novita Cahyadi

PUBLISHED: Kamis, 29 Agustus 2019 , 01:37:00 WIB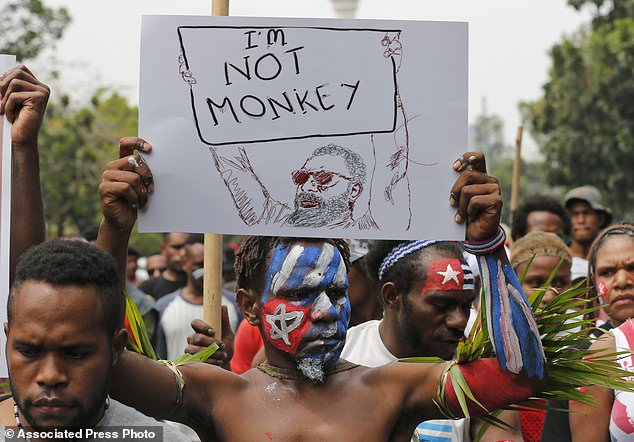 Foto: Associated Press/MailOnline
SEORANG anggota TNI dan dua warga dikabarkan tewas pada Rabu dalam unjuk rasa yang berujung tindak anarkis di Papua, kata polisi.
Karopenmas Divisi Humas Polri Brigjen Pol Dedi Prasetyo mengatakan unjuk rasa yang mendorong referendum diikuti sekitar 150 orang juga menentang tindak rasisme di Deiyai, Papua berubah menjadi tindak anarkis setelah lebih dari seribu pengunjuk rasa memaksa masuk ke kantor Bupati Deiyai dengan panah dan parang.
Juru bicara militer Papua Eko Daryanto mengatakan dalam sebuah pernyataan bahwa pasukan keamanan berhasil memulihkan ketertiban dan menemukan dua pengunjuk rasa terluka, satu dengan panah menusuk perutnya dan yang lainnya menembak di kaki. Keduanya meninggal di rumah sakit terdekat. Seorang tentara tewas di tempat kejadian dan lima personil polisi dan militer terluka, sebagian besar karena panah.
Sejumlah protes keras mengguncang Papua sejak pekan lalu, dipicu oleh video yang beredar di internet menunjukkan pasukan keamanan menyebut siswa Papua "monyet" dan "anjing" di kota Surabaya, Jawa Timur seperti dikutip Associated Press yang dilansir MailOnline.
AT LEAST ONE Indonesian soldier and two civilians were killed Wednesday in a violent protest in the country's restive Papua region, police said.
National police spokesman Dedi Prasetyo said a peaceful protest by 150 people against racism at the Deiyai district chief's office turned violent when more than a thousand others tried to storm the building with arrows and machetes.
Papua military spokesman Eko Daryanto said in a statement that security forces managed to restore order and found two protesters had been injured, one with an arrow piercing his stomach and the other shot in the leg. Both died at a nearby hospital. A soldier died at the scene and five police and military personnel were injured, mostly by arrows.
A number of violent protests have roiled Papua since last week, triggered by videos circulated on the internet showing security forces calling Papuan students "monkeys" and "dogs" in East Java's Surabaya city.